NZB Club Review
Last Updated: Feb 09, 2022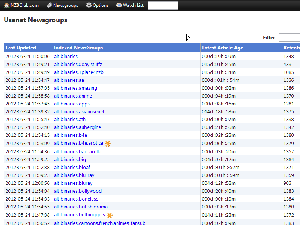 | | |
| --- | --- |
| Rating | |
| Price | Free |
| Retention | None |
| Free Trial | None |
| Features | Dead Site |
Editor's Note: NZB Club is a dead NZB Search Engine since 2019
NZB Club was a NZB search engine providing fast and customizable way to search the  top 300 Usenet newsgroups quickly and return NZB files.  NZBClub automatically indexes Usenet binaries and makes them available for download via NZB format.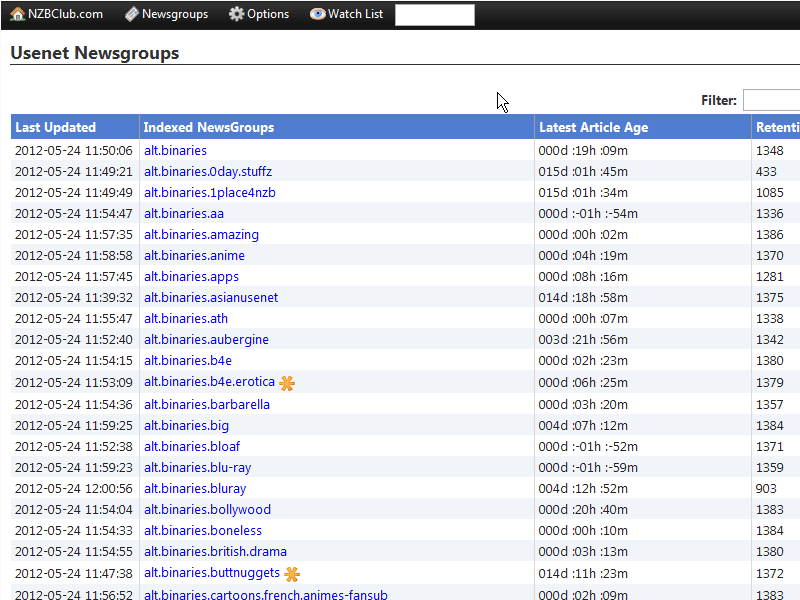 ### Quick Overview
Quick Search by Keyword
Filter and Sort Searches by Group, Poster, Time, Size , etc
Ability to Browse Newsgroups
NZB files created automatically
Top 300 Newsgroups Only - Updated Daily.
Free Service
Registration Optional ( Recommended for more features)
Save Searches (Registered Users)
RSS Feed Saved Searches (Registered Users)
How to use NZBClub
If you are interested in checking out NZBClub then be sure to register, it 's free and then you will have the ability to save your searches, your search history and to create an RSS feed from your saved search. After you have registered there are basically two ways to use NZBClub.
Classic search: it is only required to enter the keyword and (optionally) set a few search parameters, such as group filter, poster filter, results per page, age, file size and similar.
Browse newsgroups NZB: the list of binary groups and corresponding NZB files is available as well. It is only required to click on "Browse Newsgroups NZB" menu item and the index of available newsgroups will appear. Once the list has appeared, it is only necessary to click on the desired group and NZB file list associated with that group will appear.
Additional Features
Search History
Watch List (up to 25 collections can be added to watch list)
SafeSearch (if this option is turned on, the search will not include adult newsgroups results)
Popularity  / History
NZBClub is a fairly popular NZB search engine to Alexa.com.  That said, Binsearch.info and nzbindex.nl are a more popular and seem to have slightly bit better response time.
Compared to other NZB Sites
Binsearch.info vs NZBClub- Binsearch.info seems a bit faster with more groups indexed. A few things don 't work correctly on NZBClub whereas Binsearch seems a bit more error free.
NZBindex.nl vs NZBClub  —  NZBClub and NZBIndex seem to be similar in performance. NZBIndex has common tags unlike NZBClub
Our Conclusion / Recommendation
All in all NZBClub does a nice job and UsenetReviewz recommends checking them out.  When we tested NZBClub some of the features like template searches were not working nor could we get the RSS feed to work properly. Perhaps we did something wrong? Either way the search works well and it 's free so no complaints.
In addition to NZBClub there are also some other nzb sites or our best newsgroup search engine list both of these should be helpful resources as we keep our reviews up to date.
Altenatives To NZB Club
| Name | NZBs | Price |
| --- | --- | --- |
| NZBFinder | Free 5 NZBs & 25 API Calls | 10, 20, 35 Euros |
| UsenetCrawler | Best Free Account Offering | Over 500 Groups Crawled |
| NZBgeek | Open and Free to Register | Free and Paid Service |
| NZBGrabit | Free 5 .ZIP Downloads | Arcade, and Photo Editor Included |
| DrunkenSlug | Free 100 API Hits and 5 NZBs Daily | Invite-Only Website |
| NZB.su | Open NZB Site | API Integrations |
| DogNZB | Invite Only | $20/Yr for VIP |
| NZBPlanet | Invite Only | 2 Million NZBs Indexed |
| FileSharingTalk | Forum-Based Site | Option to Donate |
| OmgWtfNZBs | Invite-Only NZB Site | $10/Yr for Donators |
Top 5 Best Usenet Search Engines