NZBIndex Review
Last Updated: Apr 28, 2019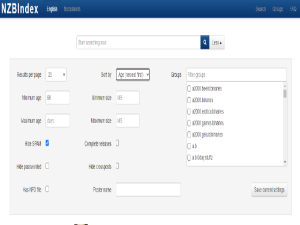 Rating
Price
Free
Retention
500 Days
Free Trial
None
Features
Tag Clouds to Help W/ Ideas
RSS Search Feature
Up to 250 Results per Page
NZBIndex offers an excellent and FREE service to help you search Usenet and while it isn't perfect, it is a decent USENET search engine as far as USENET search engines go and did we mention .. its free ?
The home page used to show frequent searches which was a  nice feature but as of 2019, it is no longer showing the top and popular searches.
If you are interested in their current statistics you can go groups for the latest info but last time we checked NZBIndex had indexed 726 groups totaling 3.3 Petabytes of information!
Price
No charge. NZBIndex is advertiser supported.
Additional Features
You can create an NZB file from your search result.
You can choose 25, 50, 100, 250 search results returned per page
You have the ability to mark results as spam and help improved the NZB search index.
The groups page shows the binary retention status of each indexed group.
DMCA takedown notice – if you see copyrighted material you can quickly assist in the this process.
RSS feeds available – RSS feeds are available so you can always be searching for your specific search terms.
Conclusion
NZBIndex is typically found in our list of top Usenet search engines for current rankings check here. Also if you like NZBIndex then be sure to check out our list of recommend NZB sites.
Favorite features of NZBIndex
RSS search feature
Up to 250 results per page
1000 of binary search.
Located in the Netherlands. NZBIndex is available in dutch and in english. Here is a screenshot of how the website looks.
NZBIndex Status / Uptime Charts
| | Status | Since | Average Response Time |
| --- | --- | --- | --- |
| ● | | | |
24 Hour Response Time Chart for
NZBIndex
Chart will be updated in
X
seconds
Uptime Averages
Altenatives To NZBIndex
| Name | NZBs | Price |
| --- | --- | --- |
| Oznzb | 5 NZBs Daily | $16/Year & $ 55/Life. |
| NZBFinder | Free: 5 NZBs & 25 API Calls. | 10, 20, 35 Euros. |
| DogNZB | No Free Account | $18/Year for VIP |
| NZBGrabit | 10 Zip Dls / Day | $15/Year & $35/Life |
| ABnzb | 20 NZBs & 100 Calls | $25/Year for VIP |
| OMGWTFNZBS | No Free Account | $10/Year for VIP |
| NZB Tortuga | 5 NZBs a Day | $6/Year for VIP |
| NZBGeek | No Free Account | $12/Year for VIP |
| GingaDaddy | 3 API Hits/NZB Grabs | $17/Year for VIP |
| Nzbplanet | 5 NZBs Daily | $10/Year for VIP |
Visit NZBIndex
Best Usenet Search Engines