NZBIndex Review
Last Updated: Feb 08, 2022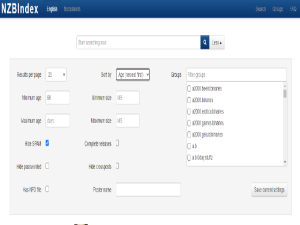 Rating
Price
Free
Retention
1900 days Days
Free Trial
None
Features
Free and Easy to Use
Up to 1900 Days Retention
Searches Over 900+ Groups
NZBIndex is a custom-based indexer. While it differs from the usual newznab interface for searching, we find NZBIndex is a decent option for users that do not download frequently from Usenet.
NZBIndex's server is located in the Netherlands. The website supports both Dutch and English users. It is accessible both by nzbindex.com and nzbindex.nl.
Highlighted Features
Free and no registration required
Fast and easy-to-use
Privacy: SSL encryption
Number of groups crawled: searches over 900+ newsgroups
Retention: up to 1,900 days
Ads: No ads
API Integration: None
RSS feeds available
Advanced search settings
Ability to create an NZB file from a search result
Advanced search settings that let you sort by age, file, size, and lets you exclude some words you do not want to appear in searches.
Ability to search to cross-post and NFO files
Up to 250 search results per page
You can report spam results and help improve the NZB search index
Interface
NZBIndex comes with a friendly and easy-to-use platform. The languages available are English and Dutch.
Ease of Use
As easy as searching on Google, NZBIndex's search engine is easy to navigate. Just type in the word on the search bar and click the search (magnifying glass) button. You can customize your search settings to come up with the desired results. You can also save your search settings so you don't have to re-apply them every time you visit.
You can download single or multiple files. Just simply mark the file/s you want and press the 'Download Selected' button at the top of the search result. You can also see the individual files in a collection by clicking the 'View Collection' button below the name result.
If you have other Usenet activity and downloading concerns, you can check out their FAQ page which should be helpful enough if you have basic inquiries and questions.
Membership Levels
NZBIndex is FREE. Its advertisers keep the website running for a long time.
Support
You can contact them through the supported contact form available on their website. They also provide Frequently Asked Questions for most common queries and technical information.
Uptime Status
NZBIndex.com has an excellent uptime average and a very good response time, which means their site rarely goes offline and pages load pretty quickly, and search results are generated fast.
NZBIndex.com Status / Uptime Charts
| | Status | Since | Average Response Time |
| --- | --- | --- | --- |
| ● | | | |
24 Hour Response Time Chart for
NZBIndex.com
Chart will be updated in
X
seconds
Uptime Averages
Conclusion
It is no question that NZBIndex is a favorite NZB site by many users. It is a free and easy-to-use NZB search site. We like that NZBIndex lets you participate and report any malicious and unwanted content found in their search results, and has advanced settings that generate desirable results; but with the lack of proper integrations with the other applications, advanced Usenet users won't be satisfied with its no automation feature. Overall, we think NZBIndex is a good option for normal downloading.
Altenatives To NZBIndex.com
| Name | NZBs | Price |
| --- | --- | --- |
| NZBFinder | Free 5 NZBs & 25 API Calls | 10, 20, 35 Euros |
| UsenetCrawler | Best Free Account Offering | Over 500 Groups Crawled |
| NZBgeek | Open and Free to Register | Free and Paid Service |
| NZBGrabit | Free 5 .ZIP Downloads | Arcade, and Photo Editor Included |
| DrunkenSlug | Free 100 API Hits and 5 NZBs Daily | Invite-Only Website |
| NZB.su | Open NZB Site | API Integrations |
| DogNZB | Invite Only | $20/Yr for VIP |
| NZBPlanet | Invite Only | 2 Million NZBs Indexed |
| FileSharingTalk | Forum-Based Site | Option to Donate |
| OmgWtfNZBs | Invite-Only NZB Site | $10/Yr for Donators |
Visit NZBIndex.com
Best Usenet Search Engines