Eweka Review
Last Updated: Jan 13, 2022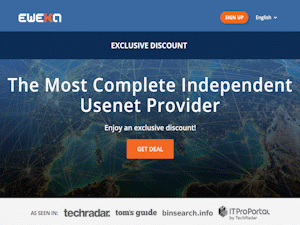 Rating
Price
€7,00 / Month
Retention

5406

Days
Free Trial
7 Days / Unl. GB
Features
Best EU Provider
Lifetime Discount
Fast Speeds
Dutch based USENET service provider Eweka has been in business since 2001 has a reputation for high quality and fast speeds. Eweka owns and manages their own USENET backbone so you can expect short routes, low ping times and high speed especially if you live in Europe.
Eweka Quick Summary
Special price for UsenetReviewz.com visitors – €7,50/mo for Eweka's top-end plan
UsenetReviewz.com visitors save 22% and get free upgrade to 200 Mbps (normally 50 Mbps).
Unlimited downloads and 256-bit SSL
Newslazer – included newsreader that allows you to search, preview and download.
Compatible with all popular Usenet automation apps like Sonarr and CouchPotato.

5406

days of retention and growing (most offered by any European USENET provider)
EU servers only
Up to 50 connections
Customer support available in English, Dutch, German and French
Binary Retention
Binary retention for Eweka is currently at 5406 days across over 120,000+ newsgroups. Eweka continues to grow retention and is the leader in binary retention across all European USENET service providers with 99.5% completion. Text retention is set at the same.
Pricing
Eweka offers two different pricing tiers which vary according to the download speed. Eweka 's service features 5406 days of binary retention for every plan and all plans are unlimited. Note: By signing up through our website , you will receive the 300 Mbit plan for the price of the 50 Mbit plan.
| Plan | Price | Speed | Connections |
| --- | --- | --- | --- |
| Annual Subscription | €7.00/mo | Unlimited | 50 |
| Prepaid | €7.50/mo | 50 Mbps | 8 |
| Prepaid | €9.60/mo | 300 mbps | 20 |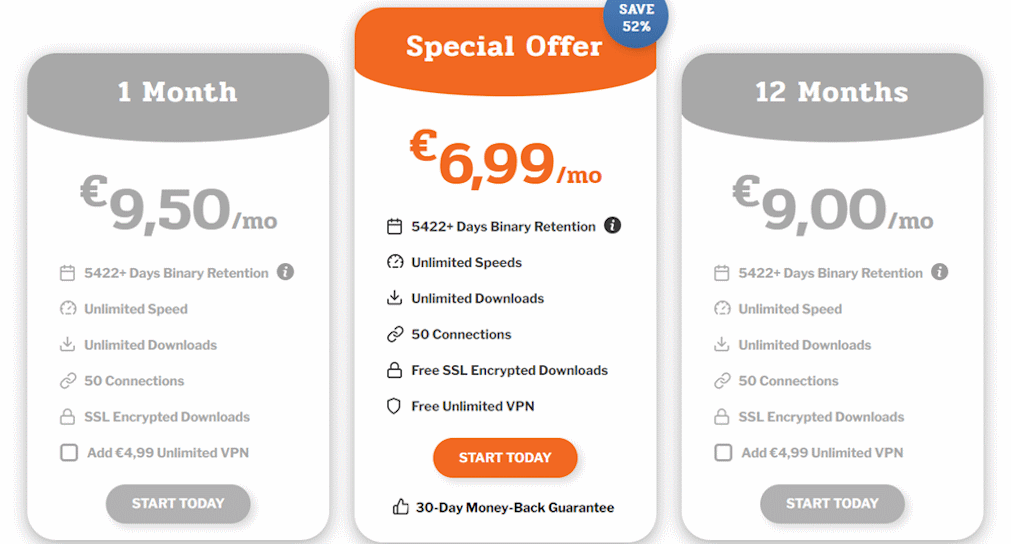 Free Trial Info
Eweka offers a 1-week free trial with unlimited free downloads! This free one week trail requires no payment information and is available only by signing up through our website.
Special Offers / Coupons
By signing up through our website, you can receive both a free 1 week trial and the upgraded 300 Mbit unlimited plan for the price of the 50 Mbit plan.
Speed
Our download speeds max out at 50 Mbps. During our test we were able to utilize all available bandwidth despite the bandwidth despite routing from South America to Europe. Note: download speeds can be affected by intermediary Internet connections.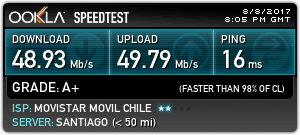 Local ISP in Santiago Chile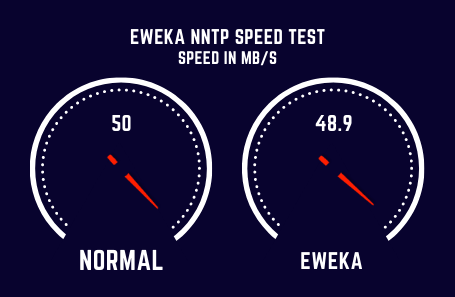 Connections
Eweka offers up to 50 connections with their subscription plan and up to 20 connections with their prepaid plans. Note: this is probably much more than you need. More connections do not always mean faster speeds.
News Servers / Ports / Configuration
NNTP Server address for Eweka: news.eweka.nl
Ports : 119(No SSL), 563(SSL) and 443(SSL)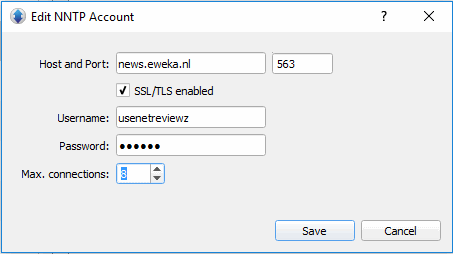 Frequently Asked Questions for Eweka
Which package should I pick ? Signup using UsenetReviewz.com special pricing offer and get the unlimited plan for the price of our 50 MBit plan ( €7.50 / Month).
How can I upgrade my Eweka plan? Login to the website. From there click on 'Extend/Upgrade ' and choose the plan you would like. Note: It will take a few minutes for your account to be upgraded. Note: You are able to upgrade your monthly account in the middle of your plan.
What does a 502 error mean?  A 502 error notification indicates 1 of 2 things. First option (502 Access denied to your node), is that your username or your password is incorrect. Remember your username is identical to the email address that you registered with. Second option (502 You 've reached your maximum number of simultaneous connections), is that you have reached the maximum number of NNTP connections allowed per your plan. You are limited to 20 connections with your Eweka account. This is more than enough for any newsreader. Try 8 connections for maximum speeds.
Are Discounts offered for yearly sign up?  Eweka.nl offers a discount for yearly signups. However by using UsenetReviewz.com 's signup link you will receive the same deal €7.50 / month. You will receive the best prices by signing up via our affiliate partners such as UsenetReviewz.com
Does Eweka have a newsreader included? Yes Eweka. Check out more detail on Eweka 's newsreader called NewsLazer below.
What Newsreader should I use?  Our first recommendation would be check out NewsLazer which is included free with all Eweka plans.  Otherwise if you aren 't happy with Newslazer then see UsenetReviewz.com 's list of the best USENET newsreader clients for a good start in researching what is best for you.
Does Eweka include a VPN connection ? No unfortunately Eweka does not offer an included VPN service. If you are looking for a bundled USENET and VPN service then check out Tweaknews if you are in Europe or if you are in the USA then look at the yearly plan for Newshosting
How do I search USENET and find the content I am looking for?  you could start by visiting UsenetReviewz.com 's list of the best NZB sites and start your search there.
Any special offers available for Eweka ?  UsenetReviewz.com offers the best pricing however during late November there is Black Friday and other holiday periods when you can occasionally realize greater discounts. Signup for our newsletter and bookmark our website.
Can I pay via Paypal? Yes. Paypal is supported. Eweka has a variety of common payment options for European and International residents: Credit and Debit cards, iDeal, Paypal, Bank Transfer and SMS payments.
---
Newslazer Newsreader Client
The Newslazer Newsreader is a high quality USENET newsreader supporting both Windows and MacOSX and best of all included for free for all Eweka customers no matter what plan they choose. Newslazer Newsreader allows you to search and filter USENET messages and import NZB files.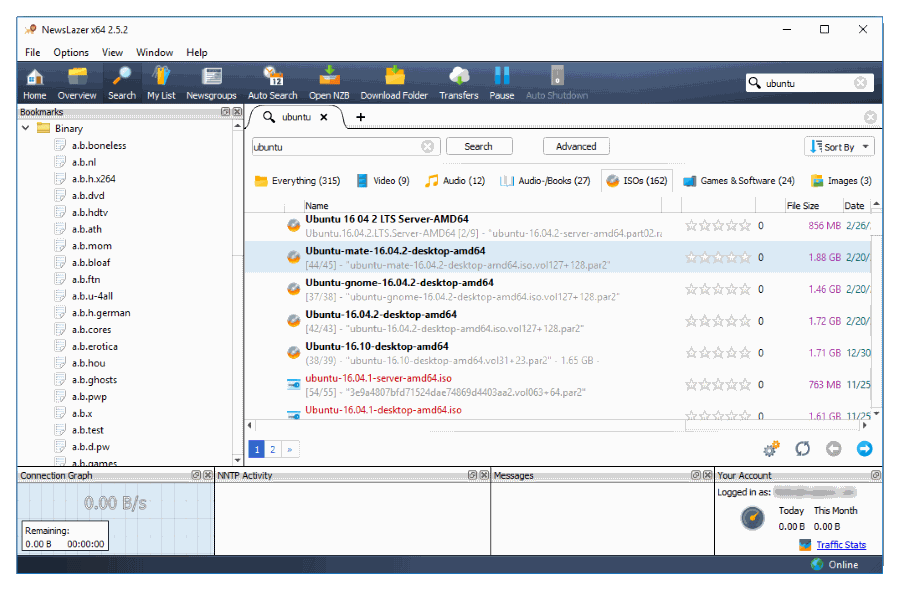 Here in the image above you get an idea of how easy the Newslazer newsreader is to use. Just start up and search for whatever you want. Notice that we are able to search and filter in various ways such as but not limited to size, name and file type.
Support
support is available via email or webform. Email support@eweka.nl. Note that Eweka support is available Monday through Friday 9am to 5pm.  Eweka is located in the time zone CEST (Central European Summer Time) UTC/GMT +2 hours
Contact Information
Contact Eweka via email support@eweka.nl or if you really want to visit them at their offices in the Netherlands.
Eweka Internet Services
Staten Bolwerk 1
2011 MK Haarlem
Nederland
Security / Company Privacy Policy
Eweka states on their website that "Eweka does not monitor or record your activities online. We do not monitor which newsgroups you post to or download from or what you put in news articles that you post." Note that Eweka does ask for more information about you if you request access to post material on USENET.
Eweka is not 100% anonymous for posting however if you are downloading and have SSL enabled and configured correctly (ports 563 or 443) then all your downloads will remain private. Also if you are very concerned about privacy or want to post anonymously on USENET then sign up via a USENET provider that supports Bitcoin such as PureUSENET. Note: with any usenet provider you will need to have a valid email address associated with your account.
Payment Options
Eweka accepts: Major Credit Cards, Debit Cards, Paypal, Bank Transfer, MisterCash(available with all Belgium Banks), Giropay(available via all German Banks) and SMS direct payment. Eweka supports both a prepaid system and a subscription model for payments.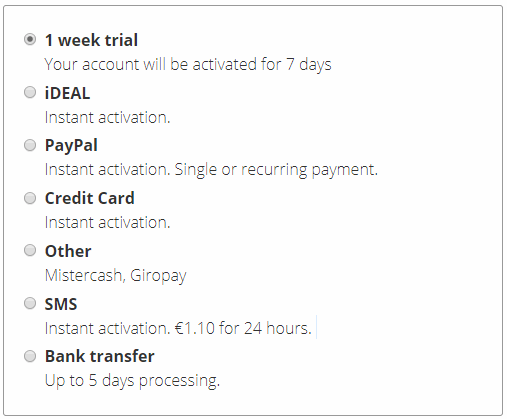 Our Opinion
Eweka is one of our popular USENET service providers for four good reasons: Price, Speed, Binary Retention and backend infrastructure. Kudos to Eweka for offering free SSL included with every plan.
We also really like that Eweka offers a free 1 week trial which requires no payment information if you sign up through our website.
Take advantage of UsenetReviewz 's special pricing offer and try out Eweka for a week to see if they work for you.
Visit Eweka