TweakNews Review
Last Updated: Jan 19, 2022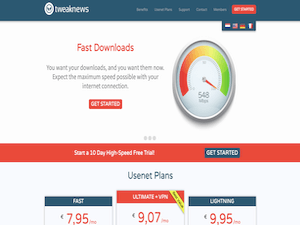 Rating
Price
€7,50 / Month
Retention
4200 Days
Free Trial
7 Days / 50 GB
Features
Quality Retention
Quality Completion
Unlimited Access
Tweaknews is our top ranked Dutch USENET service provider, they are well known for their high speed quality USENET feed. All of TweakNews plans include unlimited downloads, free USENET newsreader and a free VPN service as well.   Highly recommended.
TweakNews Quick Summary
€7,50/Month for UsenetReviewz.com visitors with newsreader and a free VPN account with a yearly signup.
Normal price is € 12,95/mo – UsenetReviewz.com visitors save 43%
UsenetWire newsreader to search, preview and download content.
Uncapped speeds – other providers will limit download speeds
4200 days of retention and growing
Free zero-log, unlimited usage VPN service included with all USENET plan
Block Accounts Available
EU NNTP servers only
Up to 60 connections
Compatible with all popular Usenet automation apps like Sonarr and CouchPotato.
Customer support available in English and Dutch
Binary Retention
Binary retention for Tweaknews is currently at 4200 days. Text retention is set at the same. Binary retention was upgraded from 2500 to 3400 days in June of 2019. This is a massive upgrade that affects both text and binary data. This upgrade comes free of charge and has been rolled out across all servers. Sidenote - Many providers claim both more binary and text retention than they actually provide as it is difficult to test as an end user. Tweaknews does deliver however.
Pricing
Tweaknews offers a variety of  monthly pricing plans which vary according to download speed and number of connections needed. Of course, the longer you sign up for the more of a discount you will receive. All plans include SSL encryption and 4200 days of binary retention with downloads only limited by connection speeds.   Note: these monthly pricing packages are for retail users, you can receive  discounted pricing of €7,50/month for a yearly sign up or €9,99/month recurring monthly subscription  when you signup via usenetreviewz.com.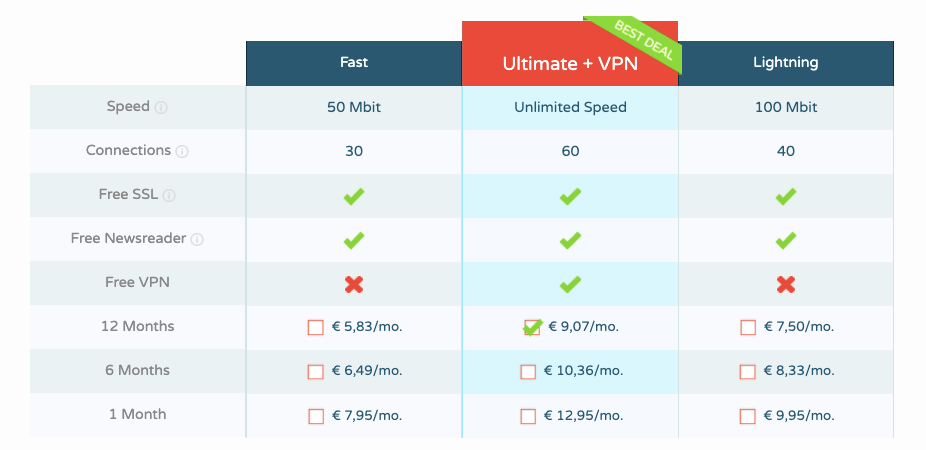 Block Accounts
In addition to monthly pricing plans tweaknews offers block accounts which can be very useful if you are looking for USENET fill servers to fill in parts of missing binary files.  If you don 't want your data to expire or only download very occasionally then a block account could be right for you.  With a block account, you paid a fixed price for a set amount of data which you can download at a maximum rate of 100Mbit.  Occasionally used accounts are also known as 'fill account '.

Free Trial Info
TweakNews offers a 7 day or 50 GB free trial. If you choose not to cancel before the 7 days are up, you'll begin your regular subscription to the service.
Free Trial Terms have been improved to 50 GBs in 2021(up from 10 GBs) so we are recommending the free trial

Special Offers / Coupons
By signing up through our website you will get the best price of €7.50 a month for unlimited download speeds for the yearly plans which includes a VPN service and an easy to use Newsreader.  Time to time, Tweaknews will offer special offers. So if you sign up to our newsletter you can be notified when there is a special seasonal offer.    Note:  €7.50 a month is already a great deal as this is more than 40% off the regular €12,95 / month price.
Speed
Our download speeds max out at 50 Mbps and at that speed we had no difficulty maximizing the bandwidth despite routing from the USA to Europe. Note download speeds can be affected by intermediary Internet connections.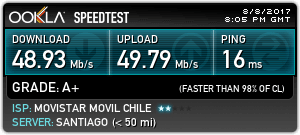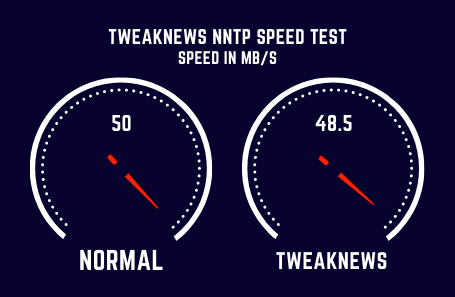 Connections
Depending on the plan you select NNTP connections allowed range from 4 up to 40.
News Servers / Ports / Configuration
NNTP Server address and configurations for Tweaknews are kept pretty simple here is the information you need: Server hostname:
Ports:
119(No SSL)
563(SSL)
443(SSL)
Frequently Asked Questions for Tweaknews
Which package should I choose? First determine how much speed you would need for your USENET connection and secondly know your intended use. If you are new to USENET then start off with the free trail and then afterwards the monthly plan as one recommendation. However, if you are familiar with USENET and have a fast broadband connection speed then consider either the yearly plan priced €7,50 / month which includes unlimited speeds, a high quality USENET newsreader called Newswire and a VPN service to protect your internet privacy and anonymity.

Can I test the speeds with Tweaknews? Tweaknews has a dedicated speed test page where you can try downloading randomly generated data. By testing these download speeds you will get an accurate idea of what your USENET experience should be like. Test your speeds [here](link to speed test page).

How can I speed up my USENET downloads? Tweaknews connections can be slowed down for a variety of reasons. Here are a few things to try: first try switching your connection ports from 119 to 563 to enable SSL if you don't have SSL enabled. Also try switching from 563 to port 443 in the event your ISP is slowing down USENET traffic. Also experiment with the number of threads to your USENET provider. An ideal number of connections or threads could be 8 - try adjusting upwards and downwards and test your USENET speeds. Also as mentioned in the question above test the download speeds of randomly generated data to see if only USENET traffic is being affected or all traffic is slow.

Are Discounts offered for yearly sign up? Tweaknews does offer discounts for longer term signups. The best price you can receive on a Tweaknews subscription is €7,50 / month which includes the USENET service, Usenet Newsreader and a VPN connection. Note: This offer is only available through a few few select affiliate partners such as UsenetReviewz.com

Does Tweaknews have a newsreader included? Yes, your tweaknews subscription includes a free high quality USENET newsreader called UsenetWire. Take a look below to see UsenetWire in action. More detail below.

Does Tweaknews include a VPN connection? Yes with all plans!

Can I pay via Paypal? Yes, Paypal is supported along with common European payment methods including but not limited to Major Credit Cards, SOFORT, Giropay, iDeal and / or Paysafe card
---
UsenetWire Newsreader Client
The UsenetWire Newsreader is a high quality USENET newsreader supporting both Windows, MacOSX and Linux users. Best of all included for free for all Tweaknews customers no matter what plan level. UsenetWire Newsreader allows you to search and filter USENET messages, import NZB files and add backup NNTP server if needed.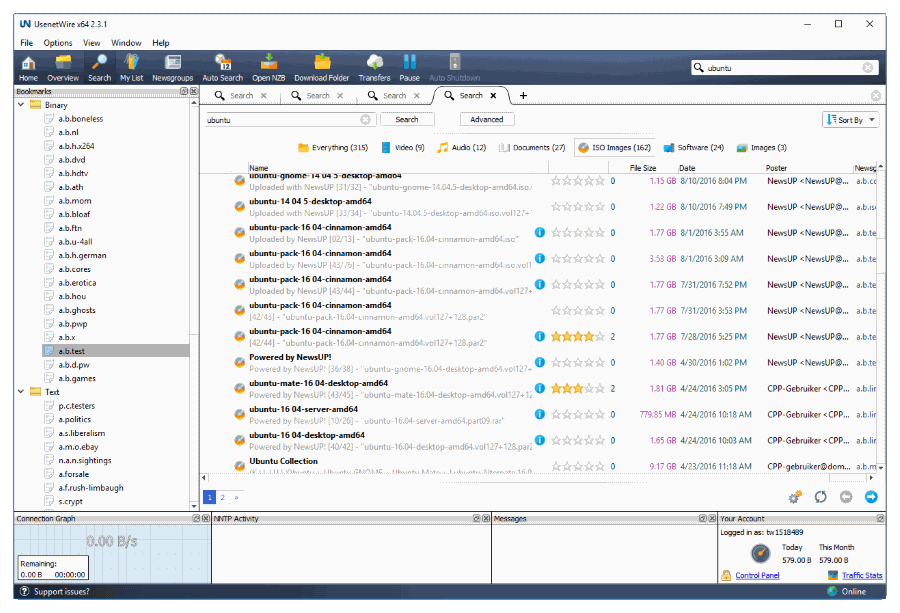 Here in the image above you get an idea of how easy the UsenetWire newsreader is to use. Just start up and search for whatever you want. Notice that we are able to search and filter in various ways such as but not limited to size, name and file type.
Tweaknews VPN Client
Tweaknews offers a fully featured VPN client included with every plan. Choose either monthly or yearly billing and take advantage of their high quality VPN software.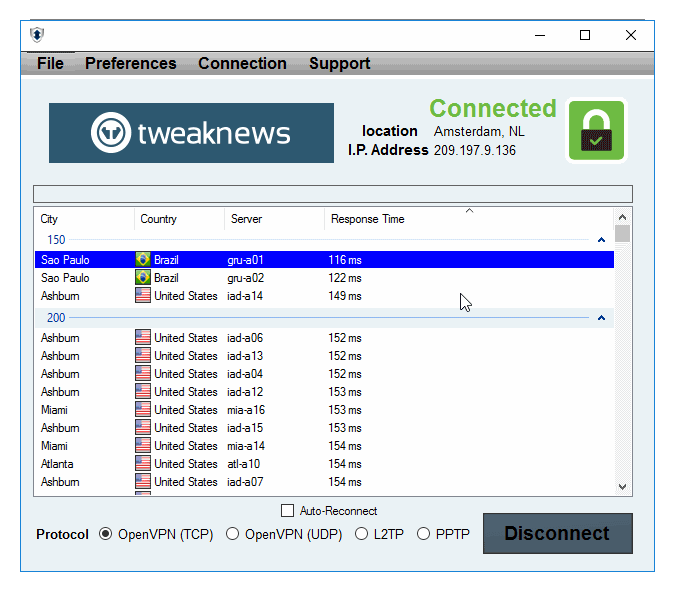 Tweaknews VPN client details
Supports 4 different VPN protocols
Access to 0ver 100+ server locations throughout the world
Unlimited downloads
Nat firewall built into the client to secure your connection.
Available for Windows and MacOSX
Linux versions can use OpenVPN config files included.
Support
support is available via email or telephone. Email support@tweaknews.eu  Phone +31.728500710
Contact Information
Contact Tweaknews via email support@tweaknews.eu, in person or the web contact form.
Mailing Address
Base Network Services
Tweaknews
Staten Bolwerk 1
2011 MK Haarlem
Netherlands
+31.728500710 (Not For Support)
Support Hours: 10:00 - 16:00 CET
Support Email: support@tweaknews.eu
KVK no. 60916605
VAT no. NL854117970B01
Security / Company Privacy Policy
Ttweaknews states on their website that "We only use your personal information for own internal business operations and to give you the information you requested. In particular, we retain your name, address and related information for billing purposes. We won 't share this information with or sell it to third parties, unless you gave us permission to do so or unless we are legally obliged to do so.".  
Also Tweaknews mentions that "The TweakNews user is personally responsible for any messages and/or data that are placed by the user. The assigned username and password are, and should be held, as strictly personal and confidential." Be careful with your username and password and use SSL which is available for free with Tweaknews. (SSL on port 563 or 443 for download privacy). Note: you will need to have a valid email address associated with your account.
Payment Options
Tweaknews accepts: Major Credit Cards, iDeal, GiroPay, Paypal and Sofort Banking for payment.
Our Opinion
Tweaknews is one of our most popular USENET providers for many good reasons: price, speed, the Usenet newsreader and the VPN client. While they may not have the best binary retention on the market, Tweaknews delivers on speed and the additional value added products.
Take advantage of the generous free trial offer available through our link and try out Tweaknews for 10 days to see if they work well. We think you will be happy.
Visit TweakNews