Newshosting Review
Last Updated: Jan 19, 2021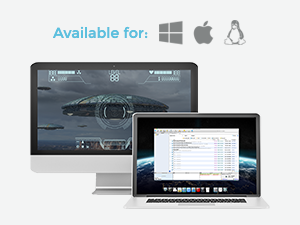 Rating
Price
$8.33 / Month
Retention

4543

Days
Free Trial
14 Days / 30 GB
Features
Best Price
Free Newsreader
Free VPN Access
US based USENET provider Newshosting is currently our favorite, top ranked USENET provider. Newshosting has been in business since 1999 and has earned a reputation for providing the highest quality and fastest speeds. They also provide the best retention, a critical feature for accessing articles posted a long time ago. At the time of this review, they offer well over a decade of retention – a massive difference compared to many other providers, many of which offer just a few months of retention.
Newshosting is a tier 1 provider, meaning they own and operate their own servers, so you can expect short routes and high speed connections from both their US and European server clusters. They also offer the best overall value for complete, all-in-one Usenet access.
The summary below outlines the features you will get with a Newshosting account.
Newshosting Quick Summary
$8.33 / Month special price for UsenetReviewz.com visitors + a free VPN account with a yearly signup.
Normal price is $19.94 - UsenetReviewz.com visitors save 58% (Lifetime Discount)
Fastest and most reliable Usenet backbone
Independently operated servers
Multiple US and EU server farms
Best retention – the most offered by any USENET provider
Unlimited monthly access
Uncapped speeds - other providers will limit download speeds
Free Newsreader to search, preview and download from Usenet
Newsreader search that returns fast, accurate results
Free zero-log, VPN service included with yearly USENET plan
Compatible with all popular Usenet automation apps like Sonarr, Radarr, and CouchPotato.
Customer support available in English, Dutch, German and French
Binary Retention Numbers
Newshosting offers by far the best retention rates of any Tier-1 Usenet provider. As of today, they offer 4543 days (and growing) across over 125,000+ groups, both text and binary. When you compare this to providers that only offer a few months of retention, you can really see the difference in the quality of service you're getting.
In addition to offering the most retention (which we should also note continues to grow), Newshosting provides over 99% article completion. Considering that you're getting unlimited monthly access, a free newsreader with search and file preview features, and a free VPN with your account, this is easily our top recommended services in terms of overall quality and value.
Pricing
Newshosting offers several packages with pricing varying based on the number of connections, amount of monthly data allowed, and whether or not VPN is included. UsenetReviewz visitors get up to 58% off for life on Newshosting's Unlimited plan. If you choose the annual plan, you will also get a Zero-Log VPN account for free.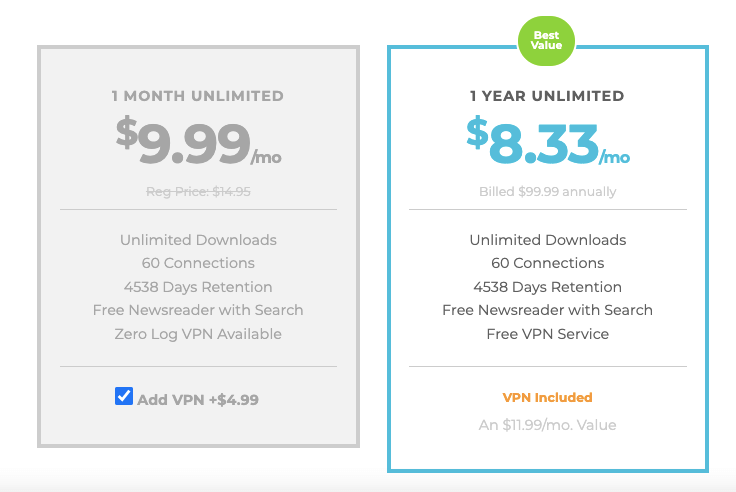 Retail Pricing for Newshosting
| Name | Price | Download Limits | Connections | Free Trial | SSL |
| --- | --- | --- | --- | --- | --- |
| NHXL Powerpack | $15.83 | Unlimited | 60 | true | true |
| NH Unlimited | $12.95 | Unlimited | 30 | true | true |
| NH Lite | $10 | 50 GB / Mo | 30 | true | true |
Free Trial Info
Newshosting offers a 14 day free trial with all plans. This includes up to 30 GB of high-speed downloads (i.e. speeds are not capped) from any of their server farms plus access to all retention. If you decide that Newshosting is not right for you, cancel any time before 14 days or 30 gigs of transfer and you will not be charged for the plan you chose during registration. It's straightforward to cancel and for 30 gigs of free transfer, it's definitely worth a try.
Please note: the free trial offer is not included with UsenetReviewz.com's discounted special pricing, so if you want to get the best price for Newshosting and feel confident with our recommendation, we'd recommend locking in the special rate instead (discounted plan is available to new users only).
Special Offers / Coupons
If you sign up through UsenetReviewz, you will get a special discount that will automatically apply for the lifetime of your Newshosting account. There are 2 discounted options – A monthly Unlimited plan for $9.99/mo that does not include a VPN, and an annual plan for $8.33/mo, which includes a VPN. Both plans include access to all text and binary retention, access to all server farms, and a free newsreader with unlimited article search, previews, and SSL-secured downloads.
Speed
We maxed out at 50 Mbps during our testing and were able to utilize all available bandwidth despite the bandwidth routing from South America to North America. Please note: download speeds can be affected by intermediary Internet connections.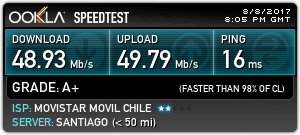 ---
Connection Speed Test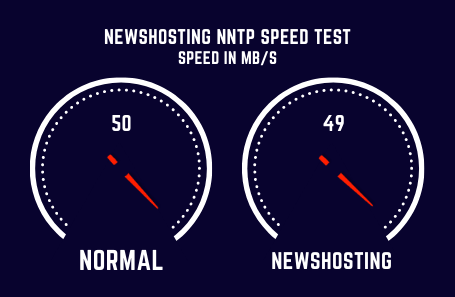 Server Connections
The discounted Unlimited plan available through UsenetReviewz gives you up to 30 SSL-secured connections, which should be more than enough to maximize your ISP's bandwidth. Keep in mind that using more connections than is needed could actually slow down your Usenet access speeds (for us, 8 connections was optimal), so you'll want to be sure to run a few tests with varying number of connections to find the configuration that works best for you.
News Servers / Ports / Configuration
In most cases, configuring a newsreader with Newshosting is as simple as entering the hostname news.newshosting.com and port 563 along with your Newshosting username and password. From that point forward, DNS will then automatically route your connection to the fastest and closest server to get you the fastest and most stable access speeds.
However, if you are looking for more specific server information for your configuration, please see below.
Hostname: news.newshosting.com Standard NNTP Ports: 119, 23, 25, 80, 3128 SSL Ports: 563, 443
IPv4 NNTP servers
news.newshosting.com (recommended geographic auto select hostnames)
news-us.newshosting.com ( United States hostnames)
news-eu.newshosting.com (European hostnames)
news-nl.newshosting.com (Dutch hostnames)
news-de.newshosting.com (German hostnames)
IPv6 NNTP servers
news6.newshosting.com (recommended geographic auto select hostnames)
news-us6.newshosting.com ( United States hostnames)
news-eu6.newshosting.com (European hostnames)
news-nl6.newshosting.com (Dutch hostnames)
news-de6.newshosting.com (German hostnames)
Note: while currently not all USENET newsreaders support IPv6 its good to know that Newshosting is thinking of the future.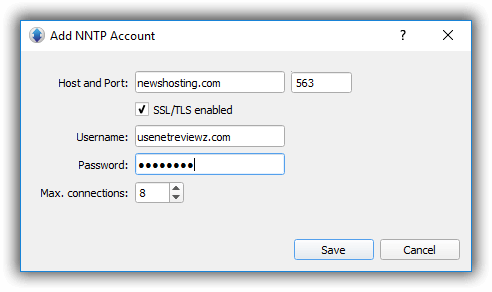 Frequently Asked Questions for Newshosting
Which package should I pick ? We recommend the annual plan for a few reasons – It gives you the best price per month ($8.33, which is a 58% discount), gives you unlimited downloads, and includes the Newshosting Newsreader as well as unlimited zero-log VPN access for free.
What are the benefits of using a VPN ?  VPN provides many benefits including online privacy protection for all your Internet-enabled devices, it will secure unsecured wifi networks, and gives you the ability to circumvent online censorship and geo-IP blocking.
What Newsreader should I use? We recommend the Newshosting Newsreader. It's free and includes all the features of a premium Newsreader including integrated search, article previews, and even scheduling. If you find that the newsreader does not meet your criteria, take a look at our newsreader clients to shortcut the research process.
How do I search USENET and find the content I am looking for?  We recommend starting with UsenetReviewz.com's list of NZB sites .
Can I pay via Paypal? Yes. Paypal is supported.
Does the price ever get lower Yes, occasionally the price can go lower during the annual black Friday sales and other times of the year. Bookmark our page and join our mailing list for more information.
---
Newshosting Newsreader Client
The Newshosting Newsreader is a fully-featured USENET newsreader available for Windows, Mac, and Linux. All Newshosting users, no matter what plan level, including free trial users, can get a free copy of the Newsreader.
Here are some of the main features that we like about the newsreader.
It's free
Fast setup (just download, then put in your Newshosting username/pw)
Integrated Usenet search that is easy to use and produces accurate search results
Integrated article previews
Ability to browse all newsgroups
Ability to bookmark and browse just your favorite newsgroups
Scheduling feature
Auto-unpacking and auto-repairing

The screenshot above gives you an idea of how easy Newshosting's newsreader is to use. The interface is intuitive, and also includes lots of bells and whistles available for those looking for a hands-on Usenet experience. Just start up and search for whatever you want. Notice that we are able to search and filter in various ways such as but not limited to size, name and file type.
---
Newshosting's VPN Client
Newshosting offers a full featured VPN client for free when you sign up for the yearly USENET plan or you can pay an additional $4.95 / month if you want to stick with monthly billing.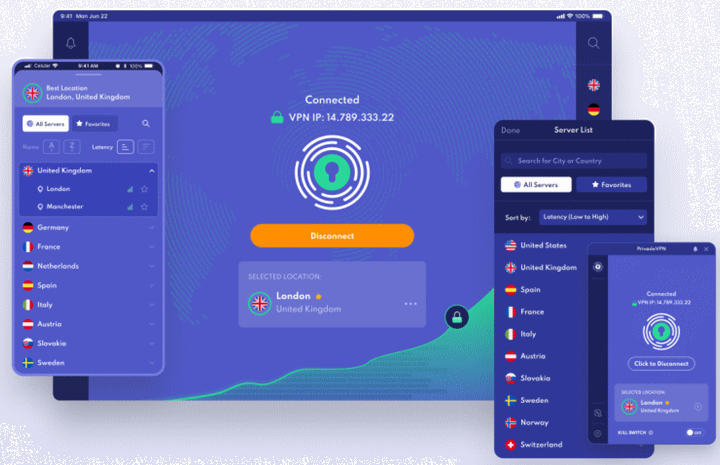 Newshosting VPN client details
Support 4 different VPN protocols
Access to 0ver 100+ server locations throughout the world
Unlimited downloads
Nat firewall built into the client to secure your connection.
Available for Windows and MacOSX
Linux versions can use OpenVPN config files included.
---
Support
24/7 support for Newshosting is available via email. Just email support@newshosting.com and you will get a ticket notification emailed to you, followed by a personal ticket response from a Support agent. You can also contact Newshosting via Facebook, although it is recommended to email directly with any technical issues.
Contact Information
Contact Newshosting via email support@newshosting.com
Security / Company Privacy Policy
Newshosting states on their website that "We do not monitor which newsgroups you post to or download from or what you put in news articles that you post." Newshosting also goes on to state that they "will not release any customer information unless ordered to do so by a court of law". Although these no logging statements read black and white, if you are very concerned about online privacy and anonymity, then you can sign up for a USENET provider that supports Bitcoin such as PureUSENET. Note: with any usenet provider you will need to have a valid email address associated with your account.
Payment Options
Newshosting accepts  Major Credit Cards and Paypal
Our Opinion
Newshosting has been a favorite provider of ours for years and is currently our top ranked USENET provider. They have provided outstanding Usenet access for over 2 decades, run their own independent newsfeed with servers in multiple locations throughout the world, have the most retention to ensure user access to the oldest articles, and include a free Newsreader with built-in search as well as a free zero-log VPN service. If you are looking for the best service and best value, we recommend going with this service.
You can also get a special lifetime 58% discount, which will apply automatically, through UsenetReviewz.
Visit Newshosting