Newshosting Newsreader Review
Last Updated: Jun 07, 2019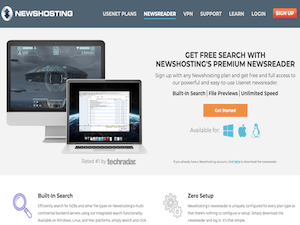 Rating
Price
Included
Retention

4422

Days
Free Trial
None
Features
Multi Platform Newsreader
Bundled USENET Service
Quickly Scan Header Files
Top-rated USENET provider Newshosting created a USENET newsreader client back in 2011. Since then, they have been making gradual improvements.
The Newshosting newsreader looks good and works well. Newshosting's newsreader runs on multiple platforms, including Mac, Windows and Linux.
The newsreader is free if you have a subscription to Newshosting. You can download it from their site or from a link in the welcome email you'll get when you sign up for the service.
Features
Built In Search – Search Newshosting backend servers easily
Unlimited File Previews – Built In Image Viewer
Filtering – You can filter by Language, Category – i.e. Audio, Video, Images, ISO
Unrar and Unpar – Nice presentation of downloaded files
Easily Import NZBs – NZB drag and drop import support
Download scheduler
SSL Available – Nice for avoiding traffic shaping restrictions.
All Platforms supported – Windows, Mac and Linux versions
File repair feature automatically fixes broken downloads
Ability to use alternate ports
Configurable connection speed limit
You get access to this newsreader when you sign up for the fourteen-day, 30GB trial from Newshosting.
The Newshosting newsreader was remarkably smooth in testing. Check out the screenshots below to get an idea of what the interface looks like. There's also a video you can watch that gives you an introduction to the newsreader.
This is a great enhancement to an already impressive provider's offerings.
Above we have the main page of the newshosting newsreader
Settings page for the Newshosting Newsreader*
Newshosting Search Page
Newsgroups List for Newshosting Client
Newshosting Download Page
Newshosting Download Scheduler*
Visit Newshosting
Best Usenet Newsreaders