Newshosting Newsreader Review
Last Updated: Jan 26, 2022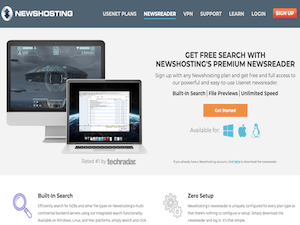 Rating
Price
Free with service
Retention

5525

Days
Free Trial
None
Features
Multi Platform Newsreader
Bundled USENET Service
Quickly Scan Header Files
Primarily a Usenet service Provider, Newshosting developed a newsreader client in response to the needs of their users of having a competent and efficient newsreader service. From its creation, the Newshosting newsreader has been gradually but continuously been improved to upgrade its performance and interface. This newsreader runs on multiple platforms, including Mac, Windows and Linux.
Newshosting newsreader comes free with a Newshosting subscription and has become a popular option for its integrated search feature and easy-to-use interface.
Highlighted Features
The Newshosting newsreader has a lot of impressive features that provide the best possible experience for Usenet users and downloaders. Upon testing, this newsreader runs smoothly and is considered to be a great addition to an already impressive Usenet service provider.
Free & Easy to Use

comes free with a Newshosting subscription
simply download the appropriate software for your device and instantly use

Zero set-up required

Download, log-in and use right away

Built-in Search

Easily search Newshosting backend servers

Unlimited File Previews
Filtering

Filter by language, category – i.e. Audio, Images, Video, ISO

Unrar and Unpar

Nice presentation of downloaded files

Easily Import NZBs

Drag and Drop import support

Download Scheduler
SSL Available

Perfect for avoiding traffic shaping restrictions

Supports Multiple Platforms

Windows, Mac and Linux operating systems

File Repair Feature

Automatically fixes broken downloads

Ability to Use Alternate Ports
Configurable connection speed limit
Newshosting Newsreader has a simple and clean-looking interface, devoid of any unnecessary clutter. It is easy to navigate and move from one function to another. Settings are also highly customizable according to the user's preference.
Search by Newsgroups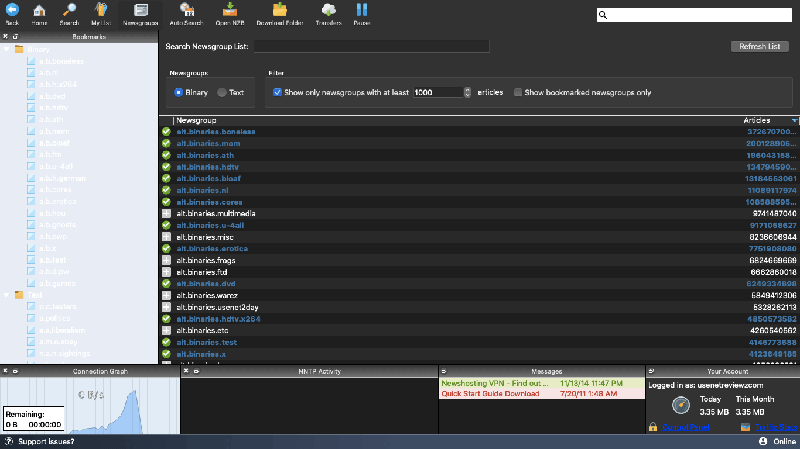 Quick Search Results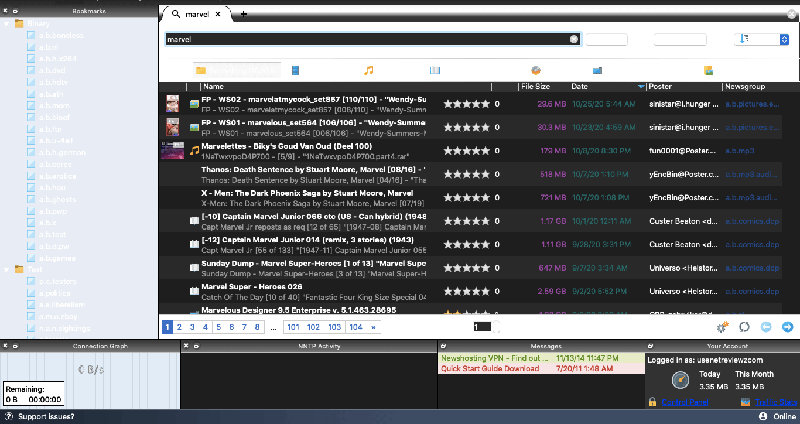 Built-in Viewer Function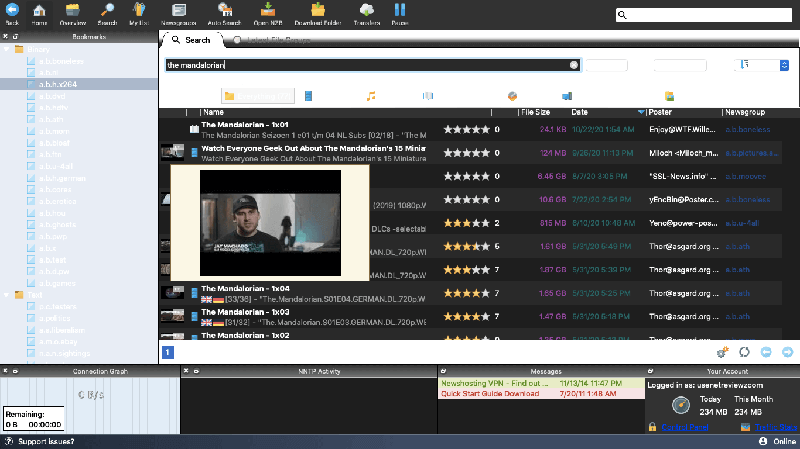 Plans & Pricing
When you subscribe to a Newshosting plan, its newsreader comes free with your subscription. Newshosting has multiple plans that you can choose from that differ on allowable connections and download limits. Subscribing to this top-rated provider also allows you to enjoy their full retention of 4000+ days.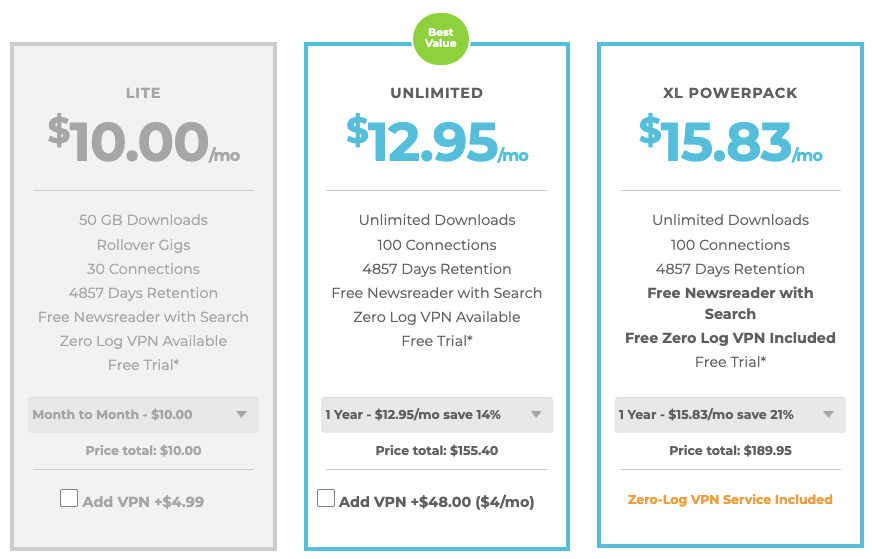 Free Trial Information
Newshosting offers a 14-day free trial period for any of their subscription plans. With this free trial, you also get to experience the full function of their newsreader. That should be enough time to determine if the Newshosting newsreader and the Usenet provider are perfect for you.
Usage Overview
This newsreader was primarily developed to cater to the need of Newshosting users for an efficient and easy-to-use Usenet client. The Newshosting newsreaders come conveniently configured according to the Usenet providers settings once you've downloaded and installed it on your device. And as mentioned, its interface is easy to navigate and has a modern and clean look that would appeal to a lot of users. Other settings are also completely configurable and customizable according to one's preference.
Installation
To install the newshosting newsreader, simple go to and select your operating system. Make sure you have an existing Newshosting account before downloading the software.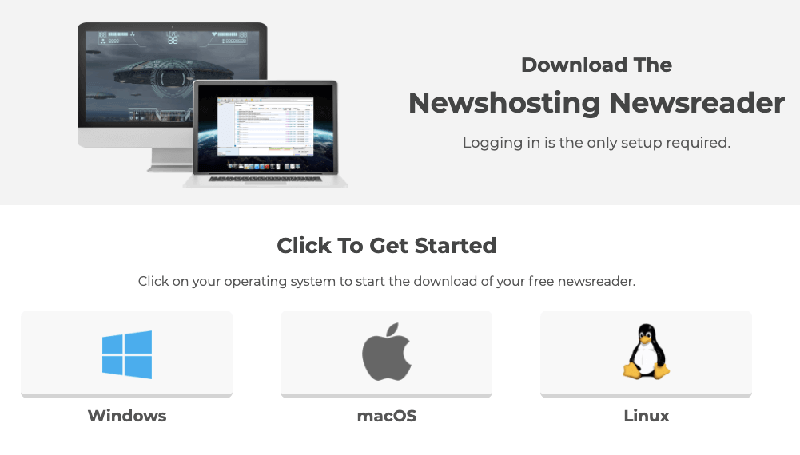 Of course, the installation process differs depending on your device's operating system. An installer is available for both Mac and Windows.
For Mac users, download the .dmg file from the newshosting newsreader page and click on it to start the installation process. It would eventually prompt you to move the Newshosting app to your applications folder, which would complete the process.
For Windows, download the Usenet client from the website and launch the installer. Click on the next few steps and you should be able to launch the newsreader easily and use it right away.
For Linux users, you would need to open your terminal and run several commands. The installation process is seen below:
Download the client once you've logged in to your Newshosting control panel
Open terminal and navigate to download window

cd Downloads/
Change permissions to allow execute
chmod 770 newshosting-2.8.10-linux-x64-installer.run

Execute installer

./newshosting-2.8.10-linux-x64-installer.run

Walk through the rest of the installation process
Launch the application from either the desktop shortcut or the command line.

~/newshosting-2.8.10/newshosting.sh
Configuration
When you first open the Newshosting Newsreader app, it will prompt you to log in with your Newshosting account's username and password. This automatically configures your settings accordingly.
Hostname: news.newshosting.com
Port: 119
Additional NNTP Ports: 23, 25, 80, 3128
SSL Ports: 563, 443
To keep your download activity secure and anonymous, make sure you use an SSL port.
You can also use several server options that Newshosting provides to maximize your connectivity.
Geographic auto-select hostnames:

IPv4: news.newshosting.com
IPv6: news6.newshosting.com

United States hostnames:

IPv4: news-us.newshosting.com
IPv6: news-us6.newshosting.com

Europe hostnames:

IPv4: news-eu.newshosting.com
IPv6: news-eu6.newshosting.com

Netherlands hostnames:

IPv4: news-nl.newshosting.com
IPv6: news-nl6.newshosting.com

Germany hostnames:

IPv4: news-de.newshosting.com
IPv6: news-de6.newshosting.com
Scheduling & Automation
The Newshosting Newsreader has several features that allow you to automate your downloads. One of the best features it has is its automatic search function, which you can configure according to your query and media type. You can also put a range on your size limitations and schedule the validity date of each search query.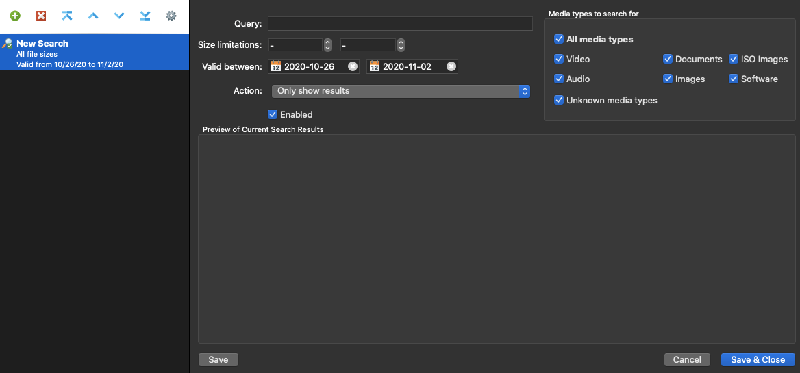 Usability
This newsreader is very convenient to use. With its clean interface and easy to navigate functions, a lot of users are able to enjoy the full features of Newshosting newsreader. It has some features that not all newsreaders have like integrated search capabilities and automatic download scheduler.
To download files from Usenet, simply look for the files you need through the different search options, click on your desired NZB file and start downloading.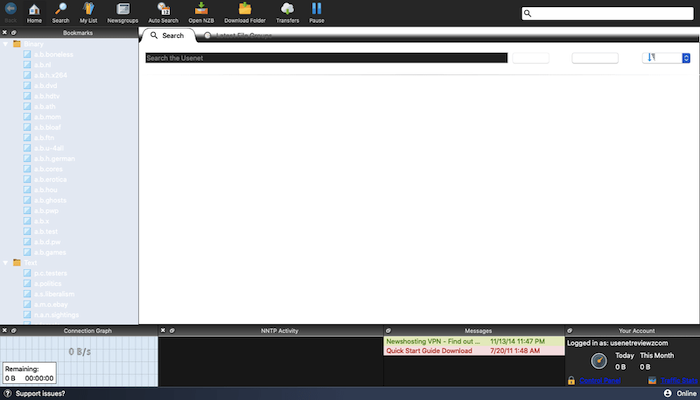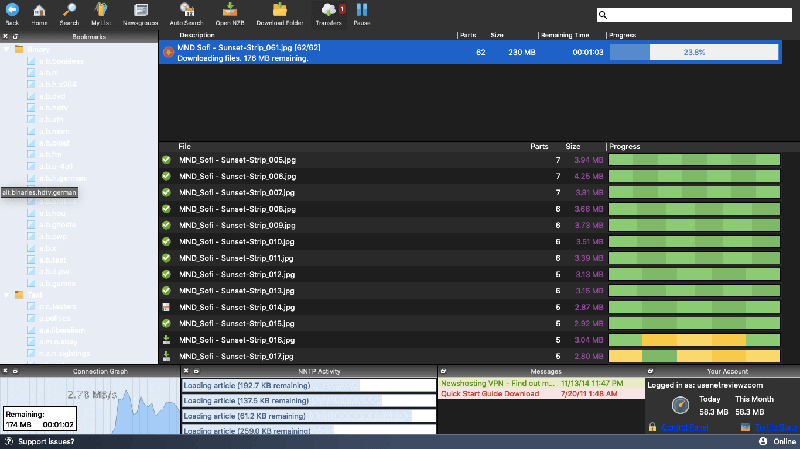 Conclusion
There is no doubt that Newshosting has been one of the best Usenet service providers in the industry. And with their additional offerings like their newsreader, they have cemented themselves as a very competent and reliable service provider.
The Newshosting Newsreader is also one of the main reasons why a lot of users go for Newshosting as their provider. The newsreader has impressive features and an easy-to-use interface that gives it an edge among its competitors. And while there is a constant emergence of either new newsreader or upgrades from existing Usenet clients, the Newshosting newsreader has also been constantly improved to give users the best possible downloading experience there is.
Visit Newshosting
Best Usenet Newsreaders