NZBGrabit Review
Last Updated: May 15, 2019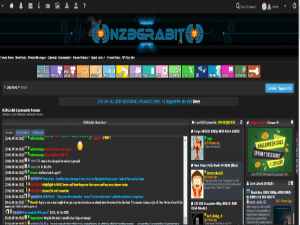 Rating
Price
$15/Yr
Retention
500 Days
Free Trial
None
Features
10 Zip Dls / Day
$15/Year & $35/Life
Up to 200 NZBs for VIP
Online since early 2012, NZBGrabit has been a top NZB site for several years now. NZBGrabit has a nicely designed Vbulletin based forum /NZB site and notably NZBGrabit site leader have good communication with NZB site visitors.
NZBGrabit Highlighted Features
Quality Forum based NZB site – No API calls / automation
Free Account – 10 .ZIP downloads a day with 20 day retention
VIP Account – 100 NZB or ZIP downloads with 1500 day retention
Retention – over 1500 days of binary retention
New NZBs added every 15 minutes
Active and friendly forum
Unlimited invites for paid users
No Integrations with NZBGet, etc nor API Calls
Hardware details: Dedicated Server
Payment Options: Credit Cards
Membership Levels for NZBGrabit
| Name | Price | Nzbs | Retention | Invites |
| --- | --- | --- | --- | --- |
| Free | $0 | 10 | 20 | No |
| VIP | $13/Year | 100 | 1500 | Yes |
| VIP Plus | $15/Year | 200 | 2000 | Yes |
NZBGrabit Status / Uptime Charts
| | Status | Since | Average Response Time |
| --- | --- | --- | --- |
| ● | | | |
24 Hour Response Time Chart for
NZBGrabit
Chart will be updated in
X
seconds
Uptime Averages
More Detail
The service is based on vBulletin. You can sign up for a free account at the site's homepage and explore what it has to offer.
NZBGrabit does not actually host any files. The site is designed to index the public USENET system, making it easier for users to locate NZB files in which they may be interested.
NZBGrabit is similar to an online forum, with all of the information you need logically divided into categories. Uploading your own NZB files only requires that you enter the appropriate section of the site, click on the appropriate link and fill in the information. This should make it very easy for users to share NZB files with each other and to keep the site lively.
Community participation at the site is already strong, with a user of the site having made the tutorial videos hosted on YouTube. If you want to take a look at how the system works and how the uploading process is designed, you can watch the video and see for yourself.
The vBulletin script was modified by the site creators to make it more suitable for uploading NZB files. For some users, this may give it a bit more appeal as a place to share these files. The vBulletin script is used at other NZB indexing sites, as well, but, according to the site programmer at NZBGrabit, those sites have modified the script as well to make it more suitable for their purposes.
NZBGrabit Rewards System
NZBGrabit has added a rewards system on the site so for every post you make you are rewarded with one point and each point is worth the equivalent to 1p in value so if you buy the 1 week £1 pack and get 100 points built up on 1 week (make 100 valid posts) you can use them to get an extension on your pack without actually spending any more… this is to help increase the community side of things.. also if you go above and beyond on anything like helping someone out with something no one else can, or just generally helpful around the site and with the community a mod can reward you with extra points which you can use to get free VIP.
Conclusion
We like NZBGrabit. Specifically we like the active and friendly community, being able to pay via credit card and finally the good selection of NZB files makes them worth considering. The only possible downside is that NZBGrabit cannot presently be integrated with automation software such as NZBGet or SabNZBD.
Altenatives To NZBGrabit
| Name | NZBs | Price |
| --- | --- | --- |
| Oznzb | 5 NZBs Daily | $16/Year & $ 55/Life. |
| NZBFinder | Free: 5 NZBs & 25 API Calls. | 10, 20, 35 Euros. |
| DogNZB | No Free Account | $18/Year for VIP |
| ABnzb | 20 NZBs & 100 Calls | $25/Year for VIP |
| OMGWTFNZBS | No Free Account | $10/Year for VIP |
| NZB Tortuga | 5 NZBs a Day | $6/Year for VIP |
| NZBGeek | No Free Account | $12/Year for VIP |
| GingaDaddy | 3 API Hits/NZB Grabs | $17/Year for VIP |
| Nzbplanet | 5 NZBs Daily | $10/Year for VIP |
Visit NZBGrabit