NZBGrabit Review
Last Updated: Feb 08, 2022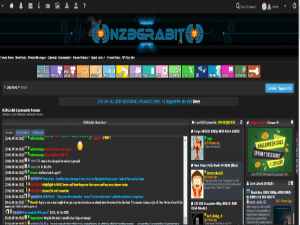 Rating
Price
£14/yr
Retention
3000 days Days
Free Trial
None
Features
Free 5 .ZIP Downloads
Arcade, and Photo Editor Included
50 Group Indexed
Online since 2012, NZBGrabit is one of the more popular NZB sites for community uploaders. It is free to register, and the website is well-optimized with its user-friendly features.
NZBGrabit is known for its active and friendly community. Like many other indexers, they will require you to say friendly words or to thank the uploader before you get the link to the file. A quick introduction to the group is also necessary before they give you access to download NZB files.
Highlighted Features
Privacy: SSL secured
Open and free to register
Up to 3000 days retention
Up to 200 NZBs per day
Unlimited invite for paid users
Free: 5 .ZIP downloads with 10 days of retention
Index updates every 15 minutes
Arcade game, photo-editor on-site available
Custom interface with a distinct style
Three types of plan available
Snappy checkout
Hardware details: dedicated software
API: No
Ads: No
Interface
NZBGrabit has a custom made software based on VBulletin. The site developer has extensively modified the VBulletin script to help facilitate uploading and downloading. VBulletin is a popular forum program used by other community-based sites, and here it has been modified for use with NZB sites.
As of writing, the website is now updated to its Halloween theme, and they post special offers for their loyal customers and newcomers.
Ease of Use
NZBGrabit is easy to use. They have an active community which you can see by taking a look at their forum. Additionally, you can play arcade games with the online users, edit your top bar settings, and use their on-site photo editor.
Also, they have guided tutorials for new users - videos on how to use the website, how it works, and how to upload and download files.
NZBGrabit allows you to send gifts to others and help them upgrade their account. All the categories to check out are on the uppermost corner of the website. All you have to do is to check the category and fill out the necessary information to search.
Membership Level
NZBGrabit has three types of plan- Supporter, Super Supporter, and Lifetime Supporter. Payment is through credit cards, and they do not recommend using third party sites like Paypal.
| TYPE OF ACCOUNT | SUPPORTER | SUPER SUPPORTER | LIFETIME SUPPORTER |
| --- | --- | --- | --- |
| RETENTION | 2000 days | 3000 days | 3000 days |
| NZBs PER DAY | 100 | 200 | 200 |
| PRICE PER WEEK | £5.00 | £6.00 | N/A |
| PRICE PER MONTH | £6.50 | £8.00 | N/A |
| PRICE FOR THREE MONTHS | £9.00 | £10.50 | N/A |
| PRICE FOR SIX MONTHS | £11.50 | £13.00 | N/A |
| PRICE PER YEAR | £14.00 | £15.50 | N/A |
| PRICE FOR THREE YEARS | £17.00 | £19.00 | N/A |
| PRICE FOR 25 YEARS | N/A | N/A | £60.00 |
All plans allow users to download NZB and ZIP files. They also accept donations of any amount. Just bear in mind that donating does not automatically change your status as a supporter.
Support
The help desk section and contact forms are available on their website. They encourage users/visitors to complete the information and be specific on the details before submitting a ticket, so they can get back to them as soon as possible.
They also have chat boxes for concerns, or for socializing with other users.
Uptime Status
NZBGrabit has an average response time and has a good uptime similar with other competitive NZB sites.
NZBGrabit Status / Uptime Charts
| | Status | Since | Average Response Time |
| --- | --- | --- | --- |
| ● | | | |
24 Hour Response Time Chart for
NZBGrabit
Chart will be updated in
X
seconds
Uptime Averages
Conclusion
NZBGrabit is popular for its active and quality community support. They are also known for their good relationship with their users. While they do not host any files, they have a good selection of NZBs available posted by its members. The only downfall is that NZBGrabit does not have integrations with NZBGet, sabNZBD, etc, or API calls, but with the website's ease of use, and tutorials presented on the website, NZBGrabit is worth considering.
Altenatives To NZBGrabit
| Name | NZBs | Price |
| --- | --- | --- |
| NZBFinder | Free 5 NZBs & 25 API Calls | 10, 20, 35 Euros |
| UsenetCrawler | Best Free Account Offering | Over 500 Groups Crawled |
| NZBgeek | Open and Free to Register | Free and Paid Service |
| DrunkenSlug | Free 100 API Hits and 5 NZBs Daily | Invite-Only Website |
| NZB.su | Open NZB Site | API Integrations |
| DogNZB | Invite Only | $20/Yr for VIP |
| NZBPlanet | Invite Only | 2 Million NZBs Indexed |
| FileSharingTalk | Forum-Based Site | Option to Donate |
| OmgWtfNZBs | Invite-Only NZB Site | $10/Yr for Donators |