NZBgeek Review
Last Updated: Feb 08, 2022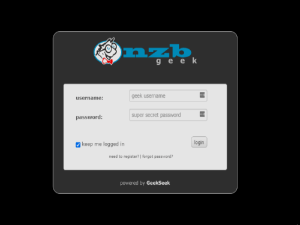 Rating
Price
$12/yr
Retention
N/A Days
Free Trial
None
Features
Open and Free to Register
Free and Paid Service
Over 500,000 NZBs and Developing
NZBgeek is a community-based indexer that is open for registration and is run by a Newznab interface.
NZBgeek is different from other automated websites that have control over their postings. They aim to be the most reliable NZB indexer that is built on being a great source of useful and quality NZB files from their active community of members.
NZBgeek offers free and paid services to its users, and they are reasonable to consider.
Highlighted Features
Open and free to register
Total of 15 NZBs for free users
3-day free trial
multiple subscription plans - 6 months, 1 yr, 5 years, Lifetime
Index updates every 10 minutes
API Integration; Sonarr / Radarr / SickBeard / CouchPotato
Privacy: SSL/TSL
Over 500,000 NZBs and developing
Filter options
Ads: None
RSS available
Private Usenet search site
Interface
NZBgeek has a Newznab-based interface. The website is well-optimized, and it provides value for the money in both forums and indexers.
Ease of Use
Once you've entered the site, the search bar becomes visible and allows you to search for the files you need and gives you the option to adjust the search settings. These settings can be sorted through by file name, size, category, number of files, date posted, and member comments. Select the file you want to download or add it to the cart (save for archive).
Color label to distinguish forum content:
Blue- new update
Grey/Transparent- nothing new
Red- lock forum
Green- redirect forum
Membership Level
NZBgeek provides free and paid accounts. The free account only has 15 NZBS valid for 3 days. After the free trial you can subscribe to their service that has outstanding features like:
Unlimited NZBs and APIs
Content requests
Monthly giveaways, and Support
Customized searches, and spam filtering
Movie trailers and language flags
Gaming
Dashboard
Access to most popular releases

| Plan | NZBs | APIs | Cost |
| --- | --- | --- | --- |
| Free | 15 NZBs for 3 days | Limited | $0 |
| Paid | Unlimited | Unlimited | $12.00 |
You can send your payments through credit cards and cryptocurrencies.
NZBgeek has 400,000+ members, they are growing and still open for registration.
For subscription management you can visit geek-hub.com.au and log in with your username and geek key as password.
For expiring subscriptions:
When your subscription is approaching expiry (30 days before expiry) you will see a warning on site and receieve an email. If you renew before your expiry is reached it is added to the end of your current subscription.
For expired subscriptions:
You will see a warning on site once your account has expired
You will be restricted to your account page and your api key will cease to function
30 days after your expiration we will send you a reminder
Support
NZBgeek gives support by providing options to help you in your specific concern. Moderators around the globe are almost always online with the primary hours of 12:00 am GMT - 2:00 pm GMT, 7 days a week.
If it is related to your account status: Check MyNZBgeek Account Tool.
For general concerns: You can post in the support forum, and you can also send a chat message to the moderators online at that moment. If nothing works, you can send your concerns at info@nzbgeek.info.
NZBgeek is not considering being an invite-only indexer, and that makes their website very accessible.
Uptime Status
Based on our research, NZBgeek has an average response rate. Its downtime rate ranges from 5 to 20 minutes, but minimal occurrence.
The website's index is refreshed every 10 minutes, allowing you to get the latest access to the NZBs once it's available. Its server is located outside the US.
NZBgeek Status / Uptime Charts
| | Status | Since | Average Response Time |
| --- | --- | --- | --- |
| ● | | | |
24 Hour Response Time Chart for
NZBgeek
Chart will be updated in
X
seconds
Uptime Averages
Conclusion
NZBgeek may not be the best indexer for free users due to limited features, but with a donation of just $1 per month, you can get decent upgrades on their website.
Unlike other forum-based NZB sites, NZBgeek has something special about them. You can see how many threads are there in the forum, and how many users reply, and how many are currently online. NZBgeek has worked hard to establish themself as a good indexer, and this can be credited mainly to their community and how NZBGeek has provided exemplary service to their users.
If you like to try out their website, make sure that you can download files easier by downloading the best newsreaders. Newsreaders act as a client to help you read the articles on the newsgroup to a news server. It is an agent that helps you download and post new files. And, of course, you need to have a reliable Usenet service provider to gain access to Usenet itself.
Altenatives To NZBgeek
| Name | NZBs | Price |
| --- | --- | --- |
| NZBFinder | Free 5 NZBs & 25 API Calls | 10, 20, 35 Euros |
| UsenetCrawler | Best Free Account Offering | Over 500 Groups Crawled |
| NZBGrabit | Free 5 .ZIP Downloads | Arcade, and Photo Editor Included |
| DrunkenSlug | Free 100 API Hits and 5 NZBs Daily | Invite-Only Website |
| NZB.su | Open NZB Site | API Integrations |
| DogNZB | Invite Only | $20/Yr for VIP |
| NZBPlanet | Invite Only | 2 Million NZBs Indexed |
| FileSharingTalk | Forum-Based Site | Option to Donate |
| OmgWtfNZBs | Invite-Only NZB Site | $10/Yr for Donators |