Usenet Crawler Review
Last Updated: Feb 08, 2022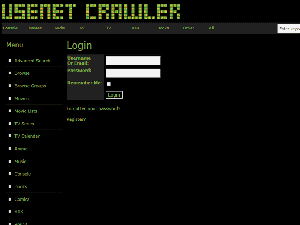 Rating
Price
$20 Lifetime
Retention
2700 Days
Free Trial
None
Features
Best Free Account Offering
Over 500 Groups Crawled
Lifetime Access Account Option
Usenet Crawler offers one of the best amounts of NZB grabs and API hits for free users among other NZB sites. They also have a lifetime plan that comes with even more features.
Since its launching back in 2012, Usenet Crawler has quickly emerged as one of the top NZB sites there is. With their generous free account offering and option to upgrade to a VIP level, Usenet Crawler has become a really popular option for users when indexers are concerned. However, recently their site has been encountering some server issues and has not been loading quite quickly as it used to. But rest assured, once you get into the Usenet Crawler site, you will be able to enjoy amazing features and have good searching and downloading experience.
UsenetCrawler also consistenly updates their website for news and other information related to their service.
Editor's Note: While Usenet Crawler went offline in January 1, 2021 due to a server breach, this NZB site is currently now being fixed. Their main indexer is offline for now but they have a secondary indexer that is up and running. Please note that Usenet Crawler has a habit of being offline for a long period of time only to come back after a while. Make sure to check back with us for more updates on this NZB site.
Highlighted Features
Best Free account among other NZB sites
Newznab-powered
Open registration
Free Account and VIP Account options
Over 500 newsgroups crawled
Standard retention: 2700 days
Retention upgrade for VIPs: 3900
Automatic integration with Sabnzbd and other popular services
Forum and Live Chat available
Fast indexer
Database over 3TB in size
Privacy: SSL
Stores non-access logs
Non-disruptive ads
Interface
Usenet Crawler is a Newznab-based site, which gives the site the best possible indexing capabilities along with community features. Their interface is straightforward and clean, and with the color scheme they use, texts are very easy to read.
Files are categorized according to genre and the site also has an option for free browsing, advanced search or browsing through groups.
Membership Levels
Usenet Crawler has an impressive free account level which can be upgraded to an even more impressive VIP membership. Both have an excellent number of NZB grabs and hits and only differ on forum access. Payment for VIP membership can be done via cryptocurrency or credit cards.
| Level | Price | Nzbs | Apis | Forum |
| --- | --- | --- | --- | --- |
| Free | $0 | 1000 | 10000 | False |
| VIP | $20/ lifetime | 5000 | 50000 | True |
Support
Usenet Crawler provides forum access to VIP members, and with an active community on site, users will be able to get information, ask for help, or get technical details if they need to. The website also has a live chat, which you can use to directly chat to the site admin.
Uptime Status
Usenet Crawler has a good uptime average and excellent response time. However, the site has been encountering host problems recently.
UsenetCrawler Status / Uptime Charts
| | Status | Since | Average Response Time |
| --- | --- | --- | --- |
| ● | | | |
24 Hour Response Time Chart for
UsenetCrawler
Chart will be updated in
X
seconds
Uptime Averages
Conclusion
Many NZB sites offer free NZBs and API hits when you register to their website, but no other indexer has been offering the same amount as Usenet Crawler. This is one of the main reasons why Usenet Crawler has been a popular indexer in the Usenet community. Their VIP membership level is also something to be impressed with since you only need to pay a one time, lifetime fee of $20 and you get numerous downloads and hits. Although the said price would probably get you unlimited grabs on other NZB sites, that amount only covers a year or several more of service. Overall, although this indexer has been having host problems recently, there is still no doubt that Usenet Crawler is one of the better NZB sites out there for its free account features, competitive VIP membership level, impressive amount of files indexed and easy-to-use interface.
Altenatives To UsenetCrawler
| Name | NZBs | Price |
| --- | --- | --- |
| NZBFinder | Free 5 NZBs & 25 API Calls | 10, 20, 35 Euros |
| NZBgeek | Open and Free to Register | Free and Paid Service |
| NZBGrabit | Free 5 .ZIP Downloads | Arcade, and Photo Editor Included |
| DrunkenSlug | Free 100 API Hits and 5 NZBs Daily | Invite-Only Website |
| NZB.su | Open NZB Site | API Integrations |
| DogNZB | Invite Only | $20/Yr for VIP |
| NZBPlanet | Invite Only | 2 Million NZBs Indexed |
| FileSharingTalk | Forum-Based Site | Option to Donate |
| OmgWtfNZBs | Invite-Only NZB Site | $10/Yr for Donators |