Easynews Review
Last Updated: Jan 19, 2022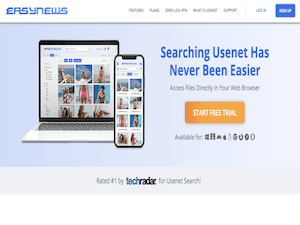 Rating
Price
$9.98 / Month
Retention

5525

Days
Free Trial
14 Days / 50 GB
Features
All-in-One
Usenet Search
Usenet Access
US based USENET service provider Easynews has been in business since 1998 and has become well known for offering an all-in-one USENET package that includes both a USENET service and a web-based Newsreader for searching, sorting, previewing and downloading files.
Easynews Quick Summary
Special offer for UsenetReviewz.com visitors – 2 week free trial with 10GBs
$9.98 / Month includes: Web USENET, Unlimited NNTP downloads and 256-bit SSL
Web Based USENET newsreader that has been in development over 15 years.
Rollover Gigs for Web Based newsreader(unused gigs rollover each month)
Compatible with all popular Usenet automation apps like Sonarr and CouchPotato

5525

days of retention and growing (most offered by any USENET provider)
US and EU servers
60 connections
24 x 7 Customer support
Binary Retention
Binary retention for the NNTP service is currently at 5525 days and growing. Easynews has over 100,000 newsgroups to choose from in addition to 99.5% article completion. The web based USENET client supports up to 5525 days of binary retention depending upon which plan you choose.
Pricing
Easynews has a 3 different pricing plans. Its pay as you go but Easynews encourages loyalty with features such as roll over gigs , extra gigs during holidays and yearly bonus gigs. Here is a breakdown of the three plans.
| Name | Price | Download Limit | Free Trial | NNTP Connections | VPN Included | Gig Rollover |
| --- | --- | --- | --- | --- | --- | --- |
| Classic | $9.98 / Month | 20 GB/Mo | Yes | 60 | (+$2.99/mo) | 500 GB |
| Plus | $14.97 / Month | 40 GB/Mo | Yes | 60 | (+$2.99/mo) | 1000 GB |
| Big Gig | $29.94/ Month | 150 GB/Mo | Unlimited | 60 | Free | 3750 GB |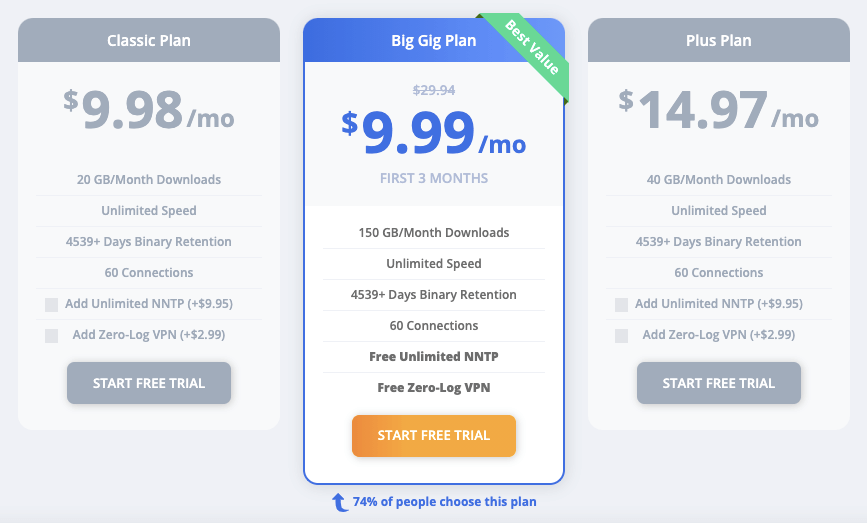 All Easynews plans included a free trial if you sign up through our link.   NNTP and VPN are additional charges ($9.95 a month and $2.99 a month respectively) unless you choose the Big Gig plan which includes everything.
All Easynews plans are month to month so we recommend taking advantage of the free trial and then starting off with the classic plan.  There are no yearly contracts but loyalty is rewarded with gigs given out for every year you are a customer. (1 GB for Classic Plan, 2 GB for Plus Plan & 12GB for Big Gig Plan)
Free Trial Information
Available only through a few select partners, Easynews offers a 2-week free trial with 50 GBs of downloads. If you go beyond either of these limits without canceling you will be billed.  If you're a bit hesitant, remember it's easy to keep an eye on the number of downloaded gigabytes through the Easynews control panel.
Special Offers / Coupons
By signing up through our website, you will receive the 2 week / 50 gigabyte free trial. This is available only through a few select websites like usenetreviewz.com who is also a first time Easynews customer.
Speed
Our download speeds max out at 80 Mbps. During our test of Easynews NNTP service we were able to utilize all available bandwidth despite the bandwidth despite routing from South America to the United States. Using Easynews web based download service seemed just as fast. Note: download speeds can be affected by intermediary Internet connections.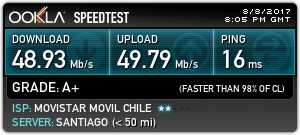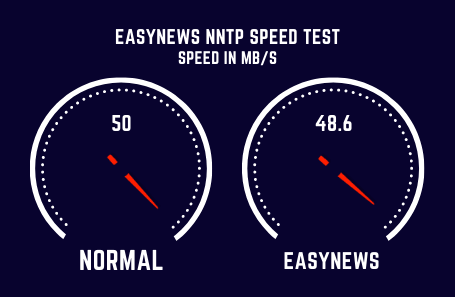 Connections
The NNTP plan add on for Easynews includes 20 connections otherwise using the Easynews web app you won't need additional connections.
News Servers / Ports / Configuration
Only if you choose to use the NNTP add on
Hostname:
news.easynews.com
secure.news.easynews.com (SSL Only)
Standard NNTP Ports: 21, 23, 25, 53, 80, 110, 119, 8000 and 8080 SSL Ports: 21, 23, 25, 53, 80, 110, 443, 8000 and 8080.
Note: news.easynews.com listens on ports 563 and 993 only.
United States servers
news.us.easynews.com (IPv4)
news6.us.easynews.com (IPv6)
secure-us.news.easynews.com (SSL & IPv4)
secure6.news.us.easynews.com (SSL & IPv6)
Europe Servers
news.eu.easynews.com (IPv4)
news6.eu.easynews.com (IPv6)
secure-eu.news.easynews.com (SSL & IPv4)
secure6.news.eu.easynews.com (SSL & IPv6)
Frequently Asked Questions for Easynews
How can I Extend my Easynews plan ?

Login to the website. From there click on 'Extend/Upgrade ' and choose the plan you would like and pay. Note: It will take a few minutes for your account to be extended.

Are Discounts offered for yearly sign up?

Easynews offers monthly signups only. You will receive the best prices by signing via our website.

What is the difference between NNTP and HTTP?

NNTP is an acronym signifying Network News Transmission Protocol and HTTP signifies Hyper Text Transfer Protocol.  NNTP refers to the transmission of USENET news (articles and binary files). HTTP refers to the transfer of Hypertext or Webpage content. You will need a USENET newsreader to read NNTP data. Also it would be an additional cost. Easynews tries to make USENET as easy as possible with a web based USENET viewer that brings NNTP content to the web via the HTTP protocol.

How many rollover gigs can I accumulate?

There is an upper cap on the number of roll over gigs that can be accumulated. With the highest tier retail plan called the Big Gig you can accumulate up to 3750 gigabytes of data (Almost 4 Terabytes!) With the Classic Plan you can accumulate up to 500 gigabytes and with the plus plan you could accumulate up to 1,000 gigabytes from unused monthly rollover data.

What newsreader should I use?

There are many to choose from some free and some not. If you are not happy with the web based newsreader that Easynews offers. Then you should look at UsenetReviewz.com 's list of the best USENET newsreader clients to help you start researching.

How many people use EasyNews ?

Easynews currently offers service to over 1 million broadband users in over 206 countries.
---
Easynews Web Newsreader / Image and Video Player
The Easynews web based picture viewer and video player makes it easy to view, search and filter USENET messages to find whatever picture you are looking for. Below is a look at Easynews web based Newsreader.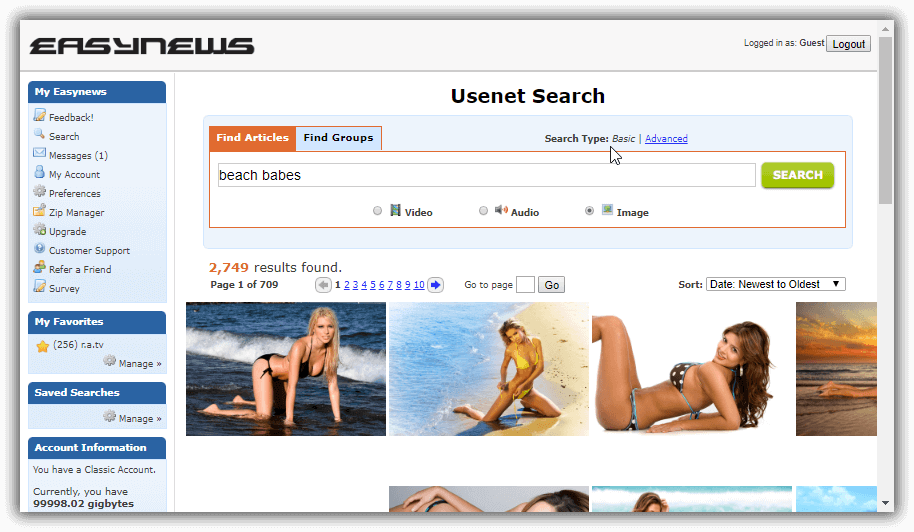 Features for Easynews Newsreader
Search by Keyword and filter for Images, Audio and Video
Sorting Options: Oldest to Newest or Newest, Oldest, Most Popular
Save your favorite search terms
Zip Manager to zip files together, saving space and helping to organize images
Easynews VPN Client
Easynews offers a fully featured VPN client for free when you sign up for the yearly USENET plan or you can pay an additional $2.99 / month.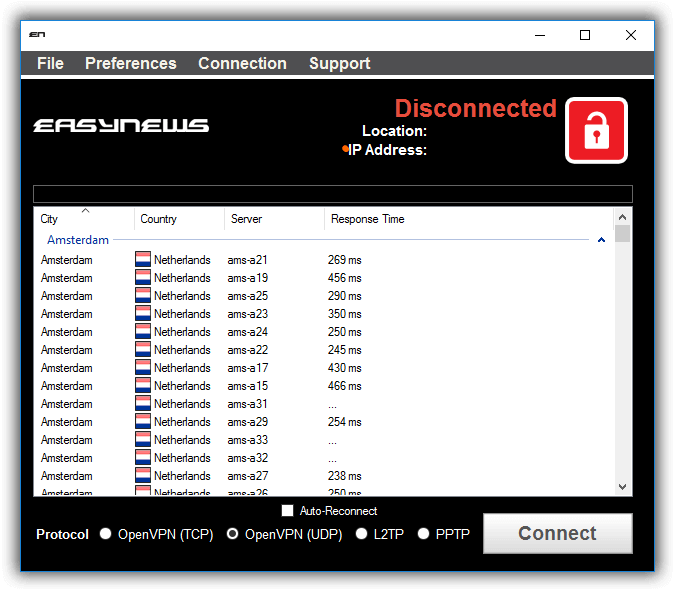 Easynews VPN client details
Support for 4 different VPN protocols
Access to 0ver 100+ server locations throughout the world
Unlimited downloads
Nat firewall built into the client to secure your connection.
Available for Windows and MacOSX
Linux versions can use OpenVPN config files included.
---
Support support is available via email or webform. Email support@easynews.com
Contact Information Contact Easynews via email support@easynews.com
Easynews Holdings Inc.
Dept AT 953031
Atlanta, GA 31192-3031
Security / Company Privacy Policy
Easynews states on their website that "Easynews does not monitor or record your activities online. We do not monitor which newsgroups you post to or download from or what you put in news articles that you post." Note that Easynews does ask for more information about you if you request access to post material on USENET. Be sure to have SSL enabled and configured correctly (ports 563 or 443) then all your downloads will remain private. Note: with any USENET provider you will need to have a valid email address associated with your account.
Payment Options
Easynews accepts: Major Credit Cards, Debit Cards and Paypal.
Our Opinion
Easynews is a great choice for either a beginner, someone who isn 't interested in learning all the in and outs of USENET or finally someone who just wants to look at pictures. If you are in one of those categories be sure to take advantage of Easynews generous free trial offer available through our website.
Visit Easynews