FileSharingTalk Review
Last Updated: Feb 07, 2022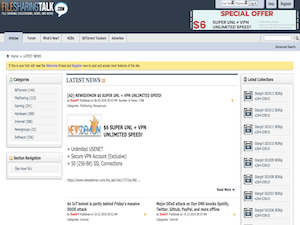 Rating
Price
$10/Yr
Retention
500 Days
Free Trial
None
Features
Forum-Based Site
Option to Donate
5 Pricing Periods
FileSharingTalk is not your average NZB indexer. It is a forum-based site where you can get links to NZB files from threads and posts.
Finding and downloading NZBs is a little different with FileSharingTalk if compared to other NZB sites. Since they are a community-based site, it allows you to search for links to files through threads and posts within their forum. Some users may like this type of function and others may not, but FileSharingTalk is still an interesting option. With its active community of users you will not have a problem engaging with other Usenet aficionados.
Highlighted Features
Open site with required registration
Forum access
Access to NZB section
Access to BitTorrent Trackers and trades
With advertisements
Up to 500 private messages for donators
Multiple membership plans
Advanced search option
Single or Multiple content type searching
Features recent Activity Stream
Ad Services
Privacy: SSL
Interface
As mentioned, FileSharingTalk does not follow the usual interface of most NZB sites. Users have no access to download actual NZB files for this site but instead they provide links to through threads or posts made by its community of members, hence why they are called FileSharingTalk. Although actual files cannot be downloaded from this site, FileSharingTalk is pretty easy to explore. Their advanced search feature allows you to go through all types of posts from NZB collections, articles, pictures, posts and even static pages.
Membership Levels
You can go through the site as a free member once you've registered, but opting to donate to their site gives you certain upgrades such as up to 500 private messages and instant access to their NZB section and Bittorrent Tracker. You can donate via PayPal over several periods.
One month - $2
Three months - $5
One year - $10
Three years - $20
Five years - $30
Support
As a forum-based site, the main support system of users would be the community itself. Check out the forum page of FileSharingTalk for some helpful discussion, like guides and tutorials and file sharing information. The site also has an FAQ section that has a lot of information on board rules, how-tos, and other necessary details.
What's good about filesharing to is that it has a active community of users with forums constantly participated in through useful information and responses
Uptime Status
FileSharingTalk relies on advertisements and donations to keep their site running, and so far, that works well for them. The site has had a great uptime status and their response time is fast, which is convenient for a lot of its members.
FileSharingTalk Status / Uptime Charts
| | Status | Since | Average Response Time |
| --- | --- | --- | --- |
| ● | | | |
24 Hour Response Time Chart for
FileSharingTalk
Chart will be updated in
X
seconds
Uptime Averages
Conclusion
FileSharingTalk may not be for everyone since the site does not index actual NZB files, but that does not mean that they are not a reliable source of NZBs. With its active community of members whose posts and threads contain sharing of files, you will still be able to get quality NZBs. And not only that, FileSharingTalk also has discussions for BitTorrent and other types of file sharing. Although it is important to be reminded that since this site is a very community-oriented site, they have a certain set of rules that users must abide by. Break the rules and you are at risk of getting your privileges reduced or possibly kicked off from the site.
Altenatives To FileSharingTalk
| Name | NZBs | Price |
| --- | --- | --- |
| NZBFinder | Free 5 NZBs & 25 API Calls | 10, 20, 35 Euros |
| UsenetCrawler | Best Free Account Offering | Over 500 Groups Crawled |
| NZBgeek | Open and Free to Register | Free and Paid Service |
| NZBGrabit | Free 5 .ZIP Downloads | Arcade, and Photo Editor Included |
| DrunkenSlug | Free 100 API Hits and 5 NZBs Daily | Invite-Only Website |
| NZB.su | Open NZB Site | API Integrations |
| DogNZB | Invite Only | $20/Yr for VIP |
| NZBPlanet | Invite Only | 2 Million NZBs Indexed |
| OmgWtfNZBs | Invite-Only NZB Site | $10/Yr for Donators |