FileSharingTalk Review
Last Updated: May 02, 2019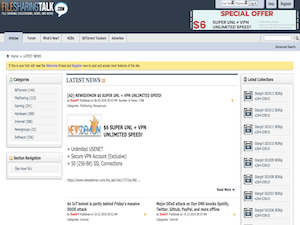 Rating
Price
$10/Yr
Retention
500 Days
Free Trial
None
Features
Not Disclosed.
Three Pricing Tiers 4 VIP
Plan Depends on Service Length.
FileSharingTalk doesn't look like your average NZB indexer. It's a forum-based site, so the process of finding and downloading NZBs is a bit different than the norm. Some users may love it and others may well feel otherwise, but it's an interesting option, nonetheless.
Membership Plans
You can use this site for free or as a Donator. As you may have guessed, becoming a Donator does have its advantages.
If you choose to donate, you first get the title "Donator" by your name, which gives you a bit of cred on the site. You'll also get practical benefits, including:
Instant access to the NZB section
Instant access to BT invites and trades
Up to 500 private messages
A reduction in the number of ads on the site
Membership plans are priced according to your length of service. The prices are:
One month for $2
Three months for $5
One year for $10
Three years for $20
Five years for $30
You can pay for your membership using PayPal.
Technical Details
The first thing you should know about this site is that it's very community oriented and it has rules. Break the rules at your peril. You'll find reductions in your privileges and, if you keep it up, you'll be kicked off for breaking the site's rules.
The forum posts provide links to NZB files. You won't find any content on this site; just links.
One of the advantages of becoming a Donator is that you get access to the verified NZBs section of the site. This is a sort of super filter for spam. You don't have to worry about burning time, bandwidth and transfer on junk NZBs from the links on this site.
There are several different discussions on this site. There are guides and tutorials, there's one dedicated to Bittorrent, one to newsgroups and one to file sharing. There's also a lounge, which has nearly a million posts on it, so this site really does live up to its community aspirations.
There are plenty of other discussions to explore, as well.
The experience of using this site will be much different than that of using a standard Newznab site. If you're looking for something more interactive, however, and NZBs that you can trust to be what they're labeled, FileSharingTalk is worth trying out.
Conclusion
FileSharingTalk is a very community-oriented, forum-based NZB site. It also has discussions for Bittorrent and other types of file sharing. The site provides links within its forums that you can use to download NZB files, but no content.
There is a free membership to this site, but you can donate to get access to even more features, some of them offering significant improvements over the standard NZB site experience.
Altenatives To FileSharingTalk
| Name | NZBs | Price |
| --- | --- | --- |
| Oznzb | 5 NZBs Daily | $16/Year & $ 55/Life. |
| NZBFinder | Free: 5 NZBs & 25 API Calls. | 10, 20, 35 Euros. |
| DogNZB | No Free Account | $18/Year for VIP |
| NZBGrabit | 10 Zip Dls / Day | $15/Year & $35/Life |
| ABnzb | 20 NZBs & 100 Calls | $25/Year for VIP |
| OMGWTFNZBS | No Free Account | $10/Year for VIP |
| NZB Tortuga | 5 NZBs a Day | $6/Year for VIP |
| NZBGeek | No Free Account | $12/Year for VIP |
| GingaDaddy | 3 API Hits/NZB Grabs | $17/Year for VIP |
| Nzbplanet | 5 NZBs Daily | $10/Year for VIP |