NZBFinder Review
Last Updated: Feb 08, 2022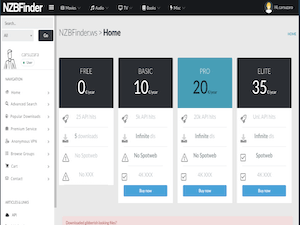 Rating
Price
€20/Yr
Retention
3600 Days
Free Trial
None
Features
Free 5 NZBs & 25 API Calls
10, 20, 35 Euros
Up to Unlimited Hits & Grabs
NZBFinder indexes high-quality audio, video groups, SD release, books and other miscellaneous files. They are a community based NZB forum that has both free search and premium accounts.
Like other Usenet search engines, NZBFinder indexes Usenet content, and they specialize in providing high-quality and popular NZBs. Their free membership level allows you to search the site, but with limited features. Paid members get a lot more API hits and unlimited downloads.
Recently, NZBFinder has made several updates on their user interface including the reduction of size of all their assests which makes their system load faster even on slower connections. Aside from this they've included a two-factor authentication feature to secure your account, dark mode feature, boxed or full width layout option and a responsive design which works for both iOS and Android.
Highlighted Features
Open NZB site
High-quality content
Multiple membership levels (Free & Paid Accounts)
Unlimited downloads for paying members
Fast service
13+ year History
Spotweb for Elite Accounts
Retention–over 3600 days of binary
Continuously running indexer
High level of deobfustication
Advanced search option
Newsgroup browsing
Popular downloads for premium accounts
RSS Feeds
Recommended Integration: Sonarr (TV), Radarr (Movies) and Lidarr
100% SSL secured
Mobile Support
Updated interface
XML & JSON API
With their most recent updates, new features and fixes include:
New reporting panel for easier and faster report releases
Revamped movies page
Improved readability
Fixed movie genres bug
No longer supports Windows XP
Plugin, NZB Unity stopped working due to new interface. Plugin maybe updated manually if maintainer of NZBUnity has not yet pushed new version.
Interface
NZBFinder is a newznab-based site that has a simple interface that can be easily navigated and explored even by the most beginner of users. They provide enough information on software configuration and have a Newznab compatible API that works well with a lot of apps.
You can explore the site through several approaches like the usual search box, or use their advanced search and popular download link.
Compatible with:
Sonarr, Radarr, Lidarr
NZBHydra 2
SickRage, SickGear, etc.
Couchpotato
Headphones
Mylar & Lazylibrarian
100% Newznab compatible
Membership Levels
NZBFinder has a free membership level and multiple paid accounts that are differentiated in downloads and API hits. Elite members also get Spotweb.
| Name | Price | Nzbs | Apis | Spotweb |
| --- | --- | --- | --- | --- |
| Free | €0 | 5 | 25 | No |
| Basic | €10/yr | Unlimited | 5000 | No |
| Pro | €20/yr | Unlimited | 20000 | No |
| Elite | €35/yr | Unlimited | Unlimited | Yes |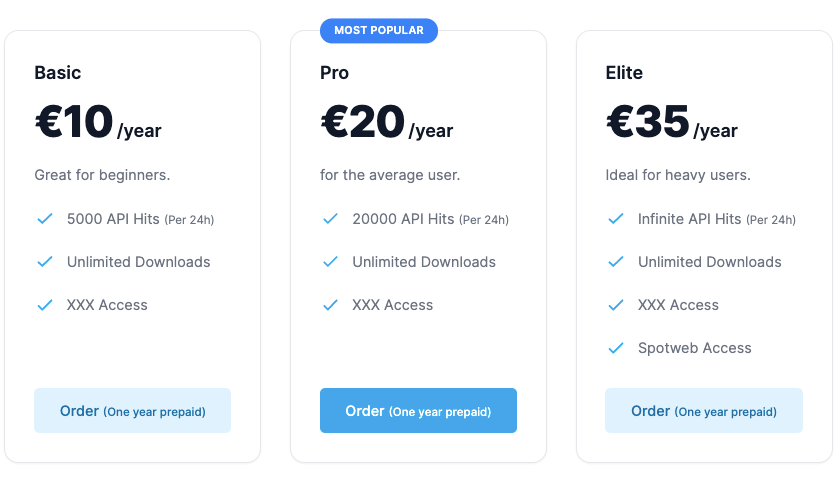 Currently, NZBFinder accepts the following credit cards as payment options: Visa, Mastercard and AMEX. They also accept crypto payments. If you are from Europe, they also offer a few localized payment methods for your country. You can view the full list of applicable localized payments once you check out your selected paid membership level.
They've also recently included China UnionPay as a credit card option as well as Dogecoin and WeChat Pay.
Support
NZBFinder has a contact support form available on their page. You may also want to check out their FAQs for usual inquiries that may be there. You can also drop by their IRC channel on SyncIRC and enter #NZBFinder.
Uptime Status
NZBFinder runs on a cluster of servers in the cloud so their website is fast and search results are quickly generated. The site has a great uptime status and an amazing response time.
NZBFinder Status / Uptime Charts
| | Status | Since | Average Response Time |
| --- | --- | --- | --- |
| ● | | | |
24 Hour Response Time Chart for
NZBFinder
Chart will be updated in
X
seconds
Uptime Averages
Conclusion
With their multiple membership levels, NZBFinder is a great option for different types of users. You get a decent amount of free NZB downloads and API hits as a free member, and with their other three premium accounts, you get a lot more APIs and unlimited downloads, which would be perfect for heavy users. Plus, you get access to Spotweb if you avail of their highest membership level. While NZBFinder is limited in terms of type of files which excludes games and consoles, this NZB site is still and great indexer that has high-quality audio and video content as well as book and miscellaneous files. Overall, NZBFinder is a great site for its content, convenience and flexible pricing.
Altenatives To NZBFinder
| Name | NZBs | Price |
| --- | --- | --- |
| UsenetCrawler | Best Free Account Offering | Over 500 Groups Crawled |
| NZBgeek | Open and Free to Register | Free and Paid Service |
| NZBGrabit | Free 5 .ZIP Downloads | Arcade, and Photo Editor Included |
| DrunkenSlug | Free 100 API Hits and 5 NZBs Daily | Invite-Only Website |
| NZB.su | Open NZB Site | API Integrations |
| DogNZB | Invite Only | $20/Yr for VIP |
| NZBPlanet | Invite Only | 2 Million NZBs Indexed |
| FileSharingTalk | Forum-Based Site | Option to Donate |
| OmgWtfNZBs | Invite-Only NZB Site | $10/Yr for Donators |