Binsearch Review
Last Updated: Feb 08, 2022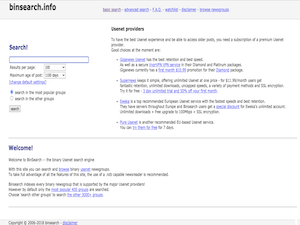 Rating
Price
free
Retention
1100 Days
Free Trial
None
Features
No Registration Required
400 Popular Groups Crawled
Custom Interface
Binsearch is one of the best Usenet search engines that is completely free and allows you to search binary Usenet data with a maximum post age of 1100 days. There is no registration required when using Binsearch and users get instant access to all pages of the site as well as the files they have.
Binsearch has over 400 popular groups crawled and generates search results as fast as you type for the file you're looking for. They are currently one of the best Usenet search engines around and have maintained this status because of the features they have and the accessibility they provide to the Usenet community.
Highlighted Features
Free Usenet Search Engine
No registration required
Over 400 popular newsgroups crawled
'Search other groups' option: 3000+ groups
Retention: 1100 days of binary
Funded by advertisements
Custom interface
Advanced search option
Watchlist button
Interface
Binsearch has a custom interface that is clean and simple. Menus are limited in such a way that it does not overcomplicate the site and makes it easier for users to navigate through the pages. The basic search and advanced search option are a good feature since it gives users the power over how they would want to look for files. With regards to search results, they are generated quickly and are categorized by age, poster and newsgroup.
Membership Level
As mentioned, this Usenet search engine is completely free. They do not accept donations since they generate income through advertisements. However, they recommend donating to Amnesty International or Unicef.
If you are looking for a Usenet service provider, Binsearch recommends Eweka as a good choice and Binsearch users get a special discount on Eweka's unlimited account. Another recommendation is PureUsenet which they suggest as an EU-based Usenet service.
Support
Binsearch has a very helpful FAQ section that provides a range of information from Usenet basics to more technical details. If you wish to contact them, you may email them at info@binsearch.net.
Uptime Status
Binsearch is rarely offline and over the past year, they have had an excellent uptime average along with a great response time.
Binsearch Status / Uptime Charts
| | Status | Since | Average Response Time |
| --- | --- | --- | --- |
| ● | | | |
24 Hour Response Time Chart for
Binsearch
Chart will be updated in
X
seconds
Uptime Averages
Conclusion
Probably the best thing with Binsearch is its easy and quick search feature. Users also have the option to go with a more advanced approach of search, which would be best for more experienced Usenet users. This search engine has found a successful formula that allows users to enjoy and explore the site for free and promoting brands through advertisements, which mainly helps in maintaining the site. They have been on this formula for years and have not changed since. Overall, Binsearch is one of the best Usenet search engines around and will most likely be on top of most user's list.
Altenatives To Binsearch
| Name | NZBs | Price |
| --- | --- | --- |
| NZBFinder | Free 5 NZBs & 25 API Calls | 10, 20, 35 Euros |
| UsenetCrawler | Best Free Account Offering | Over 500 Groups Crawled |
| NZBgeek | Open and Free to Register | Free and Paid Service |
| NZBGrabit | Free 5 .ZIP Downloads | Arcade, and Photo Editor Included |
| DrunkenSlug | Free 100 API Hits and 5 NZBs Daily | Invite-Only Website |
| NZB.su | Open NZB Site | API Integrations |
| DogNZB | Invite Only | $20/Yr for VIP |
| NZBPlanet | Invite Only | 2 Million NZBs Indexed |
| FileSharingTalk | Forum-Based Site | Option to Donate |
| OmgWtfNZBs | Invite-Only NZB Site | $10/Yr for Donators |
Visit Binsearch
Best Usenet Search Engines