Sky of Usenet Review
Last Updated: Jun 08, 2022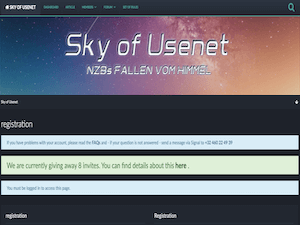 Rating
Price
free
Retention
N/A Days
Free Trial
None
Features
German Usenet Forum
Invite Only
No Membership Levels
Sky of Usenet is a German Usenet forum that offers a lot of content and categories that allows you to not only participate in discussions with other users but also get access to files that you may need. This usenet forum is an invite-only site. If you are not able to secure an invite code from any current member of Sky of Usenet, you can frequently check their site since they occasionally give away invites.
Sky of Usenet has been known to have server problems but they have been successful in resolving them. The site has been recently hacked but their team has been able to regroup to get the forum back on its feet.
Highlighted Features
German Usenet Forum
Registraton via invite
Occasionally gives invite codes away
Has been known to have server problems
Old registrants from before November 2021 need to register again
Email address required for access
No membership levels
Interface
Sky of Usenet was recently hacked but they were able to gain access back in November of 2021. Since then they had to start from scratch to make the Usenet board accessible to users again. When they went back online, the site pretty much still was similar to how the interface was before - with categories easily seen and the site itself easily navigable.
Membership Levels
Sky of Usenet is a free Usenet forum with no membership level offerings. However to gain access to Sky of Usenet you would need to get an invite code. Most current users can do this for you since the Sky of Usenet tech support does not issue invites. You can also check out the login page of this Usenet forum since they occasionally give away invites. You can also visit r/UsenetInvites to see if there are possible invite codes from Sky of Usenet.
Support
To contact their support, simply send them a message via Signal at +32 460 22 49 39
Uptime Status
As previously mentioned, Sky of Usenet has been known to have server problems but they've always been able to resolve their issues. They are currently online but please note that the site occasionally goes offline. For its uptime status, please see chart below:
Sky of Usenet Status / Uptime Charts
| | Status | Since | Average Response Time |
| --- | --- | --- | --- |
| ● | | | |
24 Hour Response Time Chart for
Sky of Usenet
Chart will be updated in
X
seconds
Uptime Averages
Conclusion
As an invite-only site, we appreciate that Sky of Usenet occasionally gives invite codes away for users to be able to register to their site. And while the site has been through a lot in 2021 when it got hacked, Sky of Usenet technicians has been able to successfully regain access to the site and has made changes to it so that the incident last year will not happen again. That being said, we've heard that Sky of Usenet still encounters some server issues, going online and offline once in a while. This is actually a common occurrence in some Usenet indexers and NZB sites but it still causes annoyance to a lot of users. You may want to check out other more reliable indexers as listed on our site.
Altenatives To Sky of Usenet
| Name | NZBs | Price |
| --- | --- | --- |
| NZBFinder | Free 5 NZBs & 25 API Calls | 10, 20, 35 Euros |
| UsenetCrawler | Best Free Account Offering | Over 500 Groups Crawled |
| NZBgeek | Open and Free to Register | Free and Paid Service |
| NZBGrabit | Free 5 .ZIP Downloads | Arcade, and Photo Editor Included |
| DrunkenSlug | Free 100 API Hits and 5 NZBs Daily | Invite-Only Website |
| NZB.su | Open NZB Site | API Integrations |
| DogNZB | Invite Only | $20/Yr for VIP |
| NZBPlanet | Invite Only | 2 Million NZBs Indexed |
| FileSharingTalk | Forum-Based Site | Option to Donate |
| OmgWtfNZBs | Invite-Only NZB Site | $10/Yr for Donators |