SceneNZBs Review
Last Updated: Jul 20, 2022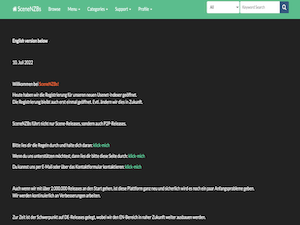 Rating
Price
Free
Retention
2000 Days
Free Trial
None
Features
German Indexer
Free to Use
2 Million NZBs
SceneNZBs is a new Usenet indexer launched on July 10, 2022 in cooperation with the forum, House of Usenet. This German indexer opened as a free-to-use platform with over 2,000,000 NZB files available.
While SceneNZBs can be used for free, users also have the option to upgrade to a paid service that comes with more perks that includes releases of P2P groups and other types of content.
As of the moment, the focus of SceneNZBs is on German releases, but they will expand the english area in the near future.
Highlighted Features
New German Usenet Indexer
Focused on German releases for now
Will expand to English in the near future
Over 2,000,000 NZB files
Free-to-use
With Paid plans - VIP & Premium VIP
Carries Scene-Releases and P2P-Releases
API interface via an RSS feed
Interface
SceneNZBs interface is similar to other Usenet indexers in the market today so you will have no problems navigating through the site. To search for files you are looking for, simply using the search box available on the upper right hand corner of the main page. You can also explore files through the Menu and Categories tab where it is broken down to Movies, Audio, Books, TV, etc.
When searching for files using particular categories, you can streamline your search by using the available sections on that particular page whether selecting the genre, actors name, directors name, year of release or whatever is available for that particular category. You can also search files depending on type including HD, Bluray, UHD and other formats.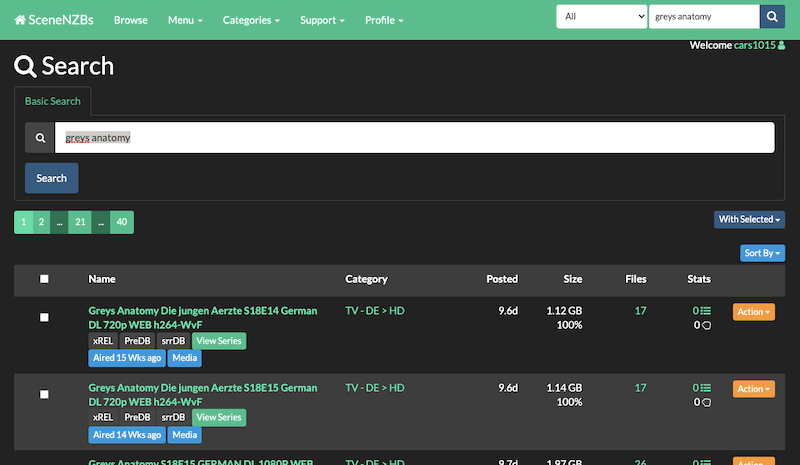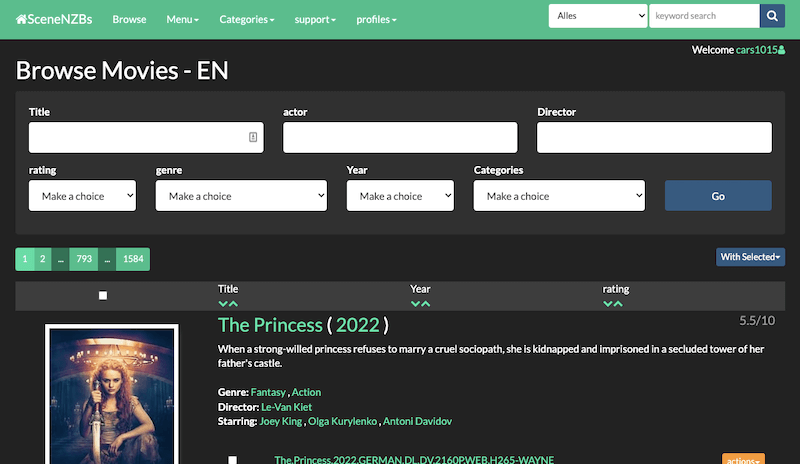 To manage your profile, simply go to the Profile tab and select "My Profile" to explore your account limitations, manage your movies or show and even copy your API key.
Membership Levels
As a free user, you will have certain limitations with your account. To enjoy the full experience of using SceneNZBs, you have the option to upgrade to a VIP or Premium VIP account. For example, queries through the API interface via an RSS feed (e.g. SABnzbd, NZBGet) or via the well-known programs such as Radarr, Sonarr and Prowlarr is only possible with the membership "VIP" and "Premium VIP".
Pricing details of SceneNZBs are as follows:

Support
For any concerns, you can reach SceneNZBs through their contact page which you can find a link to via the main welcome message. You can also email them at SceneNZBs@protonmail.com.
Uptime Status
SceneNZBs currently has no issues when it comes to their uptime. Being a new Usenet indexer, the site has been performing well and also generates search results quickly. Check back with us for future updates with this new Indexer
SceneNZBs Status / Uptime Charts
| | Status | Since | Average Response Time |
| --- | --- | --- | --- |
| ● | | | |
24 Hour Response Time Chart for
SceneNZBs
Chart will be updated in
X
seconds
Uptime Averages
Conclusion
SceneNZBs is a good option as far as new Usenet indexers are concerned. With a large number of NZB files indexed in their platform, this German indexer would be a very appealing choice especially for those looking for German files. While the site has mentioned that they are currently focused on German-language files, they will also expand their English files in the near future, so that is something that we should all be looking forward to.
As a free indexer, the number of allowable downloads per user is decent enough at 10 downloads per day. Be reminded, however, that there are certain limitations to being a free user. If you want to have more allowable downloads and other features like API queries and access to other types of content, you have the option to upgrade to a VIP or Premium VIP membership. Make sure though, to test out their free service first before getting into a paid service.
Altenatives To SceneNZBs
| Name | NZBs | Price |
| --- | --- | --- |
| NZBFinder | Free 5 NZBs & 25 API Calls | 10, 20, 35 Euros |
| UsenetCrawler | Best Free Account Offering | Over 500 Groups Crawled |
| NZBgeek | Open and Free to Register | Free and Paid Service |
| NZBGrabit | Free 5 .ZIP Downloads | Arcade, and Photo Editor Included |
| DrunkenSlug | Free 100 API Hits and 5 NZBs Daily | Invite-Only Website |
| NZB.su | Open NZB Site | API Integrations |
| DogNZB | Invite Only | $20/Yr for VIP |
| NZBPlanet | Invite Only | 2 Million NZBs Indexed |
| FileSharingTalk | Forum-Based Site | Option to Donate |
| OmgWtfNZBs | Invite-Only NZB Site | $10/Yr for Donators |