OzNZB Review
Last Updated: Feb 07, 2022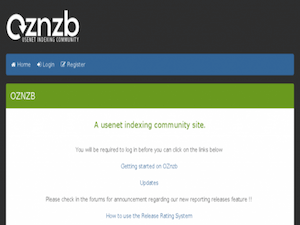 Rating
Price
$16/Yr
Retention
2000 Days
Free Trial
None
Features
5 NZBs and 5 APIs Daily for Free Users
$16/Year & $ 55/Life.
2000 NZBs & 10,000 APIs.
Oznzb is a Newznab-based site that has been around since 2013. Since then, they have been constantly improving their service by providing quality releases and innovating new features.
Oznzb has been in the industry since 2013 and has become one of the fastest growing NZB sites there is. Oznzb depends a lot on its community to drive the quality of the site by reviewing releases and voting on posts.
Editors Note: While the uptime status of Oznzb shows that their site is still active a lot of users have not been able to connect to the Oznzb database since 2021 and have received occasional notices that say "Connection error: could not connect to database! Database maintenance currently being performed".
Highlighted Features
Newznab-based customized NZB site
Multiple membership levels
Over 140 newsgroups crawled
Over 2.5 million NZBs indexed
Retention: 2000 days
Indexer runs every 10 minutes
RSS Feed and API access to VIP members
Integrations: Sonarr, Radarr, NZBGet, CouchPotato, Sickbeard, etc.
IRC channel on menus
Video and Sound preview before downloading
Clean and Simple Interface
Release rating system
Hardware details: 8 CPUs, 2GB of RAM and 800GB of storage
Privacy: SSL
Interface
With Newznab as its Usenet indexing application, Oznzb builds a Usenet community easily. Driving a lot of its quality content from its community of members, this NZB site allows its users to rate and make comments on files to assure others of the quality of files they could download.
The site's interface is very simple and clean and can be experienced well by even the most inexperienced user. With files categorized well and search results generated quickly with their appropriate descriptions, both free and VIP members will have a convenient downloading experience.
Membership Levels
Oznzb has multiple membership levels that vary on the number of NZB grabs and API hits. Their payment plans include one year, 2 years, or lifetime access.
| Account | Price | NZBs | APIs | Forum |
| --- | --- | --- | --- | --- |
| Free | $0 | 5 | 5 | False |
| VIP | $16/yr | 100 | 1000 | True |
| VIP+ | $30/ 2 years | 250 | 2500 | True |
| Legend | $55 Lifetime | 2000 | 10000 | True |
Support
Since Oznzb has an active community, you can explore their forum page and search for the topics you require. They also have an IRC channel on their menu, which you can easily access for further support you may need.
Uptime Status
Oznzb has a relatively good uptime average. Recently, the site went offline for a couple of days and it took them awhile to keep the site up. Currently, Oznzb is up, but you may want to check once in a while if you are able to access their website.
OzNZB Status / Uptime Charts
| | Status | Since | Average Response Time |
| --- | --- | --- | --- |
| ● | | | |
24 Hour Response Time Chart for
OzNZB
Chart will be updated in
X
seconds
Uptime Averages
Conclusion
Oznzb may be an NZB site worth considering. With their free account option and multiple paid membership levels, there's a variety of choices for every type of Usenet user. However, Oznzb has been having a lot of problems recently and a lot of users have been raising concerns if this site will be closing soon or not since their database has been on maintenance for quite some time. Users may benefit from checking out one of our top nzb sites.
Altenatives To OzNZB
| Name | NZBs | Price |
| --- | --- | --- |
| NZBFinder | Free 5 NZBs & 25 API Calls | 10, 20, 35 Euros |
| UsenetCrawler | Best Free Account Offering | Over 500 Groups Crawled |
| NZBgeek | Open and Free to Register | Free and Paid Service |
| NZBGrabit | Free 5 .ZIP Downloads | Arcade, and Photo Editor Included |
| DrunkenSlug | Free 100 API Hits and 5 NZBs Daily | Invite-Only Website |
| NZB.su | Open NZB Site | API Integrations |
| DogNZB | Invite Only | $20/Yr for VIP |
| NZBPlanet | Invite Only | 2 Million NZBs Indexed |
| FileSharingTalk | Forum-Based Site | Option to Donate |
| OmgWtfNZBs | Invite-Only NZB Site | $10/Yr for Donators |