NZBZombie Review
Last Updated: Apr 14, 2020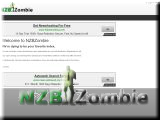 | | |
| --- | --- |
| Rating | |
| Price | $12/yr |
| Retention | None |
| Free Trial | None |
| Features | Dead Site |
NZBZombie is a dead NZB site
Please see our list of best NZB sites for other alternatives
Dead NZB site as of 2016
Zombies seem to be everywhere these days and now they 're in the world of NZBs, too. NZBZombie is a NZB indexing site that offers always open registration, API and phpBB3 forums to its users. It 's a customized Newznab site that indexes some of the most popular newsgroups and that has good retention rates.
As of Aug 19, 2014 registration is currently open and they are also looking for moderators.
"We are currently under development and appreciate any and all feedback. Registrations will stay open during our development process and most likely switch to invite-only after we have a polished site. We are looking for moderators, if you are interested please post in the forum."
The Service
NZBZombie has only been around since December 12, 2012, but it already has over 1,000,000 NZB files in its indexes. There are 55 newsgroups that in total being indexed by the site. The side administrators say that they 're not currently backfilling, but that they will be in the future.
The updates are continuous. The updates, in essence, come as fast as the technology allows, making this a good choice for people who want their NZB indexes updated as quickly as possible.
The goal of the site is to be a community site in addition to a USENET indexing site, according to the site administrators. The organization is a non-profit and is being run by people who wear many hats, according to the developers.
Features
NZBZombie supports RSS feeds and has an API. The servers include an Ubuntu server with 512mb RAM and 4 CPUs, at present. NZBZombie plans on upgrading the hardware as demand dictates.
You can donate to the site if you want to lend some support, but registration is always open and free, giving it something of an advantage over some of the other Newznab sites out there, which are oftentimes closed to registration for long periods of time.
DMCA requires will be honored by NZBZombie, as they are located in the US. The company says, however, that they will relocate overseas if this becomes too much of a problem for them.
Customer Experience
NZBZombie wants to create a community and says that all of its users will be treated as VIPs. The boards are designed to offer a place for people to socialize and, of course, get questions answered. There is no fee to sign up and NZBZombie doesn 't plan on adding one. They 're currently advertiser supported.
From the Developer
The developers recommend that users always use SSL when downloading. You 'll find many options among our preferred USENET access providers that offer you that capability. SSL prevents anyone from being able to spy on what you 're downloading via encryption. Adding a VPN for additional security is also a wise move if you 're very concerned about privacy. USENET is sometimes throttled by ISPs, so SSL or VPN—or both—have speed advantages, as well.
Altenatives To NZBZombie
| Name | NZBs | Price |
| --- | --- | --- |
| NZBFinder | Free 5 NZBs & 25 API Calls | 10, 20, 35 Euros |
| UsenetCrawler | Best Free Account Offering | Over 500 Groups Crawled |
| NZBgeek | Open and Free to Register | Free and Paid Service |
| NZBGrabit | Free 5 .ZIP Downloads | Arcade, and Photo Editor Included |
| DrunkenSlug | Free 100 API Hits and 5 NZBs Daily | Invite-Only Website |
| NZB.su | Open NZB Site | API Integrations |
| DogNZB | Invite Only | $20/Yr for VIP |
| NZBPlanet | Invite Only | 2 Million NZBs Indexed |
| FileSharingTalk | Forum-Based Site | Option to Donate |
| OmgWtfNZBs | Invite-Only NZB Site | $10/Yr for Donators |