NZBSearch Review
Last Updated: Apr 19, 2020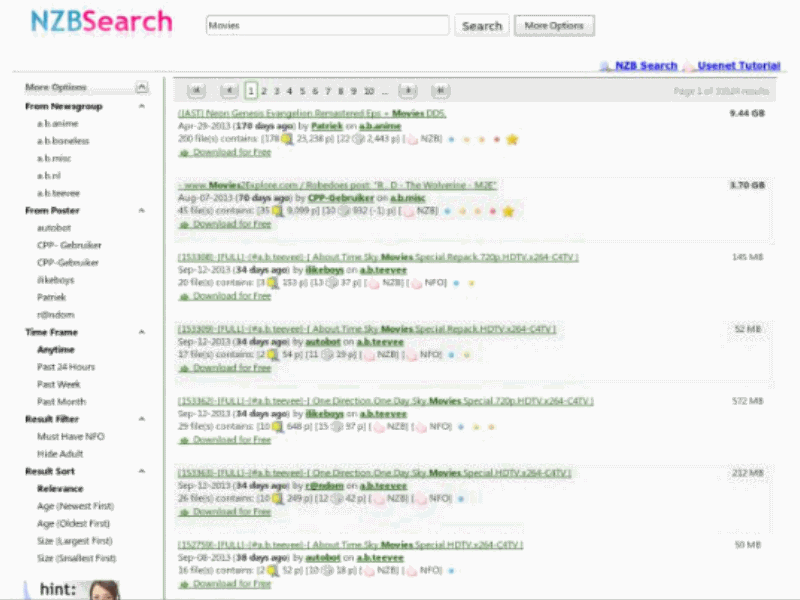 | | |
| --- | --- |
| Rating | |
| Price | Free |
| Retention | None |
| Free Trial | None |
| Features | Dead Site |
NZBSearch is a dead NZB site
Please see our list of best NZB sites for other alternatives
NZBSearch is a USENET search engine that offers another option for those who might be looking for something different. It is a new system that primarily competes with options such as Binsearch. It's not quite up to the level of quality as its competition yet, but it is still a decent option if you're looking to comb through the USENET indexes and, in particular, if you were a user of one of the many sites that have been taken offline recently.
Simple
NZBSearch has a very simple interface, which you can take a look at on the website set up at NZBSearch.net. There are some caveats with using the system that you should be aware of, however, and that can help you to avoid some common nuisances.
When you do execute a search, you will see a Download for Free link that shows up. This doesn't actually take you to the file that you want to download. It takes you to Usenext. To get the best results out of this site, go ahead and avoid using that link at all and just click on the link to download the NZB file. This way, you don't end up getting sent off to another site that you may not have any interest in, anyway. It's an annoying part of the site but, then again, it's hard to fault a website for trying to advertise a little bit.
Tech Specs
NZBSearch does have some impressive tech specs to it. The index posts 1618+ days of retention, which puts it in competitive range with most other sites available. The retention time is increasing daily, according to the developers as they have posted on the site.
They also advertise that the UI is friendly to use and, in fact, it is simple enough and, provided you avoid the link that takes you off to Usenext, you'll be able to easily download whatever NZB files you find. The simplicity of the interface does make it fast loading and, for some users, that will be a significant advantage and something they find very desirable.
This is a decent NZB site and, because of that, it does bear taking a look at. If you're out there looking for an NZB and you find yourself at an impasse as far as finding another site to take a look at, go ahead and drop on by and you might be able to find the files that you want and you'll probably like the very simple interface. Also if you like NZBSearch then be sure to check out our list of recommend NZB sites.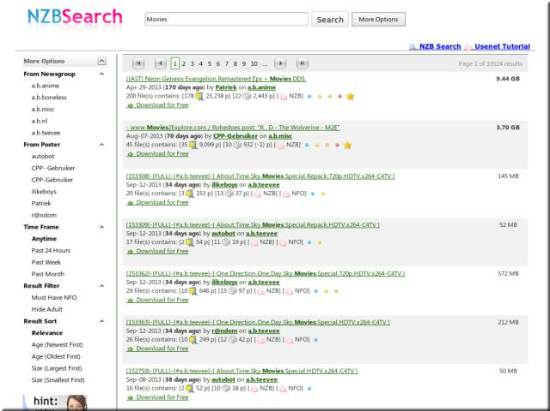 Altenatives To NZBSearch
| Name | NZBs | Price |
| --- | --- | --- |
| NZBFinder | Free 5 NZBs & 25 API Calls | 10, 20, 35 Euros |
| UsenetCrawler | Best Free Account Offering | Over 500 Groups Crawled |
| NZBgeek | Open and Free to Register | Free and Paid Service |
| NZBGrabit | Free 5 .ZIP Downloads | Arcade, and Photo Editor Included |
| DrunkenSlug | Free 100 API Hits and 5 NZBs Daily | Invite-Only Website |
| NZB.su | Open NZB Site | API Integrations |
| DogNZB | Invite Only | $20/Yr for VIP |
| NZBPlanet | Invite Only | 2 Million NZBs Indexed |
| FileSharingTalk | Forum-Based Site | Option to Donate |
| OmgWtfNZBs | Invite-Only NZB Site | $10/Yr for Donators |