NZBHunter Review
Last Updated: Feb 04, 2022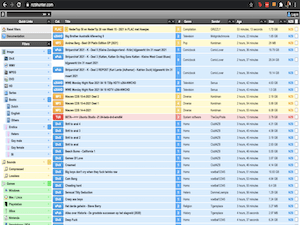 Rating
Price
Free
Retention
N/A Days
Free Trial
None
Features
Spotweb-Based
Advanced Filter Options
Multiple Categories
NZBHunter is a relatively new NZB site that uses Spotweb to access NZB files. It can be compared to other Spotweb-based NZB sites like NZBServer. Spotweb is a web-based version of Spotnet and requires an existing HTTP and database server.
The NZBHunter site offers a wide range of files from images, movies, e-books, audio files, tv series and adult content. Games and applications for multiple platforms are also available on NZBHunter. However, you will only be able to browse through the content of this NZB site and to be able to download NZBs, you will need to be logged in to their site.
Highlighted Features
Spotweb-based NZB site
Free Browsing of Content
Log-in Required to Download NZBs
Multiple Genres available
Games & Applications Available
Advanced Search Filters Available
File Retention: up to 1 year
No Forums
No Chat Support
Privacy: SSL
Interface
If we compare NZBHunter with other Spotweb-based NZB sites, it has a very similar interface. In fact, it is exactly the same in terms the whole look, filters and interface except for the log-in section.
NZBHunter has a simple interface and a very straightforward approach to searching for NZB files. It is very easy to use, with all file genres available on the left side of the site.
Files can be searched through the search box available on the top left section and can be streamlined via multiple filters like title, poster, date of post, limit age, file size and, of course, by category. Reports can also be used as a filter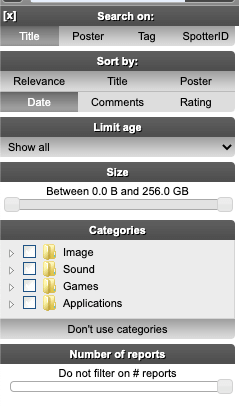 Overall, the interface of NZBHunter creates a positive experience for users because of its uncomplicated look and easy to find categories and features. Probably the only downfall of this NZB site if compared to other Spotweb NZB sites is that you would need to log in access to download files.
Membership Levels
While users are free to explore the site and check out what content they have which varies in terms of different genres and categories, you would need to acquire access from its admins. You will only be able to download files from NZBHunter if you are able to log in. It is quite unclear how often NZBHunter opens their site for new registrations or how they open their site to new logs, however based on research, this NZB site doesn't seem to have any paid subscriptions or membership levels. They probably just control the number of users who use their site to avoid congestion.
Support
NZBHunter does not have any contact information and they do not have any forums or chat support available for users.
Uptime Status
NZBHunter has a good uptime status, staying online most of the time. While it does not have a perfect 100% based on uptime robot, this is actually the usual case for most NZB sites.
NZBHunter also has a good response time, allowing users to quickly search for files and download them. Of course, this also depends on how fast a user's internet connection is.
Overall, this NZB site is mostly online rather than offline.
NZBHunter Status / Uptime Charts
| | Status | Since | Average Response Time |
| --- | --- | --- | --- |
| ● | | | |
24 Hour Response Time Chart for
NZBHunter
Chart will be updated in
X
seconds
Uptime Averages
Conclusion
NZBHunter is a pretty decent NZB site because of its simple and easy-to-use interface. It's uncomplicated features and good search capabilities give users an overall positive experience. However, if compared to other spotweb-based sites like NZBServer, its main drawback is that you would need to have log-in access to be able to download files. While it is completely free to use, it is not considered an open NZB site. That being said, there are multiple invite-only sites in our list of NZB sites that are also competent and reliable.
Also, based on its advanced filter features, NZBHunter only keeps files for a maximum of one year. Other NZB sites have files that are indexed for more than 3 years.
Overall, if you gain access to this NZB site, you will have no problem navigating through its interface. And while the age limit of files are short, NZBHunter has a wide range of content in their site.
Altenatives To NZBHunter
| Name | NZBs | Price |
| --- | --- | --- |
| NZBFinder | Free 5 NZBs & 25 API Calls | 10, 20, 35 Euros |
| UsenetCrawler | Best Free Account Offering | Over 500 Groups Crawled |
| NZBgeek | Open and Free to Register | Free and Paid Service |
| NZBGrabit | Free 5 .ZIP Downloads | Arcade, and Photo Editor Included |
| DrunkenSlug | Free 100 API Hits and 5 NZBs Daily | Invite-Only Website |
| NZB.su | Open NZB Site | API Integrations |
| DogNZB | Invite Only | $20/Yr for VIP |
| NZBPlanet | Invite Only | 2 Million NZBs Indexed |
| FileSharingTalk | Forum-Based Site | Option to Donate |
| OmgWtfNZBs | Invite-Only NZB Site | $10/Yr for Donators |