NZBCat Review
Last Updated: Feb 07, 2022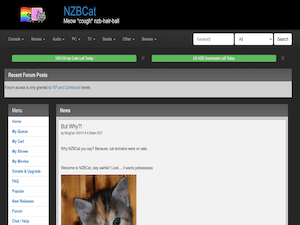 Rating
Price
$20/Yr
Retention
600 Days
Free Trial
None
Features
Free 5 NZBs and 100 APIs per Day
Multiple Payment Period for VIP
NZEDb API Calls, IRC / Forum Help
NZBCat is an invite-only NZB site that has more than a million files indexed in their website. Free account members get 5 NZB grabs per day and 100 API calls.
NZBCat indexes content on Usenet using automated algorithms Users can use the web-based front end to search and browse for specific NZBs and add to any Usenet download application to get the content it refers to. NZBCat has been online since 2014 and has become one of the most reliable NZB indexers in the Usenet community.
Note: While releases are constantly updated, the website itself is quite outdated. It is evident on the news section of the homepage once you log in, where the welcome message was last posted in 2014. That being said, NZBCat still has a decent amount of NZBs indexed.
Highlighted Features
Invite-only NZB indexer
nZEDb-based website
Invites with VIP membership
Multiple membership levels (Free & VIP)
Option to donate as a contributing member
Retention: over 600 days of binary
No advertisements
Popular content available for contributors and VIPs
Forum access for contributors and VIPs
File folders available for contributors and VIPs
New releases features on all genres
Chat page
Advanced Search feature
API Integrations with Sickbeard, Sonarr, CouchPotato. SABnzbd, NZBGet, etc.
RSS Feed
Privacy: SSL
Interface
NZBCat is a nZEDb-based indexer. NZEDb is a fork of newznab+ and automatically scans Usenet similar to the way Google search bots scan the internet. The NZBCat interface is convenient for users because of its easy-to-use platform with files that are categorized well. All user files can be placed in their own folders like My Movies and My Shows. Search results are quickly generated through the site's search box.
Membership Levels
NZBCat has 3 membership levels: Free, Contributor, and VIP. Paid accounts can be availed on a monthly, quarterly, semi-annual or annual basis. The site accepts PayPal, credit cards and bitcoin payments.
| Level | Monthly | Quarterly | Semi Annual | Annual | Nzbs | Apis |
| --- | --- | --- | --- | --- | --- | --- |
| Free | $0.00 | $0.00 | $0.00 | $0.00 | 5 | 100 |
| Contributor | $3.00 | $8.00 | $14.00 | $20.00 | 1000 | 1000 |
| VIP | $6.00 | $16.20 | $28.80 | $43.20 | 5000 | 5000 |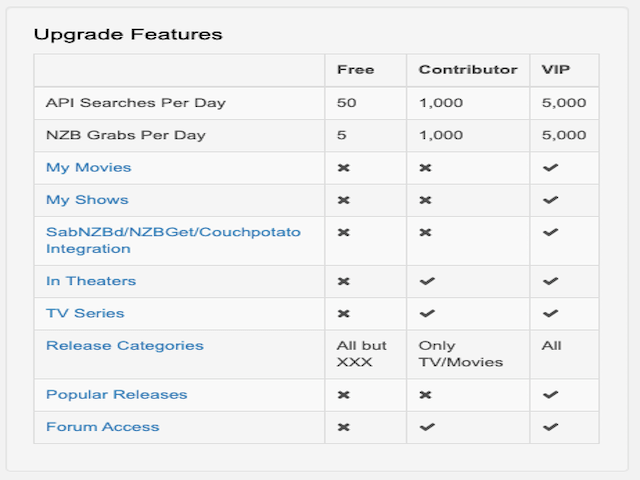 Support
NZBCat has a separate status page for updates on outages and planned maintenance. You can find a link to this on the forum page of their main site. They also have a chat or help option but please note that the chat's server IP address currently could not be found.
Uptime Status
The NZBCat site has been online since 2014 and has rarely been down. They have a good response rate and their indexer runs every 15 minutes, which means users can access the most updated files they have.
NZBCat Status / Uptime Charts
| | Status | Since | Average Response Time |
| --- | --- | --- | --- |
| ● | | | |
24 Hour Response Time Chart for
NZBCat
Chart will be updated in
X
seconds
Uptime Averages
Conclusion
NZBCat has an impressive VIP membership that offers a large amount of NZB grabs and API hits. For not very light users, the free account may be enough with just 5 NZB downloads per day. But if you want to get into the site, you first need to get an invite from an existing member since the site does not allow open access. Once you are in, you get to enjoy the simple and convenient interface of NZBCat and you can upgrade as a contributor or VIP to get their full features.
Altenatives To NZBCat
| Name | NZBs | Price |
| --- | --- | --- |
| NZBFinder | Free 5 NZBs & 25 API Calls | 10, 20, 35 Euros |
| UsenetCrawler | Best Free Account Offering | Over 500 Groups Crawled |
| NZBgeek | Open and Free to Register | Free and Paid Service |
| NZBGrabit | Free 5 .ZIP Downloads | Arcade, and Photo Editor Included |
| DrunkenSlug | Free 100 API Hits and 5 NZBs Daily | Invite-Only Website |
| NZB.su | Open NZB Site | API Integrations |
| DogNZB | Invite Only | $20/Yr for VIP |
| NZBPlanet | Invite Only | 2 Million NZBs Indexed |
| FileSharingTalk | Forum-Based Site | Option to Donate |
| OmgWtfNZBs | Invite-Only NZB Site | $10/Yr for Donators |