NZB-RSS Review
Last Updated: Apr 20, 2020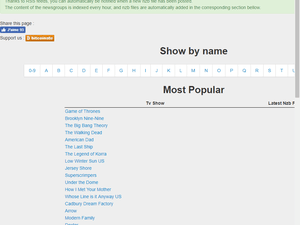 | | |
| --- | --- |
| Rating | |
| Price | Free |
| Retention | None |
| Free Trial | None |
| Features | Dead Site |
NZB-RSS is a dead NZB site
Please see our list of best NZB sites for other alternatives
News Updates
October 2019 – NZB-RSS has been down for several months now so we are declaring it a dead NZB site.
May 2019 – NZB-RSS has not been updated in two years otherwise NZB-RSS appears to still be working.
NZB-RSS.com is a site that allows you to get information on all of the video files that have been uploaded to the newsgroups very quickly. It integrates with RSS feeds, allowing you to use it with newsreaders that have that functionality built into them. The site does have its advantages and it may appeal to some users.
Important Features
Site currently still Working and Online
Completely free service!
Website is clean and NO ADVERTISEMENTS!
No registration required!
Concentrates on TV shows
Integrates with RSS feeds
Hourly indexes newsgroup contents!
Worth a try using with different applications such as SABNZBD and more..
You can also support the website using BITCOINATE
Advantages
The first thing you 're likely to notice about NZB-RSS.com is that the website has a very simple and easy to follow interface. You won 't find any extraneous links, menus or other distractions when you 're looking at the site. It simply gives you a list of videos that have been uploaded to the USENET newsgroups. Click on any of the links and you 'll get all of the latest NZB files for the video in question available and the option to add RSS feeds to keep you notified when these files are uploaded in the future.
The RSS feeds have a nice customization feature that allows you to choose high definition formats in some cases. For those who are picky about the quality of their video, this might be a tempting feature. Downloading the NZB files themselves is very easy to do.
Using the RSS Feature
For users who prefer automated newsreader clients, the RSS feature is definitely something worth considering. These clients, and some others, allow RSS downloading, which can vastly simplify the process of downloading a video once it becomes available on USENET. If you 're tired of hunting around and waiting to see when a new video is uploaded, this might save you quite a bit of time. Some other clients support RSS downloading, as well, and the users of those clients may very well want to take a look at NZB-RSS.com as an option.
Membership
Currently, you don 't have to have any type of membership to search, browse or otherwise use the site, which is another plus. Clicking the download link downloads the NZB file to your computer, which you can then use to download the actual file by opening up your regular USENET access provider 's newsreader or whatever newsreader you use on your own.
While historical nzb-rss has been a good choice. Presently, nzb-rss is very out of date and while they are easy to use we would recommeneding going elsewhere.
Altenatives To NZB-RSS
| Name | NZBs | Price |
| --- | --- | --- |
| NZBFinder | Free 5 NZBs & 25 API Calls | 10, 20, 35 Euros |
| UsenetCrawler | Best Free Account Offering | Over 500 Groups Crawled |
| NZBgeek | Open and Free to Register | Free and Paid Service |
| NZBGrabit | Free 5 .ZIP Downloads | Arcade, and Photo Editor Included |
| DrunkenSlug | Free 100 API Hits and 5 NZBs Daily | Invite-Only Website |
| NZB.su | Open NZB Site | API Integrations |
| DogNZB | Invite Only | $20/Yr for VIP |
| NZBPlanet | Invite Only | 2 Million NZBs Indexed |
| FileSharingTalk | Forum-Based Site | Option to Donate |
| OmgWtfNZBs | Invite-Only NZB Site | $10/Yr for Donators |