Ninja Central Review
Last Updated: Jan 29, 2021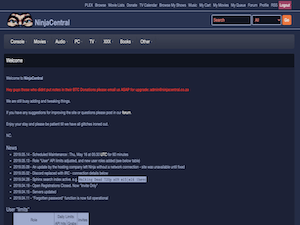 Rating
Price
$15/Yr
Retention
no information Days
Free Trial
None
Features
Free Registration
Multiple Donor Options
Growing Number of NZB Files
NinjaCentral is an open NZB site that has an ever-growing number of indexed files from various popular newsgroups. The site has multiple donation plans that give user upgrades to features.
Initially, NinjaCentral also included torrents in their index but has now concentrated on indexing NZB files. The site has some pretty simple features and files are categorized well according to genre.
Highlighted Features
Open NZB site (limited time only)
Free Registration
Multiple membership levels
Invites given to donors
Regular glitch updates
Indexer runs every 15 minutes
Privacy: No
API Integrations: Sickbeard, CouchPotato, etc.
RSS Feed
Forum Access available for all
TV Calendar available
IRC Network: irc.rizon.net
IRC Channel: #NinjaCentral
Interface
NinjaCentral runs on a newznab-based platform and has an interface that is very easy to use. Their website has several menu options but does not seem cluttered. Main categories can easily be found and are labeled according to file types. There you can browse through NZB files and filter them according to specific subcategories. NinjaCental also has several folders available for users where they can keep their NZB files on queue or for collective downloading.
Membership Levels
NinjaCentral relies on donations to keep their site running. Donors are rewarded with invites and increased daily API usage and grab limits for a period of 12 months. Their lifetime membership includes access to Plex, which is a client-server media player system,
You can donate to NinjaCentral by using your PayPal account or using Bitcoin or Ethereum.
| Plan | Price | NZB Grabs | API Hits | Invites | Plex |
| --- | --- | --- | --- | --- | --- |
| Ninja Dan 1 | $15 | 200 | 1000 | 1 | 1 month PLEX Share |
| Ninja Dan 5 | $22 | 300 | 750 | 3 | 2 months PLEX Share |
| Sensei Lifetime | $60 | 3000 | 3000 | 10 | 10 months PLEX |
| Ninja Dan Shaolin x Lifetime | $80 | 5000 | 5000 | 50 | 18 months PLEX |
NinjaCental also offers PLEX only plans:
PLEX Share - $10/ month
12 Months PLEX (only 10 slots) - $60 dollars minimum donation
All donation amounts are at minimum cost. Donations made more than the minimum would be rewarded with invites and 12 months of increased daily API usage and grab limits.
Support
For any comments, suggestions or other inquiries with NinjaCentral, you may reach them at admin@ninjacentral.co.za. You can also check out their forum page for additional helpful information or issues that other members have raised. NinjaCentral also has an IRC channel (#NinjaCentral) on irc.rizon.net/6697.
Uptime Status
As of writing, we have not recorded any downtime for NinjaCentral, which means they have an excellent uptime average. Their site also responds fast on page requests and search clicks.
NinjaCentral Status / Uptime Charts
| | Status | Since | Average Response Time |
| --- | --- | --- | --- |
| ● | | | |
24 Hour Response Time Chart for
NinjaCentral
Chart will be updated in
X
seconds
Uptime Averages
Conclusion
Currently, NinjaCentral has an open registration, but according to them this is only for a limited time. They do provide invites to donors, who can give them away to other possible members. This open registration also occasionally unlocks, so make sure you check the NinjaCentral site once in a while.
As for what they bring to the table, Ninja Central has some decent features that can compete well with other NZB sites. They have multiple donor plans that include a good amount of NZB grabs and API hits. However, the number of free NZBs for guest members are unknown. Nonetheless, NinjaCentral is a good and decent option for users even if they're not the most popular NZB site around.
Altenatives To NinjaCentral
| Name | NZBs | Price |
| --- | --- | --- |
| NZBFinder | Free 5 NZBs & 25 API Calls | 10, 20, 35 Euros |
| UsenetCrawler | Best Free Account Offering | Over 500 Groups Crawled |
| NZBgeek | Open and Free to Register | Free and Paid Service |
| NZBGrabit | Free 5 .ZIP Downloads | Arcade, and Photo Editor Included |
| DrunkenSlug | Free 100 API Hits and 5 NZBs Daily | Invite-Only Website |
| NZB.su | Open NZB Site | API Integrations |
| DogNZB | Invite Only | $20/Yr for VIP |
| NZBPlanet | Invite Only | 2 Million NZBs Indexed |
| FileSharingTalk | Forum-Based Site | Option to Donate |
| OmgWtfNZBs | Invite-Only NZB Site | $10/Yr for Donators |