NewZFinders Review
Last Updated: Feb 04, 2022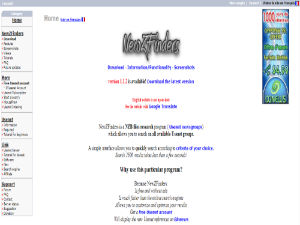 Rating
Price
Free
Retention
1000 days Days
Free Trial
None
Features
Free and Easy to Use
Up to 2,500 Results Within Seconds
Simple, Specific and Advanced Interface
Formerly a dead NZB site, NewZFinders is now an operating Usenet newsgroup search engine that gives us up to 2,500 search results per page.
NewZFinders is a search engine developed by ZProDuCTioN which originally offers services related to computer support, repair, and website creation based in Quebec.
This is different from the usual NZB search engines as it is custom made, and it comes with more options, settings, and it is available in three languages- French, English, and Portuguese.
Please note, however, that based on our most recent check, their website has not been updated since 2018 and this may mean that any information on their site may be outdated.
Highlighted Features
Free and unlimited use
Security details: SSL connection
Retention: 1000 days maximum
Number of newsgroups crawled: 850 groups
Open-based website
Ads: None
API integration: None
Integrated RSS feeds of Binnews.in
Free Usenet account for 3 days with 850 days retention, no download limits, and up to 5 connections.
Allows you to create your favorite list of groups
250 search results in seconds
Allows you to search through a list of premade groups
Overview search results and the ability to configure fonts
Ability to see the collection of multiple items
Simple, specified, and advanced interface
Search suggestions, and many more.
Additional:
Multiple custom search criteria- search by author, by word, by archives, by minimum and maximum sizes of the file, exclude word searches or exclude any article that is considered spam.
Color labels to distinguish criteria of the file - if the file has always been downloaded, the result will be color Blue; Green when the title of the article is frequently downloaded; Red when the article is incomplete, and Pink when the file contains a password.
Interface
NewZFinders is built with multiple languages: French, English, and Portuguese. Other languages like Japanese, Español, and other French dialects are available in the search filters. That is why the website and the search engine also contains files with these languages. NewZFinders is always looking for a translator and developer for updating its service.
The software lets you set the tone of interface- simple, specific, and advanced.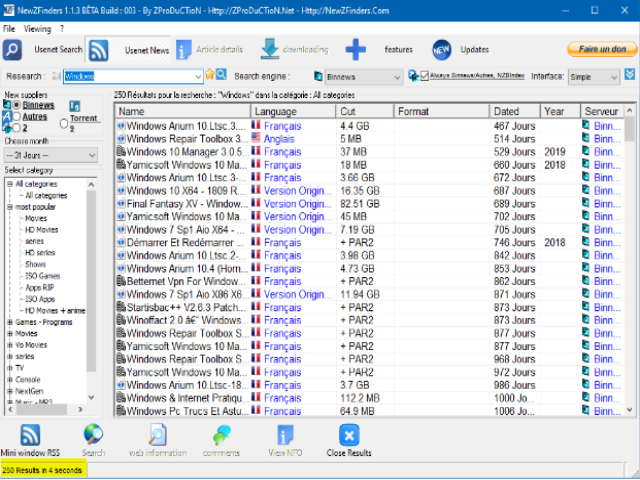 Example of a Simple interface with the estimated seconds of search and total of results per page.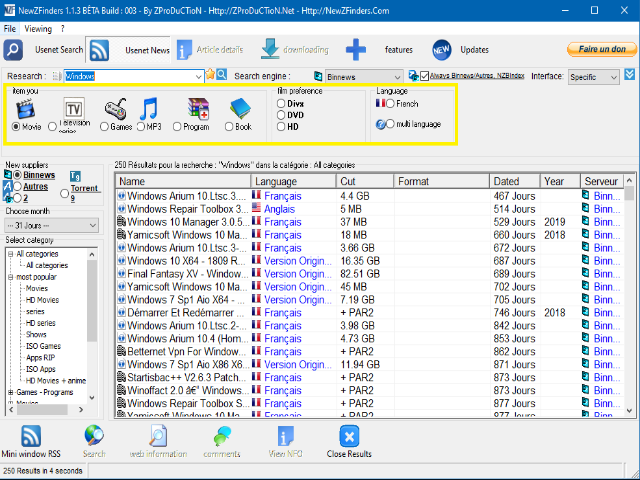 A specific interface gives you specific search tools and categories of research.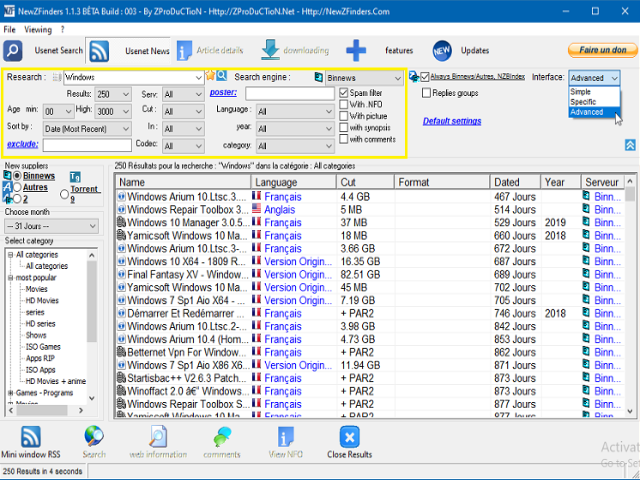 The advanced interface lets you customize and sort your filters to get the desired result.
Ease of Use
Like what NewZFinders is claiming, the site is easy to use. They are available in the Beta version, full installation, and there are other links (Mirror/Alternatives) for links that do not work. Their software is compatible with Windows (32 and 64 Bit) and Linux with a software called Wine.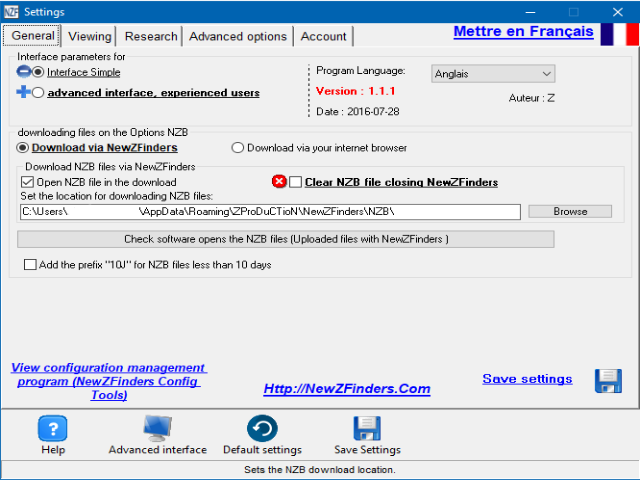 Example of basic settings once you download the software.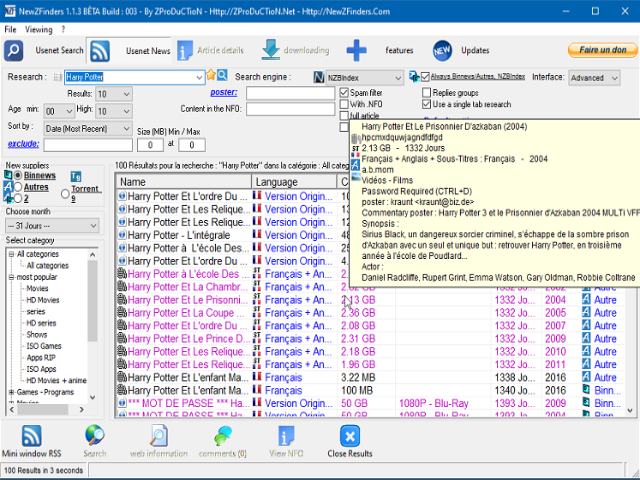 You can see the file description of each item once you point your cursor to it. A pink label means the article has a password.
Membership Levels
NewZFinders is free of use. However, they accept donations through Paypal or credit cards for the improvement of their service.
Support
NewZFinders can easily be contacted to their contact form and available email address: support@newznfinders.com.
Uptime Status
Like most NZB sites, NewZFinders has a good uptime average and a pretty decent response time. Their site is rarely offline and if downtime occurs, it usually just lasts for a few hours.
NewZFinders Status / Uptime Charts
| | Status | Since | Average Response Time |
| --- | --- | --- | --- |
| ● | | | |
24 Hour Response Time Chart for
NewZFinders
Chart will be updated in
X
seconds
Uptime Averages
Conclusion
NewZFinders is a recommended NZB site for some Usenet service providers. It is free, and it is simple to use. With over half a million downloaders, NewZFinders is one of the indexing sites French speakers (mostly) should consider. While it has a different interface compared to the usual Newznab-based search engines, NewZFinders, with all its features, is worth checking.
Altenatives To NewZFinders
| Name | NZBs | Price |
| --- | --- | --- |
| NZBFinder | Free 5 NZBs & 25 API Calls | 10, 20, 35 Euros |
| UsenetCrawler | Best Free Account Offering | Over 500 Groups Crawled |
| NZBgeek | Open and Free to Register | Free and Paid Service |
| NZBGrabit | Free 5 .ZIP Downloads | Arcade, and Photo Editor Included |
| DrunkenSlug | Free 100 API Hits and 5 NZBs Daily | Invite-Only Website |
| NZB.su | Open NZB Site | API Integrations |
| DogNZB | Invite Only | $20/Yr for VIP |
| NZBPlanet | Invite Only | 2 Million NZBs Indexed |
| FileSharingTalk | Forum-Based Site | Option to Donate |
| OmgWtfNZBs | Invite-Only NZB Site | $10/Yr for Donators |