Brothers of Usenet Review
Last Updated: Feb 03, 2022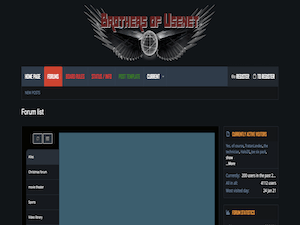 Rating
Price
Free
Retention
undisclosed Days
Free Trial
None
Features
Close for New Registrants
German Forum
SSL Connection
Brothers of Usenet is an established NZB site catering mostly to German users. They are a popular German forum where users exchange NZB files. Unfortunately, Brothers of Usenet has shuts their doors for new registrants in the second week of December 2019. There are speculations that they now want to focus only on German-speaking users to have a more manageable community of members.
Past issues have forced Brothers of Usenet to shut down in 2017 due to piracy investigations and they have been having technical issues with the backdrop system in 2020. However, it seems like everything is up and running seamlessly this past year with roughly around four thousand users registered on the site and a few hundred currently active.
Highlighted Features
Not open for new registrants
Privacy: SSL secured
Integration: undisclosed
Retention: undisclosed
Language: Dutch and English
Interface
The forum software of Brothers of Usenet is created by XenForo Ltd.
The homepage of the website posts its total number of topics, discussions, and members. They also post the Terms of Use, Regulations, BB Codes, Smiles, and Cookie Usage to make their users informed with regards to their privacy policy.
As of this writing, the Christmas forum has been activated on their homepage and hopefully they will open their doors for the holidays.
The website is originally written in German, so you would either have translate via your browser or be able to read German. Additionally, the forum is protected via SSL connections.
Membership Levels
As per our research, Brothers of Usenet is free to use.
Support
Support forms are available on the website's homepage. You can submit support requests, even if you're not a member.
Uptime Status
The performance of their page and its uptime result is average when compared to other NZB. For the current details, please see the chart below.
Brothers of Usenet Status / Uptime Charts
| | Status | Since | Average Response Time |
| --- | --- | --- | --- |
| ● | | | |
24 Hour Response Time Chart for
Brothers of Usenet
Chart will be updated in
X
seconds
Uptime Averages
Brothers of Usenet is protected by Cloudflare's web services, and their principal server is located in the United States.
Conclusion
Brothers of Usenet is one of the most popular German forums and indexing sites there is. While their board is online, registration is currently closed. They are generating hundreds of page views daily with several thousand unique visitors per month. Brothers of Usenet also ranks very well in Alexa, and almost 99.1% of their visitors are from Germany.
Unfortunately, most of the important information regarding this website is not publicly divulged. The site currently has no details on how many NZBs are available for download. We hope to see their website open its door soon.
Altenatives To Brothers of Usenet
| Name | NZBs | Price |
| --- | --- | --- |
| NZBFinder | Free 5 NZBs & 25 API Calls | 10, 20, 35 Euros |
| UsenetCrawler | Best Free Account Offering | Over 500 Groups Crawled |
| NZBgeek | Open and Free to Register | Free and Paid Service |
| NZBGrabit | Free 5 .ZIP Downloads | Arcade, and Photo Editor Included |
| DrunkenSlug | Free 100 API Hits and 5 NZBs Daily | Invite-Only Website |
| NZB.su | Open NZB Site | API Integrations |
| DogNZB | Invite Only | $20/Yr for VIP |
| NZBPlanet | Invite Only | 2 Million NZBs Indexed |
| FileSharingTalk | Forum-Based Site | Option to Donate |
| OmgWtfNZBs | Invite-Only NZB Site | $10/Yr for Donators |