Binzb Review
Last Updated: Feb 09, 2022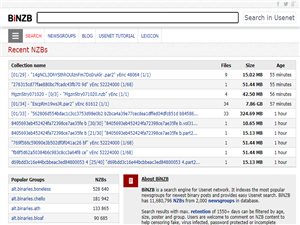 Rating
Price
Free
Retention
1550+ days Days
Free Trial
None
Features
No Registration Needed
Articles and Usenet Terms Provided
1550+ Days Retention Binary Retention
BiNZB is an open site that does not require registration. It has over 1550 days of binary retention, which is generous for a free indexing site. The site has an advanced search engine which filters the size, age, poster, and group of the file. You can also see reports and comments on the files that are suspected to be infected, fake, incomplete binaries, etc. to give caution to the other users.
The website also provides useful tech articles, and updates relating to its special offers, and Usenet tutorials.
Highlighted Features
No registration needed
More than 11,000,000 NZBs
Indexes to over 2000 newsgroups
Usenet tutorials and terms available
Useful articles
Privacy: Not secured
Retention: 1550+ days
API: None
Ads: Minimal
Allows you to get rid of malicious content
Filtering by Age, Size, Poster and Group
Interface
BiNZB has a custom interface, and it offers very distinct features compared to the Newznab interface which most NZB users are familiar with. The website uses RIAK system which allows the service to split the NZB files into nodes.
This system is designed to connect through paid NNTP access, and it scans up to 2000 different newsgroups.
Ease of Use
BiNZB allows you to report SPAM and flag other malicious content. You can also see a preview of these helpful comments before you download the file.
As mentioned, the BiNZB has a dedicated page for Usenet terms and tutorials- which is very helpful for beginners.
Membership Levels
BiNZB is free to use.
Support
BiNZB has a dedicated Contact Form page that users can use for all their concerns and queries.
You may also reach them at support@binzb.com.
Uptime Status
As of writing, BiNZB has had a healthy average response time and an uptime result over the last month. For the current uptime status, please see the chart below.
Binzb Status / Uptime Charts
| | Status | Since | Average Response Time |
| --- | --- | --- | --- |
| ● | | | |
24 Hour Response Time Chart for
Binzb
Chart will be updated in
X
seconds
Uptime Averages
Conclusion
Established in 2014, BiNZB has a lot of good features to offer. Their platform is fast and easy to navigate. They have a good selection of NZBs that are perfect for frequent NZB downloaders. With its SPAM detector, and the ability to flag malicious content, users are notified of possibly dangerous and corrupted files. More than an indexing site, BiNZB is also dedicated to providing information for new Usenet users with tutorials, terminology information, articles, and updates. We believe BiNZB is one of the NZB sites that are worth considering.
Altenatives To Binzb
| Name | NZBs | Price |
| --- | --- | --- |
| NZBFinder | Free 5 NZBs & 25 API Calls | 10, 20, 35 Euros |
| UsenetCrawler | Best Free Account Offering | Over 500 Groups Crawled |
| NZBgeek | Open and Free to Register | Free and Paid Service |
| NZBGrabit | Free 5 .ZIP Downloads | Arcade, and Photo Editor Included |
| DrunkenSlug | Free 100 API Hits and 5 NZBs Daily | Invite-Only Website |
| NZB.su | Open NZB Site | API Integrations |
| DogNZB | Invite Only | $20/Yr for VIP |
| NZBPlanet | Invite Only | 2 Million NZBs Indexed |
| FileSharingTalk | Forum-Based Site | Option to Donate |
| OmgWtfNZBs | Invite-Only NZB Site | $10/Yr for Donators |
Visit Binzb
Best Usenet Search Engines