BiNZB Review
Last Updated: May 25, 2019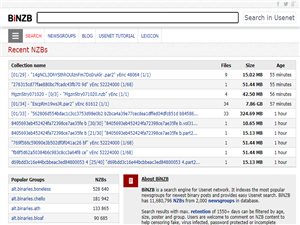 Rating
Price
Free
Retention
500 Days
Free Trial
None
Features
1,995 Newsgroups Indexed
11 Million NZB Files Indexed
Using RIAK - Distributed Database
BiNZB is a new NZB service that has some very interesting features built into it. It's a unique development and isn't related to Newznab or any of the other systems that NZB downloaders will be familiar with. The new system has some very impressive features that should make it a fast, easy and reliable way to get NZB files for the content that you want.
The Basics
This system is designed to connect through paid NNTP access. It scans all binary newsgroups and, at present, it's up to 1,995 different newsgroups, so there is plenty of content to choose from.
BiNZB uses a system that employs server catching and that is hosted on the Cloudfare service, which offers dynamic server management. This allows users to get an IP that's identical to their country of origin. If you're in the US, for instance, you'll get a US IP.
The system also uses RIAK, which allows the service to split the NZB files into nodes. This boils down to the service having unlimited capacity to store NZB files. This is a vast improvement over what's offered by a standard DB system.
Nginx + xslt provides the search service for the NZB files. There's an additional feature that frequent NZB downloaders will really appreciate.
Getting Rid of Spam
There are currently around 11 million NZB files indexed by BiNZB. These files are scanned to determine if they're spam—password checks, etc.—and those that are determined to be spam are flagged. This is great, since it allows the user to make an informed decision as to whether or not they want to download the NZB. If it's password protected or has a virus that shows up in the check, the user will know ahead of time, potentially avoiding a disaster or, at least, a major annoyance.
More than NZBs
BiNZB has a blog where people can get good information about USENET, something the developers decided to offer as they felt there was just too little information out there about USENET in general.
Very Smart, Very Well Designed
BiNZB has some real innovation on tap for users. They've taken things a step further in terms of making a useable, trustworthy and reliable service. The fact that they considered the importance of information about USENET and went so far as to create a place where people can read information about it is great. These developers have created something very interesting and, on top of it, seem to really want to promote USENET in general, and those are both very good things. You can check out their blog and learn more.
Give Something New a Chance
There are plenty of NZB sites out there to choose from and, unfortunately, they tend to come and go rather quickly. BiNZB is something different and bears taking a look at. The new development that powers it is well thought out and the developers themselves really seem committed to promoting USENET. If you want to learn more, there is plenty of information at their site and there are also plenty of good reasons to give this new service a shot.
BiNZB Status / Uptime Charts
| | Status | Since | Average Response Time |
| --- | --- | --- | --- |
| ● | | | |
24 Hour Response Time Chart for
BiNZB
Chart will be updated in
X
seconds
Uptime Averages
Signup to our mailing list also on the special offers page to be notified when a new NZB site or new Usenet Search Engine site is opened and available.
Altenatives To BiNZB
| Name | NZBs | Price |
| --- | --- | --- |
| Oznzb | 5 NZBs Daily | $16/Year & $ 55/Life. |
| NZBFinder | Free: 5 NZBs & 25 API Calls. | 10, 20, 35 Euros. |
| DogNZB | No Free Account | $18/Year for VIP |
| NZBGrabit | 10 Zip Dls / Day | $15/Year & $35/Life |
| ABnzb | 20 NZBs & 100 Calls | $25/Year for VIP |
| OMGWTFNZBS | No Free Account | $10/Year for VIP |
| NZB Tortuga | 5 NZBs a Day | $6/Year for VIP |
| NZBGeek | No Free Account | $12/Year for VIP |
| GingaDaddy | 3 API Hits/NZB Grabs | $17/Year for VIP |
| Nzbplanet | 5 NZBs Daily | $10/Year for VIP |
Visit BiNZB
Best Usenet Search Engines