AltHUB Review
Last Updated: Feb 04, 2022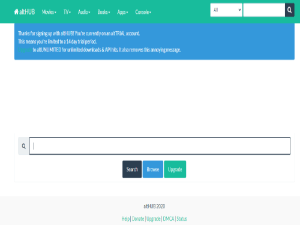 Rating
Price
$10
Retention
N/A Days
Free Trial
None
Features
Free and Paid Membership
Over 900,000 NZBs Indexed
API Integration
AltHUB is an NZB search engine that allows you to browse and search for anything on Usenet servers. You can search and download files by automation or manually.
Formerly known as nMatrix.com.za in 2012, AltHUB is known for being a fast and secure automated indexer for NZBs. They became an independent domain in 2015 and is now a Newznab-based indexer.
Newsreaders are essential for downloading files in AltHUB, and we have the list of the best Usenet newsreaders for you to easily complement the service.
AltHUB has a generous package for its supporters, and it comes with free and paid services. Both membership accounts have advantages and disadvantages, and it's up to the user on what kind of account they will avail.
Highlighted Features
Unlimited APIs and NZBs for a cheap price
Free account with 5000 hits and grabs
Integrations: SickBeard, CouchPotato, HeadPhones, SABnzbd, Sonarr, NZBGet, NZBVortex, and NZB360
Over 900,000 NZBs in 80 newsgroups
Indexer updates every 15 minutes
Privacy: SSL- encrypted cluster (no IP trackers and no third-party tracking tools)
Retention: not specified
IRC: No
Ads: No
No invites required
Easy to start and search
Awesome support
Interface
Like other NZB sites, AltHUB uses a base-code of Newznab, which gives its users the best experience for browsing and downloading files in Usenet. They have a simple and clean interface that any user can easily navigate through and understand.
Ease of Use
AltHUB has links and features that would help users understand their platform better. They have a very minimalist website that has a basic search engine and has no advertisements cluttering their pages.
In addition, AltHUB finds NZB360 helpful as your NZB manager, which easily tracks your downloads through mobile applications.
Membership Levels
AltHUB offers free and paid service, with the latter being low-cost. Their free trial includes 14-day access to their service and falls under the category of 'Expired/Free' member once the trial period ends. Users can upgrade to a reasonably-priced yearly subscription with the following features below: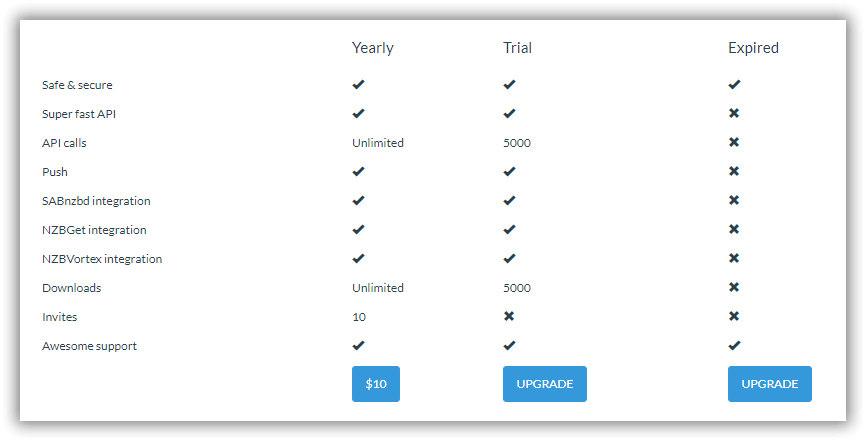 | Account | APIs | Downloads | Invites | Expiration | Price |
| --- | --- | --- | --- | --- | --- |
| AltTRIAL | 5000 | 5000 | 0 | 14 days | $0 |
| AltYEARLY | Unlimited | Unlimited | 10 | 1 year | $10 |
Users with an expired trial account will have to download manually from the website and there will be no access to API. On the other hand, users with AltYearly plans have unlimited APIs and NZBs but will be restricted by AltHUB's fair usage policy. The requests per second and minutes are logged by the website, and they encourage its users to observe 10 minutes (minimum) for every download. Inability to follow these rules may result from temporary to permanent banning.
Upgrades are done automatically if you enter the correct info on checkout. If your account hasn't been upgraded after 45 minutes, contact AltHub support. If you'd like to renew your account for more than 1 year at a time you need to checkout twice.
The payment and donation option is via third party site.
Support
Aside from the contact form available on their website, you can also use their alternative search bar if you have a question that you'd want to ask. You can enter a search term in this search bar as well. Beginner and advanced users can both take advantage of this feature since you can also try searching using the APIs.

AltHUB provides articles that help readers understand the most common concerns of the users. It includes the integration steps of some known applications. Frequently Asked Questions are also available.
Uptime Status
AltHUB has a status page that provides reports on everyday incidents if there are any. With this, users can distinguish if they're having problems with their own internet connection or if the NZB site has ongoing technical problems.
AltHUB has had a satisfying and consistent uptime average and a quick response time.
AltHUB Status / Uptime Charts
| | Status | Since | Average Response Time |
| --- | --- | --- | --- |
| ● | | | |
24 Hour Response Time Chart for
AltHUB
Chart will be updated in
X
seconds
Uptime Averages
Conclusion
While AltHUB is not a perfect NZB site for free users, their price for a yearly subscription is much lower compared to the other indexers. Their website is fast and secured and their service includes complete integration with multiple software. However, it is unclear what their retention rate is, but with the competitive features of paid service, AltHUB is definitely worth checking, especially for its occasional promo season.
We would like to reiterate that by downloading manually, you need the best Usenet newsreaders, and/or Usenet service providers that can be easily found on our website. This will enable you to enjoy your browsing and downloading as best as it should be.
Altenatives To AltHUB
| Name | NZBs | Price |
| --- | --- | --- |
| NZBFinder | Free 5 NZBs & 25 API Calls | 10, 20, 35 Euros |
| UsenetCrawler | Best Free Account Offering | Over 500 Groups Crawled |
| NZBgeek | Open and Free to Register | Free and Paid Service |
| NZBGrabit | Free 5 .ZIP Downloads | Arcade, and Photo Editor Included |
| DrunkenSlug | Free 100 API Hits and 5 NZBs Daily | Invite-Only Website |
| NZB.su | Open NZB Site | API Integrations |
| DogNZB | Invite Only | $20/Yr for VIP |
| NZBPlanet | Invite Only | 2 Million NZBs Indexed |
| FileSharingTalk | Forum-Based Site | Option to Donate |
| OmgWtfNZBs | Invite-Only NZB Site | $10/Yr for Donators |