NZB Hydra 2 Review
Last Updated: Feb 14, 2022

Rating
Price
Free
Features
NZB Meta Search
Search Many Sites
Python 2 Software
Many NZB Sites
NZBHydra 2 is the successor of metasearch program, NZBHydra. This meta search for newznab indexers and torznab trackers is a much faster version compared to its predecessor. It also has more features and is more stable and a lot more improved.
NZBHydra 2 is said to be the "spiritual successor" of NZBMegaSearch. It provides easy access to newznab indexers and torznab trackers via Jackett and can be used as an indexer source for tools like Sonarr, Radarr, Lidarr and CouchPotato.
This program is constantly updated and checked for bugs. The current version as of writing is at version 4.0.2 released in January 2022.
The Program
NZBHydra 2 features enhancements and upgrades that its predecessor does not have. These features include:
Searches Anizb, BinSearch, NZBIndex and any newznab compatible indexers. Merges all results, filters them by a number of configurable restrictions, recognizes duplicates and returns them all in one place

Add results to NZBGet or SABnzbd

Support for all relevant media IDs (IMDB, TMDB, TVDB, TVRage, TVMaze) and conversion between them

Query generation, meaning a query will be generated if only a media ID is provided in the search and the indexer doesn't support the ID or if no results were found

Compatible with Sonarr, Radarr, NZBGet, SABnzbd, nzb360, CouchPotato, Mylar, LL, Sick Beard, Jackett / Cardigann, Watcher, etc.

Search and download history and extensive stats. Eg indexer response times, download shares, NZB age, etc.

Authentication and multi-user support

Automatic update of NZB download status by querying configured downloaders

RSS support with configurable cache times

Torrent support:

For GUI searches, allowing you to download torrents to a blackhole folder
A separate Torznab compatible endpoint for API requests, allowing you to merge multiple trackers

Extensive configurability

Save torrents in a black hole folder; Torznab API endpoint

Migration of database and settings from v1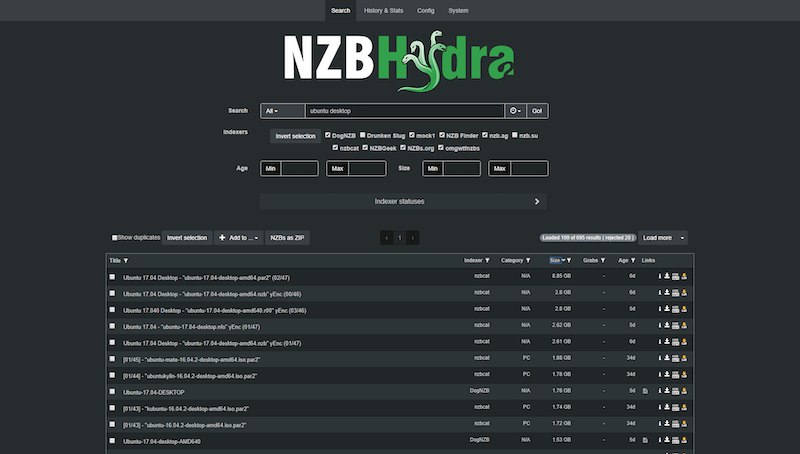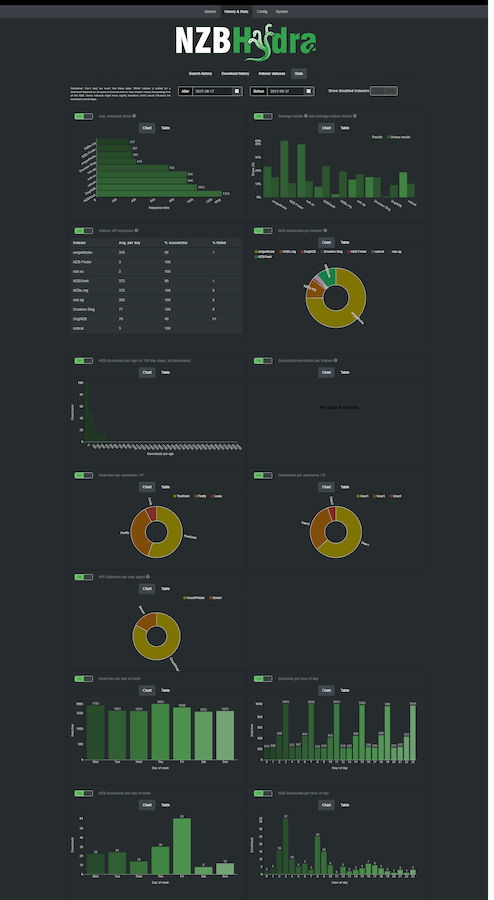 Usage and Capabilities
NZBHydra 2 is an advanced piece of software that is highly configurable, allowing you to customize the program according to your specific needs. For those who have previously used its predecessor, NZBHydra would be very easy to use. However, for new users, it might involve a little bit of learning before you get the hang of using this software since it comes with a ton of options.
Aesthetically speaking, the program also comes with customizable themes that allow users to change the look of the platform to a dark theme – giving it a modern and sleek look, and also making it less strenuous to the eye.
NZBHydra2 supports major indexers like Binsearch, NZBIndex and others. It comes with a ton of search options that you can use to optimize the search results. These options include the following:
Indexer selection option

Minimum and maximum NZB age

Minimum and maximum NZB size

Category-specific search option
NZBHydra2 also allows you to search media platforms like IMDB, TVRage, TVDB and others.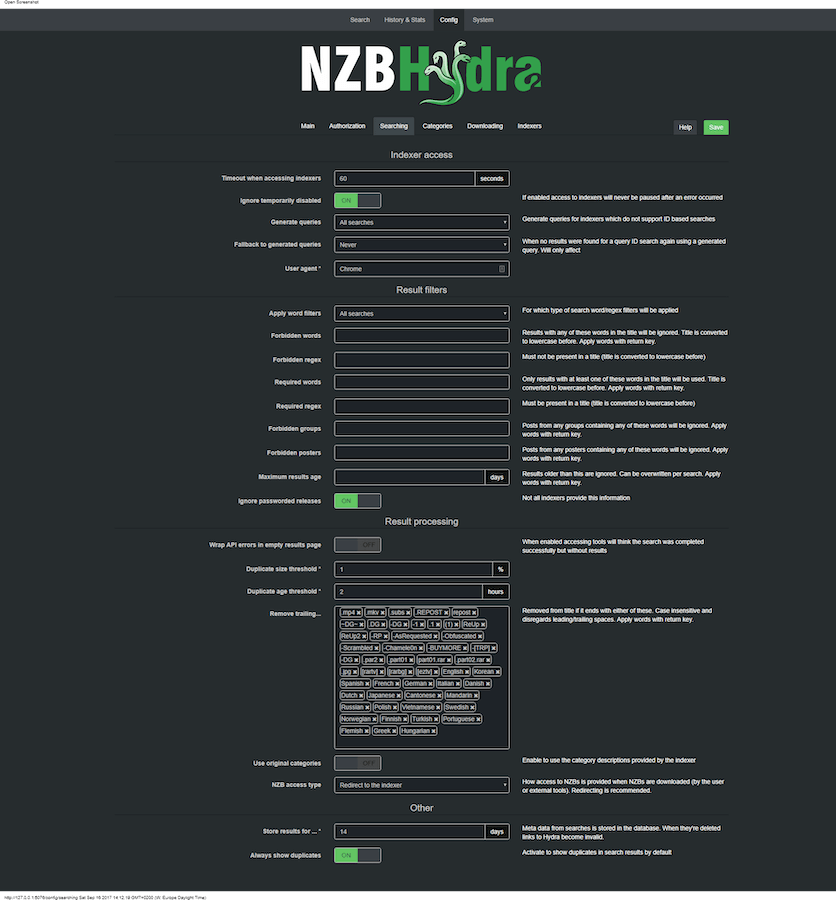 Installation
You would simply need to download the latest release of the program and extract it to your computer. If you do not have an up-to-date java installation, you will need to install OpenJDK on your computer.
On Windows (64-bit) you can either start NZBHydra2.exe which will add a tray icon or NZBHydra2 Console.exe which will open a console window. Note: Do not use the folders C: \ Program Files or C: \ Program Files (x86).

On Linux start nzbhydra2 (currently working only on x64). You may need to chmod + x it first.
After a while your browser should open to http: //127.0.0.1: 5076
How to Use
To start using NZBHydra2, open the software on your computer and type the query on the search bar. From there you can select the indexer you want to use and filter using the other search options. For first time users, you may need to set up the indexers you will be using through the settings section of the software.
Once your search results appear, click the link you want to download and transfer it to the newsreader. Once you've transferred the NZB to the newsreader, you can start downloading it.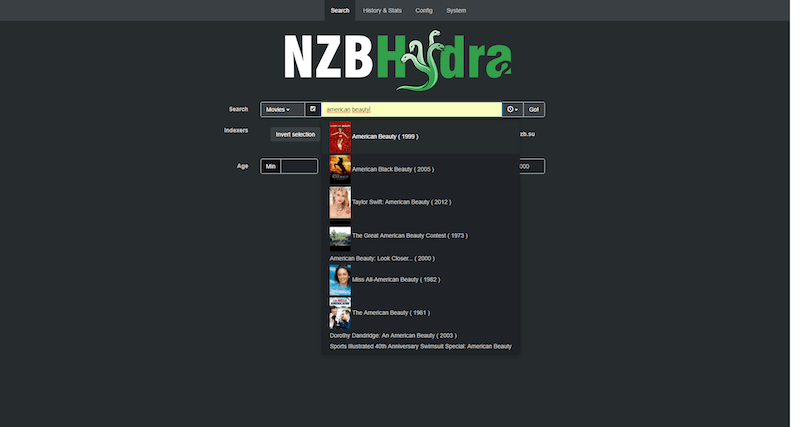 Conclusion
NZBHydra2 comes with a lot of great features that makes searching through indexers easier and more convenient. With its capability to be used with popular indexers and other major platforms like Sonarr, Radarr, Lidarr, SabNZBD etc., it positions itself as a very useful and extensive software. It is definitely better than its predecessor, NZBHydra. However, if you are new to using this type of program or if you are a beginner to the Usenet scene, you may find it difficult to use. But if you get through the learning curve involved, it can be a really reliable tool for you.
Visit NZB Hydra 2