Lidarr Review
Last Updated: Jan 31, 2022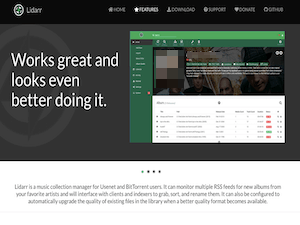 Rating
Price
free
Retention
500 Days
Free Trial
None
Features
Audio Collection Manager
Full Integration With NZBGet & SABnzbd
Manual or Automatic Search
Lidarr is an application that mainly focuses on managing audio collections. Specifically developed for Usenet and BitTorrent users, Lidarr can monitor several RSS feeds to find audio files you are looking for and interface them with Usenet clients and indexers to be grabbed, sorted and renamed.
Lidarr functions the same way as Sonarr and Radarr, but specifically for audio files. Like the aforementioned applications, it can detect news files via RSS feeds and can automatically upgrade existing files in your library when a better-quality format becomes available. Lidarr also works popular operating systems like Windows, Mac and Linux, including Raspberry PI.
Lidarr is regularly maintained and updated by its community of contributors and developers to assure users that it would works as seamlessly as possible. Changelogs can be seen on their github page.
Highlighted Features
Lidarr has several impressive audio file management features that include manual and automatic search and downloading. It can be fully integrated with popular NZB downloaders, SABnzbd and NZBGet, and provides detailed information on the files you want to download.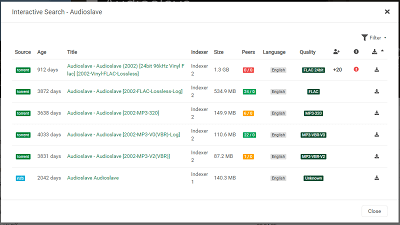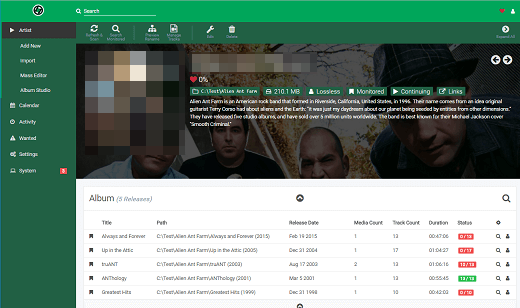 For the complete full features of Lidarr, please see below:
Support for major platforms: Windows, Linux, macOS, Raspberry Pi, etc.
Automatically detects new audio files.
Can scan your existing library and download any missing files.
Can watch for better quality of the files you already have and do an automatic upgrade.
Automatic failed download handling will try another release if one fails
Manual search so you can pick any release or to see why a release was not downloaded automatically
Fully configurable file renaming
Full integration with SABnzbd and NZBGet
Full integration with Kodi, Plex (notification, library update, metadata)
Full support for specials and multi-album releases
And a beautiful UI
Built-in Calendar
Status Table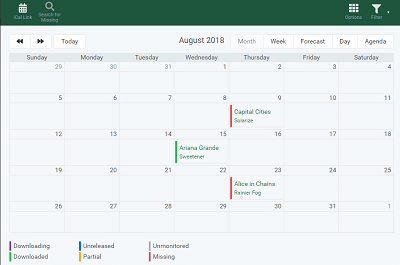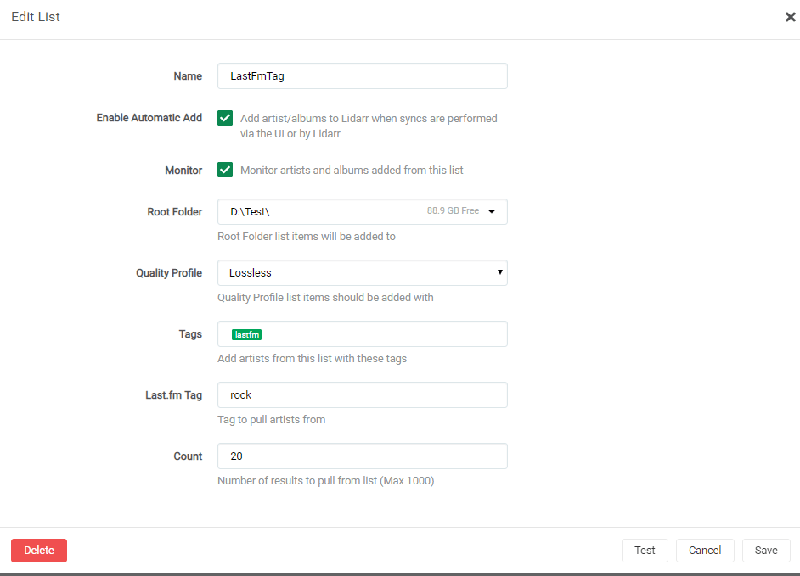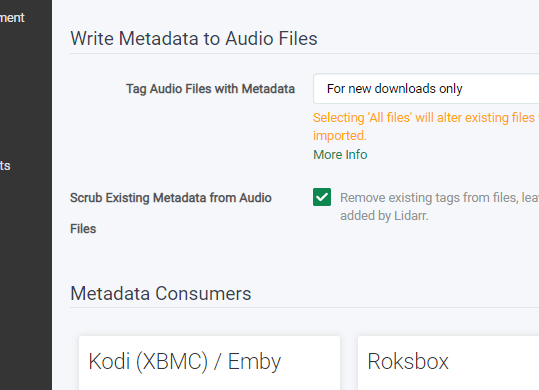 Lidarr is also open to feature requests from its community of users. And with the help of their contributors and their developers, they try to incorporate doable requested features as part of possible future upgrades on the application.
Plans & Pricing
Lidarr is completely free to use. However, its developers encourage donations for them to be able to continue further developments with the application and provide user support.
You can donate to Lidarr via opencollective.com either as a contributor, backer, sponsor or mega sponsor. You have the option to either donate on a monthly basis or to contribute once. Range of donations is from $2 to $25.
Usage Overview
Lidarr is very easy to use, especially if you are used to other collection managers like Sonarr and Radarr. While they differ on the files they collect and manage, they all work in a very similar manner. All of them also share the same look in terms of their user interface. However, they also have a common downside, which is that the installation process can be a little tricky since there is no installer readily available. Having said this, once you've read our guide on installing Lidarr, usage will pretty much be a breeze, with functions fully customizable according to your preference.
We'd also like to note that if you will be using Lidarr to download audio files from Usenet, an SSL encryption would be enough to keep your activity secure and anonymous. However, if you will use the application for torrent downloads, you should consider getting a VPN service to keep your download activity safe.
Installation
As previously mentioned, Lidarr does not have a readily available installer. However, there is a guide available on how to install this application on your operating system. And while we will focus on Windows, Mac and Linux, we'd also like to note that installation guides for Raspberry PI and FreeBSD/FreeNAS are also available on the Lidarr Wiki page.
For Windows:
Download the latest version of Lidarr from their official site.
Extract the zip file into your target directory. Use a folder that Lidarr process would have to write access to (DO NOT use C:\Program Files or C:\Program Files (x86))
Run Lidarr.exe once as administrator to register the port and URL with Windows (Required for remote access)
Manually start Lidarr by running Lidarr.exe or ServiceInstall.exe to install Lidarr as a Windows service.
Open http://localhost:8686/ in your browser
For MacOS:
Download the latest version of Lidarr's OSX package from their github page.
Open the archive and drag the Lidarr icon to your Application folder.

Note: In macOS 10.12+ Gatekeeper App Translocation will prevent Lidarr run directly from the Downloads folder from updating

Open Lidarr.app
You should now be able to access Lidarr at http://localhost:8686/
For Linux:
Mono 5.8 or later is required before installation
Get to directory/ opt
Download Lidar.tz.gz at their github page
Extract the package

sudo tar -xzvf Lidarr.*.linux.tar.gz

Try to run in shell

sudo mono–debug /opt/Lidarr/Lidarr.exe

Lidarr should be available on port 8686, for example: http://localhost:8686
Configuration
Lidarr has functions that you customize based on your preference. You can set the quality of the files you are looking for and even enable or disable notifications from other applications like Plex, Kodi and Growl.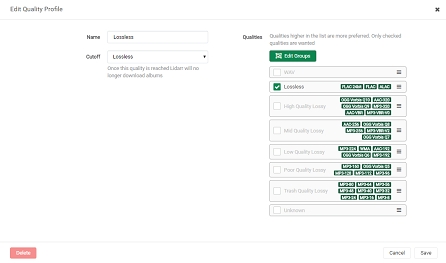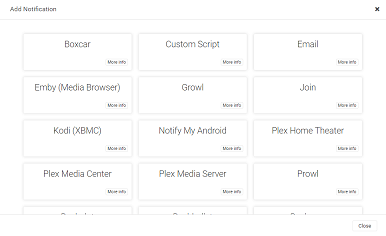 Scheduling & Automation
Lidarr can automatically detect new audio files by monitoring multiple RSS feeds and interface them to your favorite downloader. It is also capable of handling failed downloads automatically by trying another file if one fails. Lidarr can also be configured to upgrade your existing files as soon as better quality files are available.
Usability
If you are already familiar with other file collection managers, then using Lidarr will be pretty easy for you. However, for completely new Usenet users, Lidarr requires a bit of learning before you get used to it. But once you've fully explored the software and you're familiar with most of its functions, then you can enjoy all of what Lidarr has to offer.
Lidarr presents users with options on how to view existing files from a file overview to multiple posters. Its developers also provide frequent updates for all users to keep everyone looped on current issues or upgrades with the software.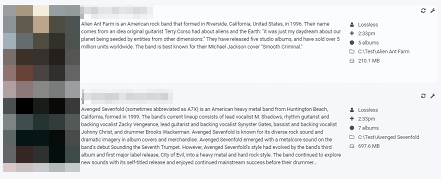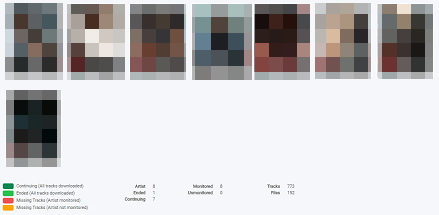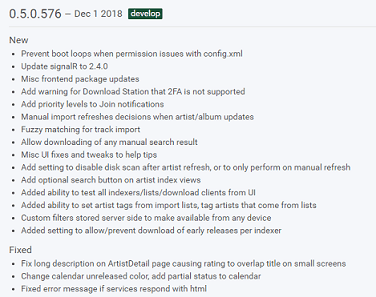 Conclusion
Lidarr is a very convenient piece of software that you can integrate with popular usenet clients/ nzb downloaders. Specifically catered for those who constantly need audio files, Lidarr has several good features that make it a very useful and efficient tool that further improves the Usenet journey. Try downloading this application along with its relative file collection managers, Sonarr and Lidarr, and amplify your whole Usenet downloading experience.
Visit Lidarr
Best Usenet Newsreaders