Sickbeard Review
Last Updated: Jan 27, 2022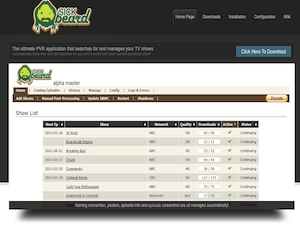 Rating
Price
free
Retention
500 Days
Free Trial
None
Features
Searches and Manages Video Files
Usenet and Torrent Support
Integrable With Download Clients
Sickbeard is a personal video recorder application that has quite a few useful features built into it. It can automatically find old and news video files and work it with your favorite download client. Sickbeard can be integrated seamlessly with popular downloaders like SABnzbd and NZBGet. If you 're already using these applications, you won't have any difficulties configuring Sickbeard to work with it. It has limited torrent capabilities, in addition to its USENET compatibility – so you have a means to access several different services utilizing this tool.
However, while Sickbeard definitely has some decent and efficient features, no updates have been done on this software since 2010. Based on what we've gathered from multiple forums and discussion groups, users have been steering away from Sickbeard for quite some time since it is outdated and has been having problems for years. You may compare this PVR to other similar applications like Sickrage and CouchPotato to see which one is more well-developed and more updated, or check out other similar softwares listed on our best Usenet newsreaders list.
Highlighted Features
Sickbeard watches out for news video files, and downloads, sorts and renames and optionally generates metadata for them as soon as they are available. It supports several Usenet search providers, as well as a limited number of torrent providers. It also retrieves video information from TVDB.com and TVRage.com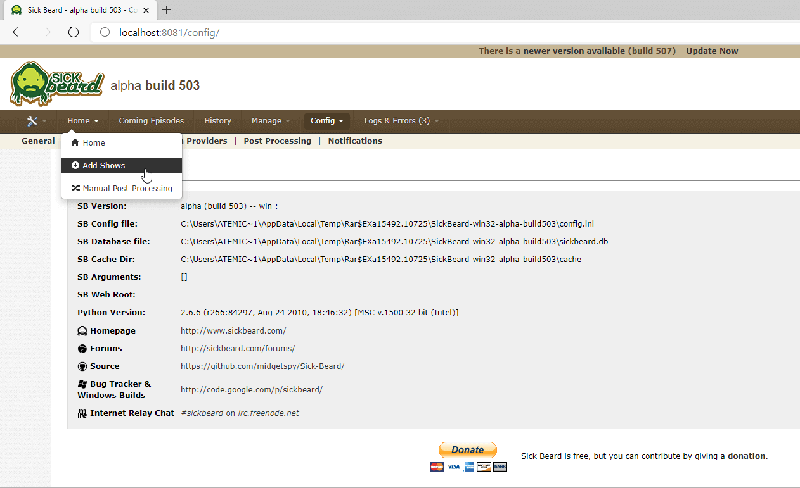 Sickbeard's key features include:
Automatic Video Downloads – finds new video files and downloads them using your download client
Generate Video Metadata – downloads video information including screenshots and posters
Renames Files – users can specify the naming convention and Sickbeard renames files for you
Notification via XBMC, Growl, Prowl, Twitter, Notifo and more – Sickbeard notifies you of newly downloaded files via your PC or phone
Identifies missing episodes and automatically downloads them
Watches out for better-quality files/ versions
Supports special and double episodes
Plans & Pricing
Sickbeard is completely free to use. However, its developers encourage donations via PayPal to support their maintenance expenses and to keep the software running. We would like to mention, however, that no updates have been done on this software since 2010.
Usage Overview
Sickbeard can work on multiple platforms including Windows, Mac and Linux. Once installed, you will likely have questions on how to use this program with the level of complexity that this personal video recording tool offers. To make sure that you have a means of answering those questions, Sickbeard has a very active forum that contains an FAQ that you can use to find answers to the most common questions you 're likely to have come up. If that doesn't work, the program has its own IRC support channel, which allows you to talk to experts in real time and get answers to any questions that you have.
Installation
Sickbeard can be installed easily on Windows platforms. You would simply need to download the latest binary release from google code and extract the contents of the zip file to where you want the program to be installed. By double clicking the .exe file and following the installation process on your setup wizard, you will successfully install Sickbeard.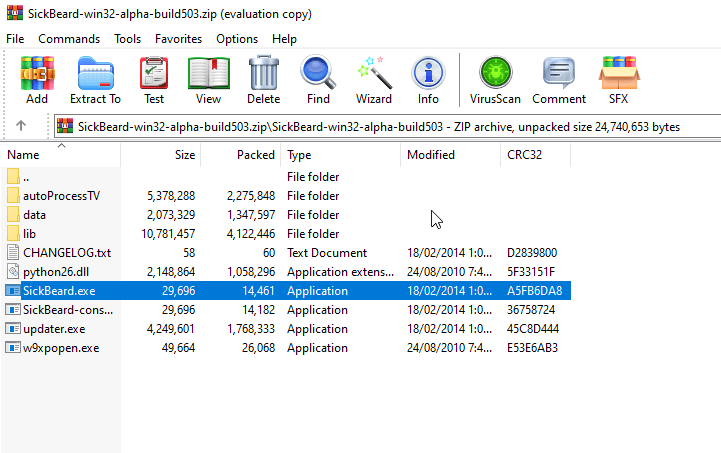 Sickbeard can also run from source on Windows, you will just have to follow the same process with Linux and OSX installation.
To install on Linux and OSX, you can follow these steps:
Install python
To check if it is installed just type "python -V" in a terminal window
In the unlikely event it's not already installed you can simply install it with your OSes package manager.
Install cheetah
Use your package manager: sudo apt-get install python-cheetah
Or install from source:
Retrieve the SickBeard source
If you have git installed (use "git –version" to check):
git clone git://github.com/midgetspy/Sick-Beard.git my-sickbeard-install
If not:
Start SickBeard
cd my-sickbeard-install
python SickBeard.py
Configuration
To start using Sickbeard, you would first need to configure your server information on the Configuration tab available on the menu section. There you will see options for general settings, server settings, search provider and more. On the General settings,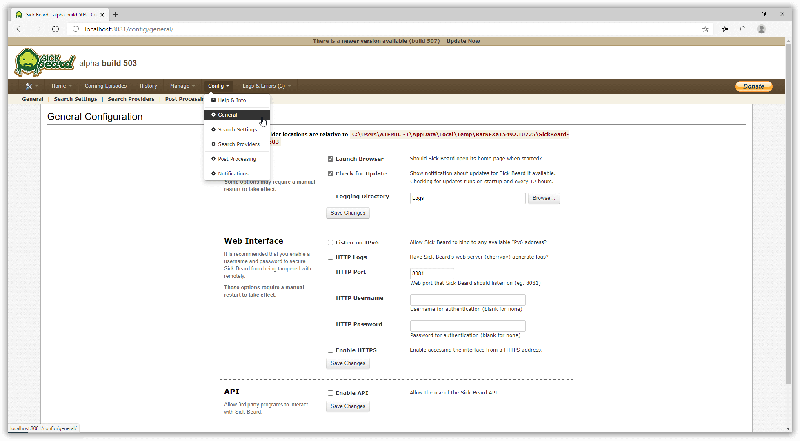 One the search providers area, you can indicate which search provider you would want to use and drag them according to the order you want them to be used. This is also where you can configure the username for a given provider and the API key.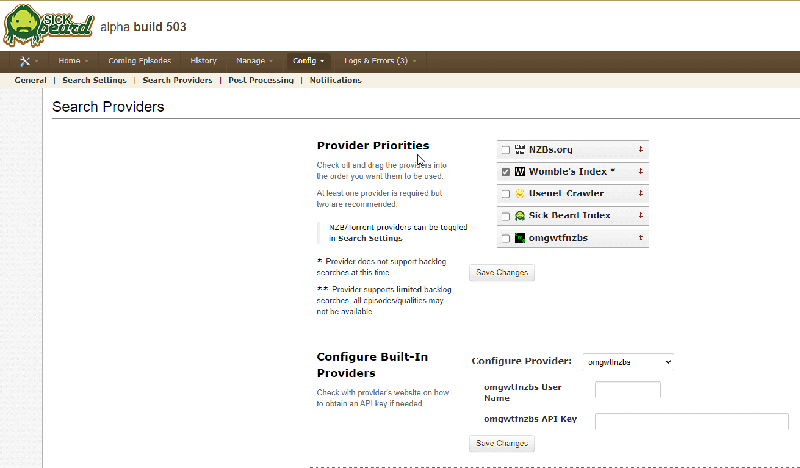 Scheduling & Automation
Sickbeard does not have any special or advanced scheduling or automated features built into its system. It only performs the basic automated functions of PVRs, which allows it to search and manage video files and redirect them to your favorite downloader once the files you are looking for are available.
Usability
Sickbeard runs in the background once installed. It can be accessed through your web browser, but it continuously works on the background even when your browser is closed. You might want to bookmark the Sickbeard page so you can retrieve it easily later on.
Some users may find using this program complex, however on their FAQ page, you'll find instructions including links to videos that can give you all of the information you need for the most complex configurations. According to user feedback, some users have been able to set up Sickbeard while they were watching the video, getting an idea of the overall convenience of the setup process.
Conclusion
While Sickbeard is a decent software to use when searching and managing video files from Usenet, we cannot disregard the fact that the program has not been updated for quite some time now. And although its features still function well and are still able to do its required work, there may be other PVRs that may suit users' needs along with providing the comfort that these programs are more recently updated and are more supported by its developers. You can consider checking out other programs like Sonarr or CouchPotato.
Visit Sickbeard
Best Usenet Newsreaders