SickRage Review
Last Updated: Jul 25, 2019
Rating
Price
Free
Features
SickRage Software
PVR App
Python Script
Active Development
If you're a fan of Sickbeard, you're going to want to know about SickRage. This is a fork of Sickbeard that hadn't been under active development, but seems to have picked up again. It has some features on it that will be welcomed by anyone who uses Sickbeard and who wants something that, while retaining the basic features that Sickbeard is known and loved for, is exciting because it is different in specific ways. Some of what it offers seem to be significant improvements overall.
What SickRage Offers
SickRage has a host of different features. For example, if you have a version of a video and you're not happy with the quality, you can upgrade your existing content from the program. It works with SABnzbd, one of the best downloading options out there, and it will categorize the content that you download. It even downloads the poster art, the generation information and more. If you're very particular about your organization scheme, SickRage allows you to set a custom naming scheme.
If you run into failures, the Episode Status manager lets you fail entire seasons and retry. The handling code for NZBs and Torrents have been improved, as well.
When you import your existing content, you can specify which provider you want episode information from.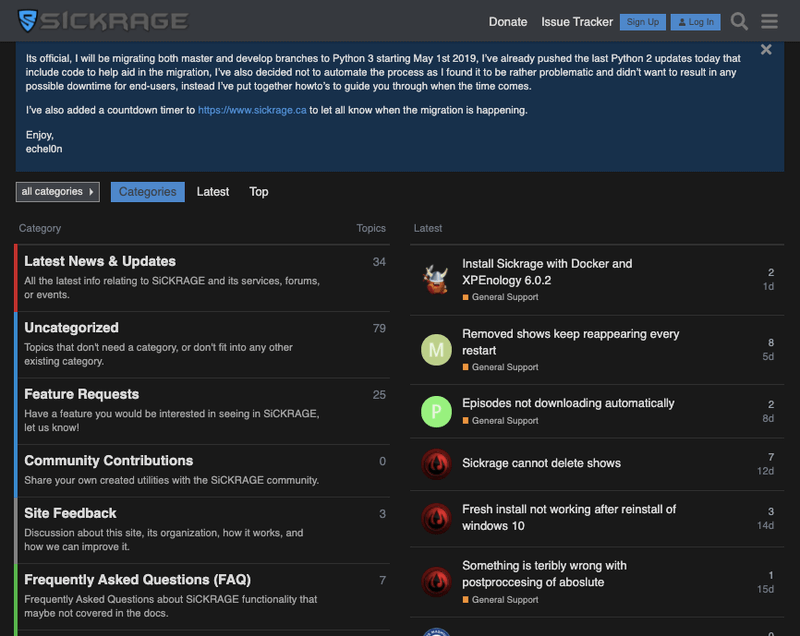 On the forums for SickRage, recent posts seek a logo designer and announce that Web IRC support has been added. Users on the web have said that the developer is very responsive to issues. There's an extensive FAQ for SickRage available. On the same page, there are many posts about feature requests, so you can get an idea of where people want to see this program head in the future.
There's quite a bit of activity on the forums for this development. The features that it brings to Sickbeard, already one of the best of its kind, are definitely improvements in terms of convenience and functionality alike.
This development retains Sickbeard's API scheme, but it does seem to offer quite a few improvements upon it. It works with the Watchily service and, according to the developers at that site, it seems to get better results pulling media information. Watchily plans on adding it to their site once their redesign is complete, so even site operators seem to be excited to see what SickRage has to offer.
Learn More
You can read more about the development at the GitHub site for SickRage, as well, which gives a detailed list of fixes and changes to the program. The program searches TVDB and TVRage to find shows, so you'll likely find most anything you're looking for. The way it handles information, show numbering and other tasks make it a promising media manager. If you're a Sickbeard user, you'll definitely want to give SickRage a try.
SickRage Informative Links
Visit SickRage