Sickrage Review
Last Updated: Jan 26, 2022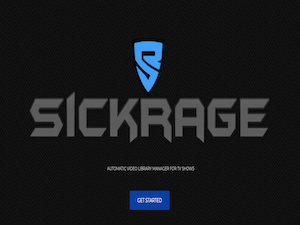 Rating
Price
free
Retention
500 Days
Free Trial
None
Features
Automatic Video Library Manager
Python Script
Integrable With SABnzbd and NZBGet
If you are a fan of Sickbeard, then Sickrage would be something you would also definitely enjoy. It is a video library manager that watches out for the video files you are waiting for and integrates it with popular downloaders. It works well with SABnzbd and NZBGet, which are just a few of the best NZB downloaders in the market today.
Sickrage supports both Usenet and Torrent downloaders, which means it can be enjoyed by a wide range of users. It is also often compared to CouchPotato, however; it has a more user-friendly interface and has an automatic subtitle feature.
Highlighted Features
Sickrage has a host of different features. Aside from the video content monitoring that enables users to watch out for files you are waiting for, it also is able to upgrade your existing when a better-quality version becomes available. It also downloads poster arts, general information on the video file, and more.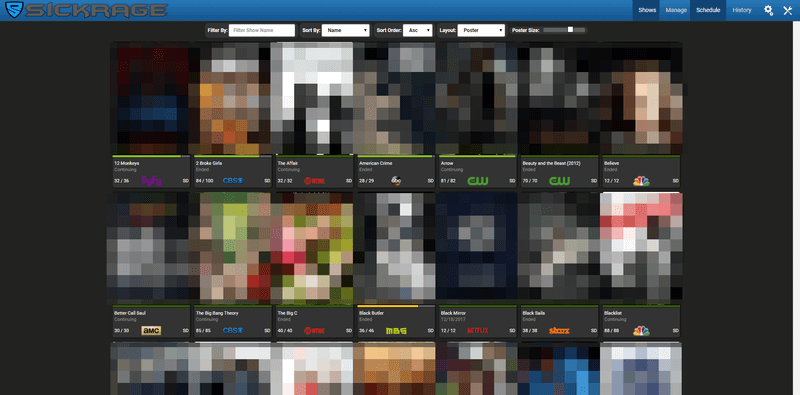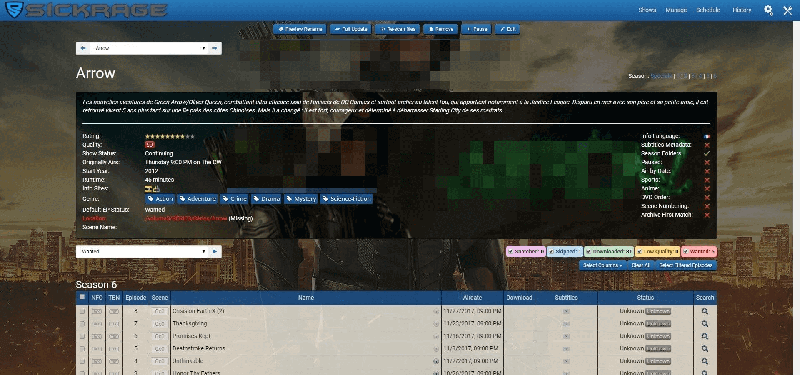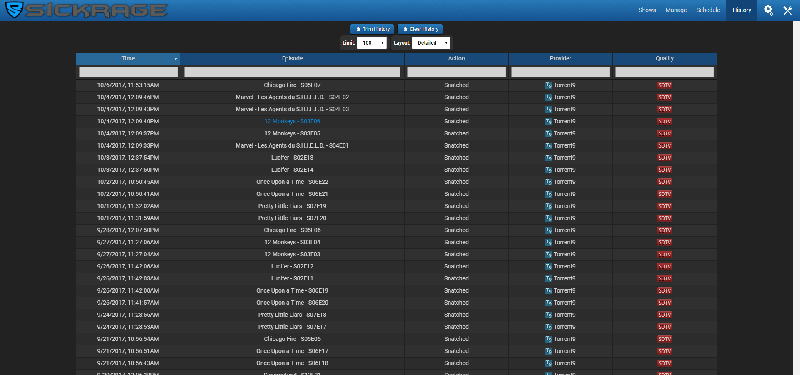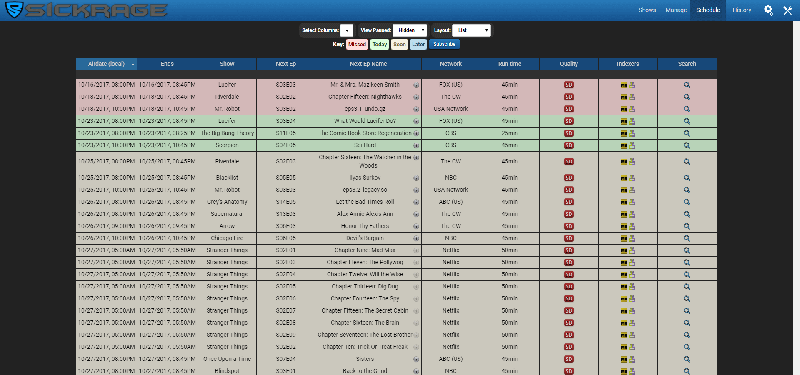 Usenet and Torrent provider support
Anime Support
Automatic Subtitle downloading using Addic7ed, OpenSubtitles, Podnapisi, TVSubtitles, and more
Multi-platform Support
Kodi/XBMC library updates, poster/banner/fanart downloads, and NFO/TBN generation
Configurable automatic episode renaming, sorting, and other processing
Easily see what episodes you're missing, are airing soon, and more
Automatic torrent/NZB searching, downloading, and processing at the qualities you want
Can notify Kodi, XBMC, Growl, Trakt, Twitter, and more when new episodes are available
Searches TheTVDB.com and AniDB.net for shows, seasons, episodes, and metadata
Episode status management allows for mass failing seasons/episodes to force retrying
DVD Order numbering for returning the results in DVD order instead of Air-By-Date order
Allows you to choose which indexer to have SickRage search its show info from when importing
Automatic XEM Scene Numbering/Naming for seasons/episodes
Available for any platform, uses a simple HTTP interface
Specials and multi-episode torrent/nzb support
Automatic subtitles matching and downloading
Improved failed download handling
DupeKey/DupeScore for NZBGet 12+
Real SSL certificate validation
Plans & Pricing
While Sickrage is a free software, its developers encourage users to become a financial contributor through opencollective. To show your support to Sickrage, you can make a custom one-time or recurring contribution. There are also multiple contributor levels (supporter, backer, flexible sponsor and dedicated sponsor) that range from $2 per month to $25 per month.
Usage Overview
Sickrage is easy to use once you've configured all the settings that you need to configure. If you are familiar with how to use Sickbeard or CouchPotato, then figuring out how to use Sickrage will be much easier for you. However, if you are new to using video library managers like this software, it would take you a while to understand how to navigate through its interface and use the program. The good thing is there is a forum available on their website which has guides and how to's, FAQs, news and updates, and general support.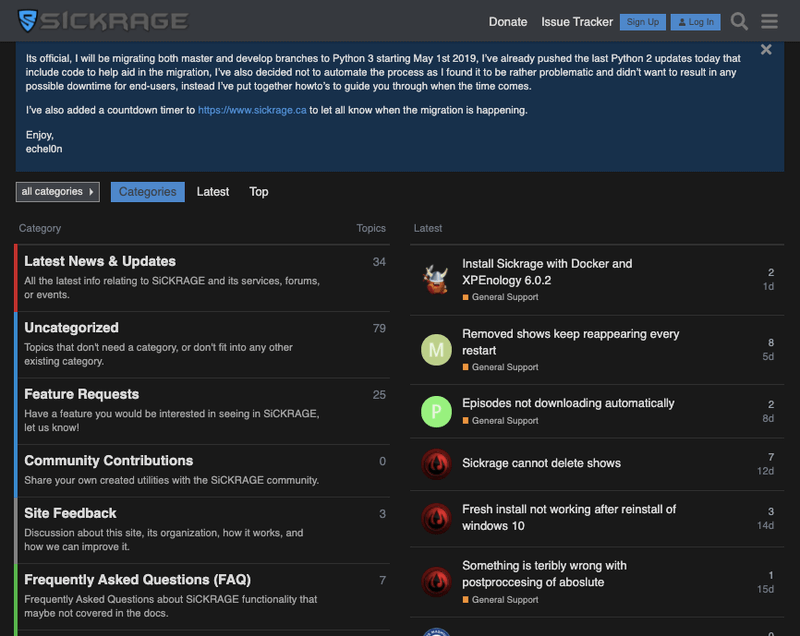 Installation
You can download Sickrage from multiple sources:
GIT repository
Docker repository
Synology repository
Sickrage also has packages for:
Sickrage can be installed on a number of different operating systems, including Windows, Linux and MacOS.
For Windows, you would simply need to download the installer from their website and then follow the steps on the set-up wizard. If after installing you're unable to access Sickrage via http://localhost:8081, you can try re-installing the requirements by doing the following:
pip3 install –no-deps -r c:\sickrage\requirements.txt
You may need to re-start the Sickrage service afterwards.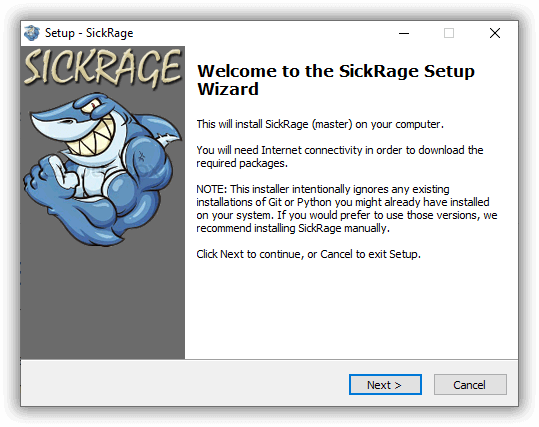 To install Sickrage on MacOS X, you will need a Python extension library and then follow a process that involves installing command-line tools on your terminal. Linux would also require you to install Sickrage dependencies via python. You can check out the forums page of the Sickrage website for full details.
Configuration
To be able to use Sickrage properly, you would need to configure the provider's options on the program. From there you can also enable or disable to perform daily searches and perform backlog searches. The provider priorities section is where you select which providers on your list you want to use. You can also drag the provider names in the order you want them to be used.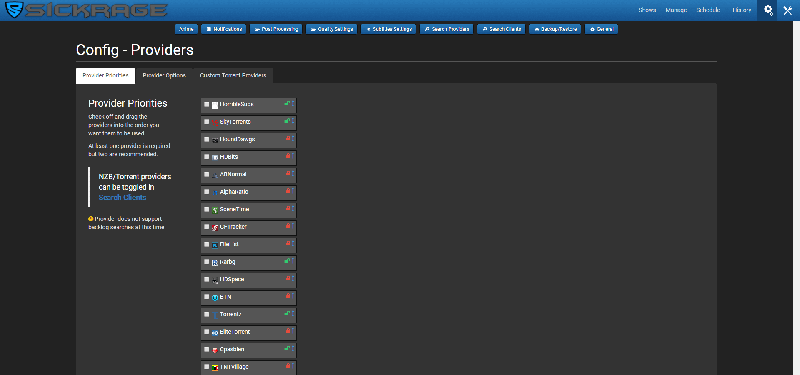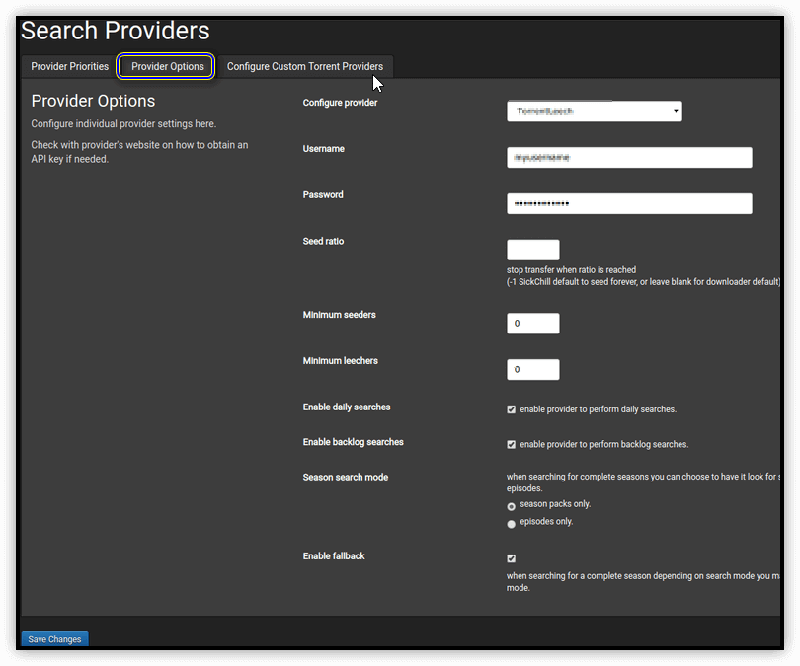 Scheduling & Automation
The main feature of Sickrage is that it automatically downloads video files as soon as they become available, whether these are totally new files or better-quality files. Users can also determine how often searches can be done on a specific provider as well as stop when the search once a complete season has been downloaded.
Usability
In terms of ease of use, Sickrage may not be for those who are too lazy to figure out how to work on this program. First of all, installing this on other platforms (except Windows), requires a bit of technical knowledge on python and command-line tools. And while its actual interface is more user-friendly than other similar applications, there is also quite a bit of configuration required to enjoy the full features of Sickrage.
However, with the availability of a lot of useful FAQs, guides and a solid community of users, this program can be very useful for a lot of users who do heavy video downloading.
To add files to your library, you would simply need to go to "shows" and choose from the options where you add files from.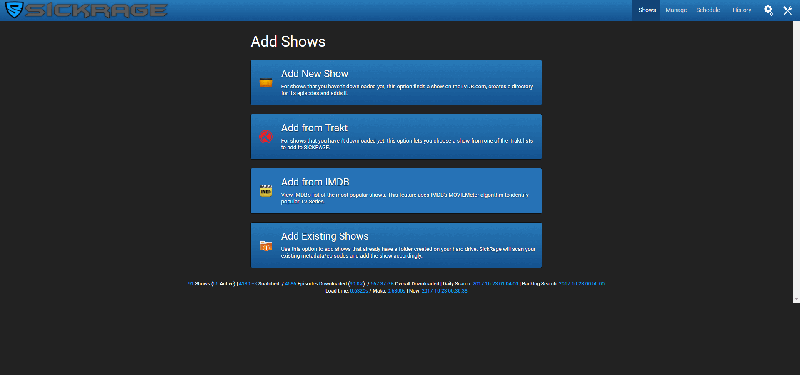 Conclusion
Sickrage is a very useful and convenient tool for users who want to keep themselves updated on the latest video files on Usenet. Not only does it monitor new files, it is also capable of searching for better-quality files to replace your existing old videos. While there is possibly a learning curve involved installing, configuring and using this application, Sickrage still remains to be a popular option for Usenet and Torrent users who are heavily into downloading video content. You may want to consider comparing this program to other video library managers like CouchPotato and Sickbeard, and see which one works best for you.
Visit Sickrage
Best Usenet Newsreaders