Sanguinews Review
Last Updated: Jan 11, 2022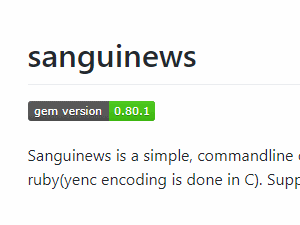 Rating
Price
Free
Features
Command Line Software
Usenet Uploader
Ruby Based
Out of Date
With so many different clients for Usenet uploads, it can be difficult making sense of them all and choosing which one makes the most sense for your needs. One popular version right now is Sanguinews.
This particular client uses a command-line interface (CLI), meaning it operates by taking commands through successive lines of text. As far as a poster for Linux, many have high hopes for Sanguinews when compared to other popular choices like GoPostStuff, newsmangler, and newspost.
To install it, you'll have to use a C compiler like Apple's clang or GCC because of some C code. However, you'll find that installation is fairly streamlined as long as your system meets these modest requirements.
When you run this client for the first time, it will send you a sample of config directly to your home directory. You then open it in your text editor of choice so you can adjust it as you please.
Right now, Sanguinews is on version 0.70. It's receiving attention for its speed, but also because of how feature rich and stable it is. A head check server is also in the works which, when released, will bring Sanguinews to 1.0.0. In its current incarnation, though, the developer ran Sanguinews on a low-end test machine and was able to hit 9MB/s (that was without SSL) and (again without SSL) 6.5MB/s. Greater levels could certainly be reached, but the developer's machine couldn't handle more, so if you upgrade, it will most likely be worth it.
One workaround for the SSL issue that has been reported is using newsmangler alongside stunnel4. Although you may run into some stability issues, the solution is worth testing out. The user who posted this method was working with a modified edition of NM where files can be tested on your server by using a headercheck for completeness. This may work if you use nzb.
EDITOR'S NOTE: Unfortunately, Sanguinews hasn't been updated for some time, since 2015 to be exact, so Usenet fans may have to wait a while longer or play around with their own workaround versions like the one described above.
Installation
Because of some C code, C compiler is needed(GCC or Apple's clang). On Debian-based systems it can be installed by:
apt-get install build-essential
Debian systems need also additional ruby development headers:
Now you can simply install sanguinews as a gem:
How to use
You will get a sample config in your home directory when you run sanguinews for the first time. Open it in your favourite text editor and adjust accordingly:
Hopefully comments inside will explain everything. To upload a file:
sanguinews -f file_to_upload
To upload a directory:
sanguinews /path/to/directory
View help:
Alternatives to Sanguinews
Nonetheless, you won't be alone if you want to post with Linux and haven't been impressed with what GoPostStuff, newspost and newsmangler all on their own.
While only the future will tell if Sanguinews lives up to its potential, it's certainly made a strong first impression. Give it a try if you're in the market for a new method for Usenet uploads.
Visit Sanguinews