JBinUP Review
Last Updated: Feb 11, 2022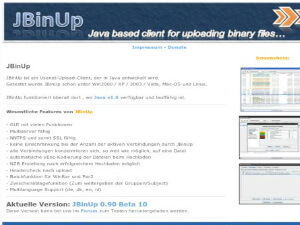 Rating
Price
Free or Donations
Features
Java Usenet Uploader
Java 1.6 Based
MultiServer / MultiLanguage
Par/Rar With Yenc
EDITOR'S NOTE: Upon checking the JBinUP website is no longer active but while it is said to be no longer offered by its developer, it is still available for download on other websites.
If you've gotten to the point where you want to contribute to USENET rather than just downloading from it, you'll need a utility. What you'll need is something that allows you to upload binaries to USENET through your service. JBinUP is one of your options for doing this. It's not the prettiest program in the world, but it does do the job.
The Basics
JBinUP is written in Java, so it will work on Linux, Mac or Windows machines without any problems. You will have to install Java, however but mostly like if you are techy Java has already been installed.
Also in order to post properly using established etiquette you will have to package your file in RAR file format and then manually create PAR2 files using program like Multipar or QuickPar.
Note: once you get the hang of JBinUp and their template system - you can automate the RAR and PAR file creation.
Once you have this done, you can upload with JBinUP.
JBinUP is GUI based. It can handle multiple servers and allows you to do sequential uploading. The utility has plenty of additional features built into it, including checking the headers after you complete your uploads.
The utility has no connection limits so you can max out what you get through your USENET service. It supports NNTP and NNTPS connections.
Highlighted Details:
Easy-to-use graphic user interface
Supports multiple operating systems
Multiple news server support
SSL and Standard connection support
Multiple language support
Unlimited connections
Sequential file uploading
Header checking after uploads completes
WinRar and Par2 batch functions
Uploads are yEnc encoded
NZB file creation
Command line interface coming soon
JBinUP Screenshots
JBinUp Main Page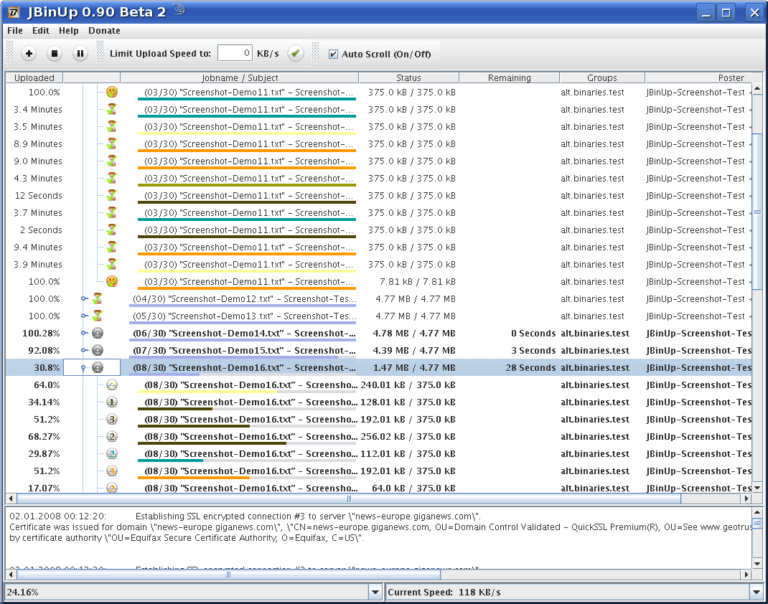 Limit Upload Speed
Quick at a glance of everything
JBinUp Settings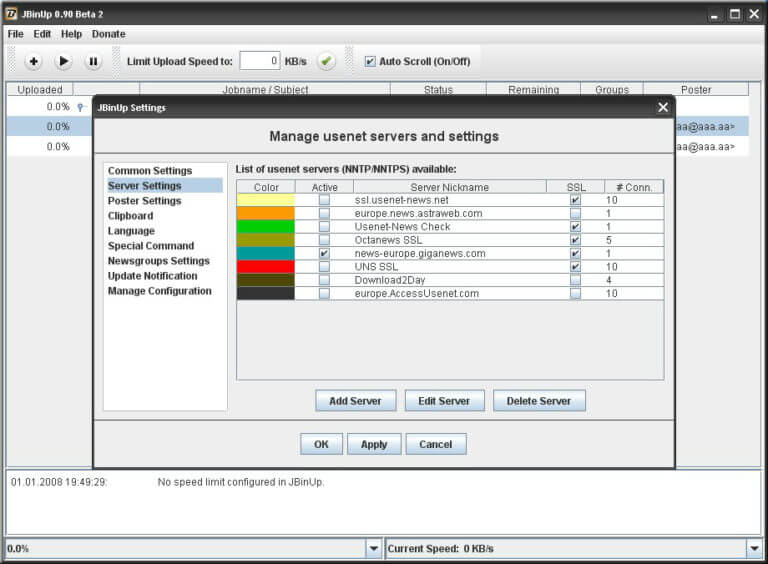 Color Coded Usenet Server Organization
MultiLanguage
MultiServer
Notification Settings
JBinUp Batch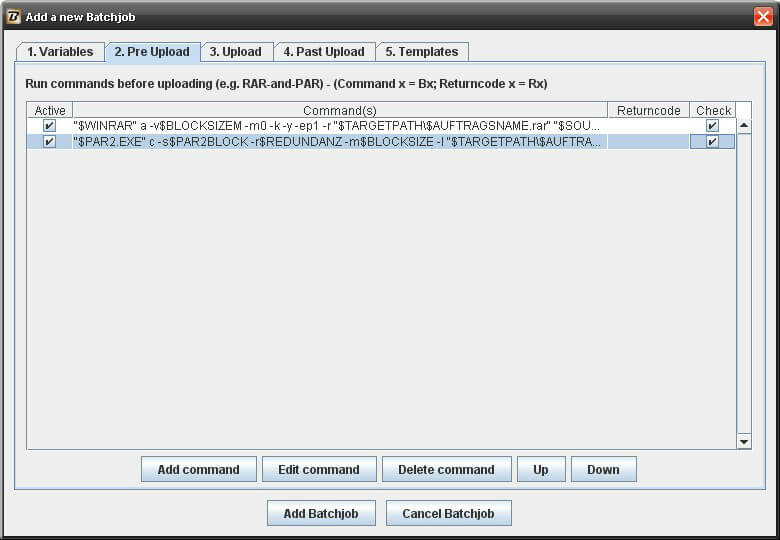 Add Variables for Automation
Configure Post Upload Processes
Create Templates For Repitive Processes
Advantages
JBinUP will create an NZB file for you when you're done uploading, if you want. This is a great little feature. The fact that it checks your uploads is also good, particularly if you're new to uploading to USENET servers.
JBinUP is not the most popular posting software out there surprisingly CamelSystem 's PowerPost seems to get a bit more attention and process perhaps it is because JBinUP was originally created for German USENET users and is slightly lacking with support for English language users.
That said , we really like JBinUP and it works on all platforms!
The Interface
The interface on JBinUP is old and outdated looking. It's also a bit clunky, so you might have to invest some time in figuring out how to use it correctly. Once you get the hang of it, however, it's not hard at all and the program does what it's supposed to do.
You should find this to be a good option if you're looking for something fast and easy to use to upload binaries to USENET. When you're done, you'll get information on whether everything uploaded correctly and access to an NZB file, which are both nice touches.
With USENET services increasing very rapidly in terms of retention times, there are plenty of good reasons to consider using it as a storage service. Remember, however, to encrypt anything you upload that needs to remain private and to use a provider that offers SSL so that you cannot be spied upon when you're uploading.
Alternatives to JBinUp
Visit JBinUP