EasyUSENET Uploader Review
Last Updated: Aug 13, 2019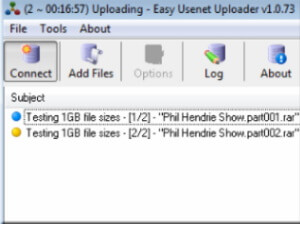 Rating
Price
Free
Features
Simple Usenet Uploader
Windows Only
Only One Server Supported
Intuitive
If you really want to take your participation on USENET to the next level but the complexity scares you, EasyUSENET Uploader might be for you. This is a very easy to use uploader and, in fact, there really aren't any others out there that come close to this one. It does have its drawbacks, of course, but all software does and they are relatively minor in this case.
The Software
EasyUSENET Uploader has two things going for it right away. One, it's very easy to use. Two, it supports SSL. That means you get convenience and security, which is a great thing in any USENET software.
You're not likely to find a USENET uploader that is as easy for a novice to figure out as EasyUSENET Uploader. The system has a great interface that should be more or less intuitive for most people. It keeps a log of your uploads and has the capacity to support as many as 25 simultaneous threads. Most users probably won't need that many, but it's nice to have the capacity.
EasyUSENET Uploader In Action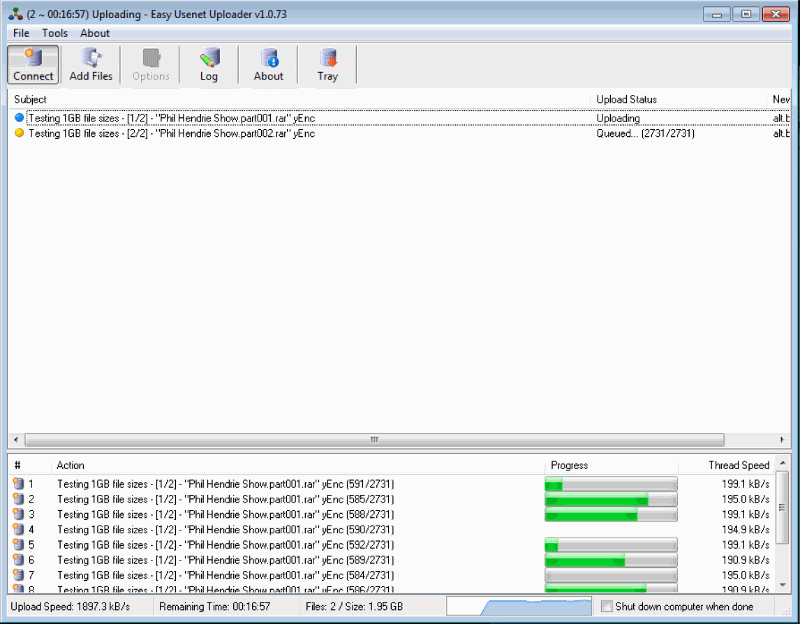 The Drawbacks
There are some drawbacks to EasyUSENET Uploader. It tends to crash when you have a lot of files in your queue or if there are very large files in your queue. Once you do have something queued up, it's going to stay there if you're currently posting. This makes it a bit harder to manage your queue on the fly, but it's easily worked around.
The software also doesn't support standard subject headers, which may be a problem for some people.
Only one server can be configured on the uploader and it only works on Windows, so there are some flexibility issues. The software hasn't been updated since 2009, but it's still functional. If you're after something with regular development cycles, however, this may not be for you.
For the average user who just wants something that makes it fast and easy to get posts up on the USENET system, EasyUSENET Uploader is a good choice. Particularly if you're not uploading many or very large binaries, this should be entirely suitable. If you're an avid poster, however, or if you tend to post large binaries, such as ISOs and so forth, you might find that you have some crashing issues here and there that could be discouraging. EasyUSENET Uploader is worth a try, however, particularly for those who want to make posting fast and easy.
Alternatives to Easy Usenet Uploader
Download Links
Here is a download links for EasyUSENET uploader – the latest version – 1.0.73
Visit EasyUSENET Uploader