How to Find Movies on Usenet
Last Updated: Jul 11, 2022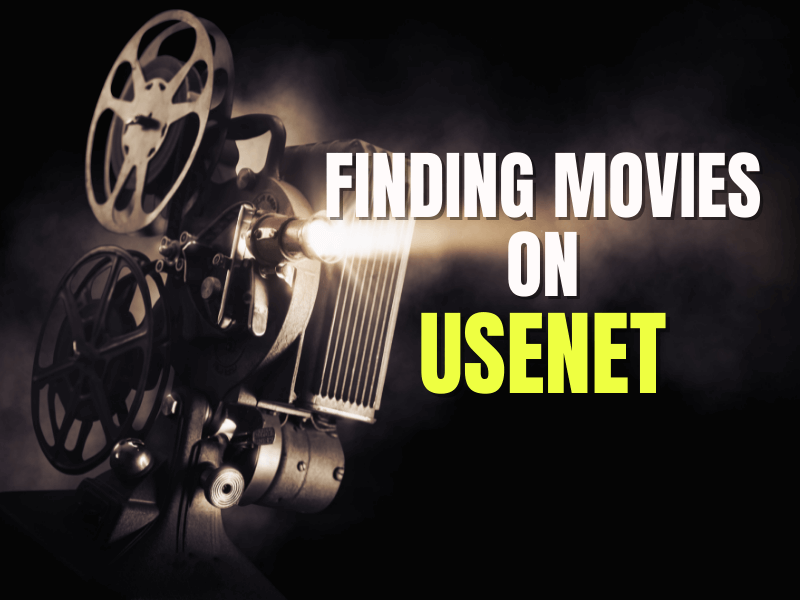 If you are one of those people who struggle with finding the best possible movies you can find on Usenet, look no further. You can stop scouring Usenet search engines for hours because it is definitely easier now than ever before.
There are several newsgroups on Usenet like alt.binaries.boneless or alt.binaries.multimedia.vintage-film that you can absolutely check out. You can absolutely go through the process of checking out individual newsgroups for the movies you are looking for. However, these days it is no longer necessary because the best way to find movies on this platform is through NZB indexers.
A reminder, though, make sure you have an account with a reliable Usenet service provider like Newshosting, Eweka or Easynews, to name a few. This is absolutely necessary since having a high-quality Usenet service would maximize your newsgroup downloads.
The Best NZB Indexers
NZB indexers allow you to find the files you are looking for without having to go through the process of individually checking out newsgroups. It acts as a search engine of sorts by letting the user type in keywords on the search box and generating results matching your keywords.
What makes NZB indexers the best place to search for movies also is that a lot of these indexers have sections that simplify searching even more, from recent releases and popular content. Not only that, most indexers also have filtering options which streamline search results.
Here are some of the best NZB Indexers you can check out:
NZBFinder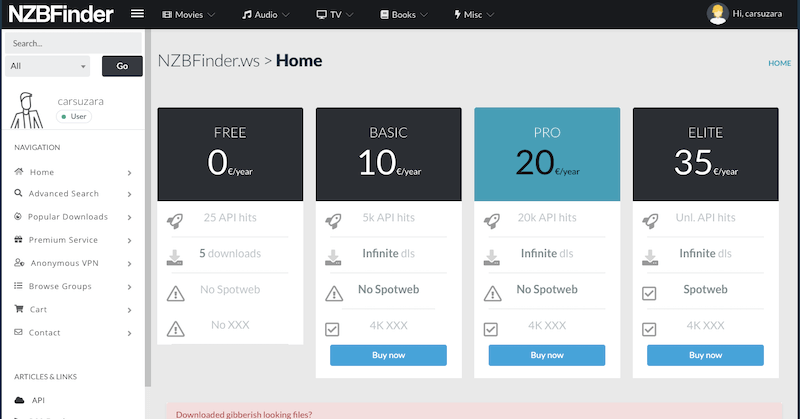 NZBFinder indexes high-quality audio, video groups, SD release, books and other miscellaneous files. They are a community based NZB forum that has both free search and premium accounts.
Like other Usenet search engines, NZBFinder indexes Usenet content, and they specialize in providing high-quality and popular NZBs. Their free membership level allows you to search the site, but with limited features. Paid members get a lot more API hits and unlimited downloads.
Read our full review on NZBFinder here.
NZBGeek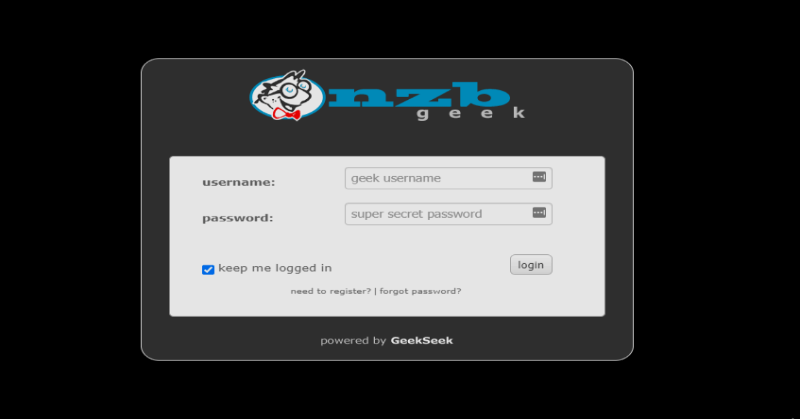 NZBgeek is a community-based indexer that is open for registration and is run by a Newznab interface.
NZBgeek is different from other automated websites that have control over their postings. They aim to be the most reliable NZB indexer that is built on being a great source of useful and quality NZB files from their active community of members.
NZBgeek offers free and paid services to its users, and they are reasonable to consider.
For more information, check out our most recent review on NZBGeek.
DogNZB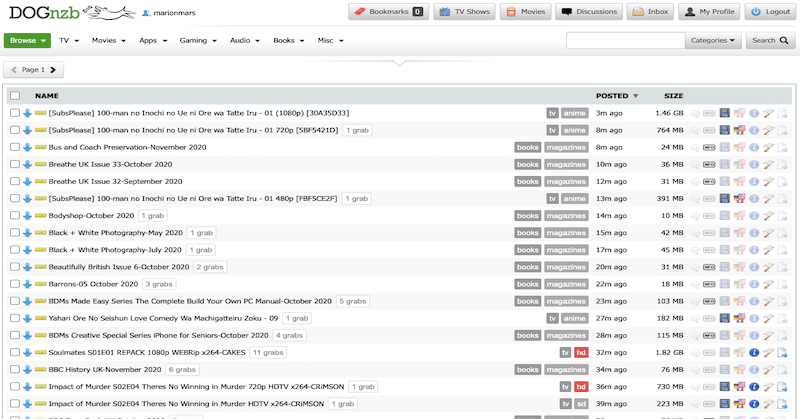 DogNZB has been a top NZB site for several years because of their custom, easy-to-use interface with a lot of good quality content.
DogNZB has been online since 2013 and has made a mark as a top online destination for those looking for a lot of NZB files. They have a very good reputation that the site has now become an invite-only website. Once you get an invitation to DogNZB, you would need to pay a yearly fee to gain access to their full features. But as a free user, you also get a very good number of downloads and APIs.
Check out our complete review on DogNZB here.
NZBPlanet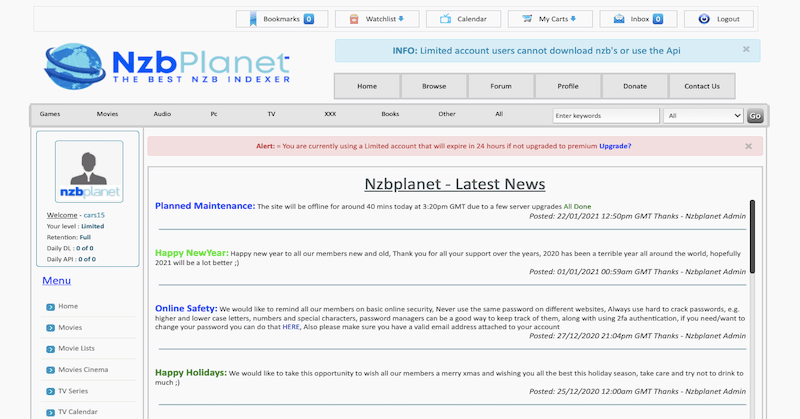 NZBPlanet has made a mark as a popular NZB site for its premium features, like built-in calendar and upcoming releases. This Newznab-based site has a large community of members that draws outstanding quality in its NZB forum.
NZBPlanet has been a top ranking NZB site for several years now, mainly for its features and the competitive pricing they have. They have a limited access free membership level and VIP accounts that give full access to the site's features. They have over 200,000 members in their community and over 2 million NZBs indexed. Currently, the site is invite-only. To be able to fully download NZB files through a Usenet client, make sure you have a subscription with a reliable Usenet service provider.
For more information, check out our most recent review on NZBPlanet.
NZBGrabit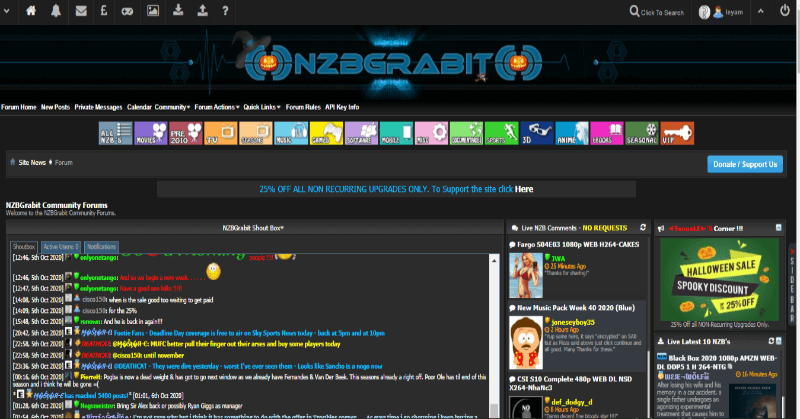 Online since 2012, NZBGrabit is one of the more popular NZB sites for community uploaders. It is free to register, and the website is well-optimized with its user-friendly features.
NZBGrabit is known for its active and friendly community. Like many other indexers, they will require you to say friendly words or to thank the uploader before you get the link to the file. A quick introduction to the group is also necessary before they give you access to download NZB files.
For more information, check out our most recent review on NZBGrabit.