Headphones Review
Last Updated: Aug 22, 2019
Rating
Price
Free
Features
NZB / Torrent Music Downloader
Python Script All Platforms
Active Development
Active Support Chanels
If you're not familiar with Sickbeard or Couch Potato, they're basically PVR applications for the Internet. They'll keep an eye out for video files that become available and automatically download them for you. They also take care of some rather tedious tasks automatically, such as downloading metadata, associating tags and so forth. Headphones is a version of this for audio files. It works with various programs including but not limited to SABnzbd, NZBget, Transmission, µTorrent, and Deluge, allowing you to utilize NZB files to download audio files that you're interested in.
Headphones in action
What it Does
Headphones has been around and under active development for many years now and during that time they have advanced a lot. Right now, it supports MP3 files, which are the standard format for audio but, if you're a true audiophile, you can do better than that. Headphones also supports FLAC files, which are lossless audio format files. If the audio you're looking for needs to be of a particularly high quality, Headphones can keep an eye out for a FLAC version of the file and download it for you.
Utilizing the PVR model, Headphones will search for audio files that you're interested in and, when it finds them, it will automatically send them to Sabnzbd and start the download. Once that file has completed downloading, Headphones will take the file, transfer it to the appropriate directory, associate any artwork relevant to that audio file with it and you'll be ready to go.
Headphones homepage
An atractive looking interface helps you quickly see your library and what you might be missing
Headphones Popular Artists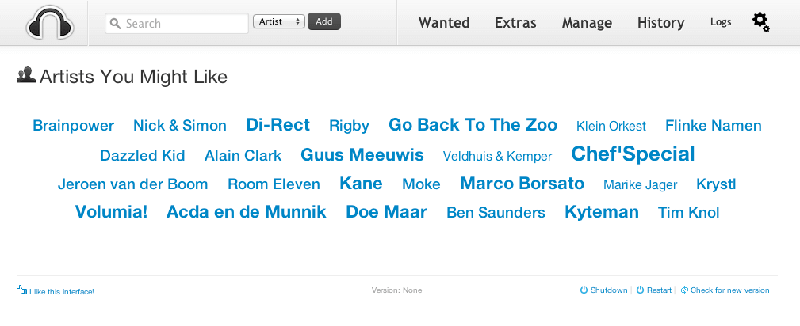 The popular artists page which can help you explore and find new music!
Headphones Settings Page
The settings page where you can adjust many things including many quality, meta date and post-processing options.
Headphones Search Results Page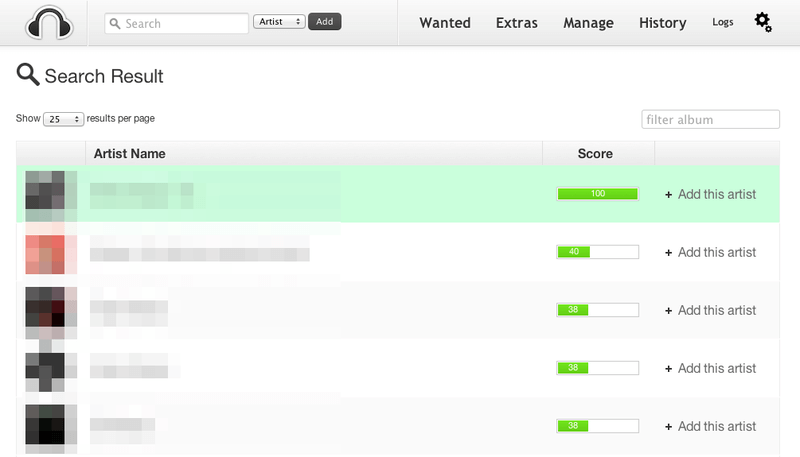 Easily search your own library. Much nicer than the Itunes interface.
Headphones Artist Bio Page
Information about artists pulled from online sources and presented in an attractive format
Headphones Album Page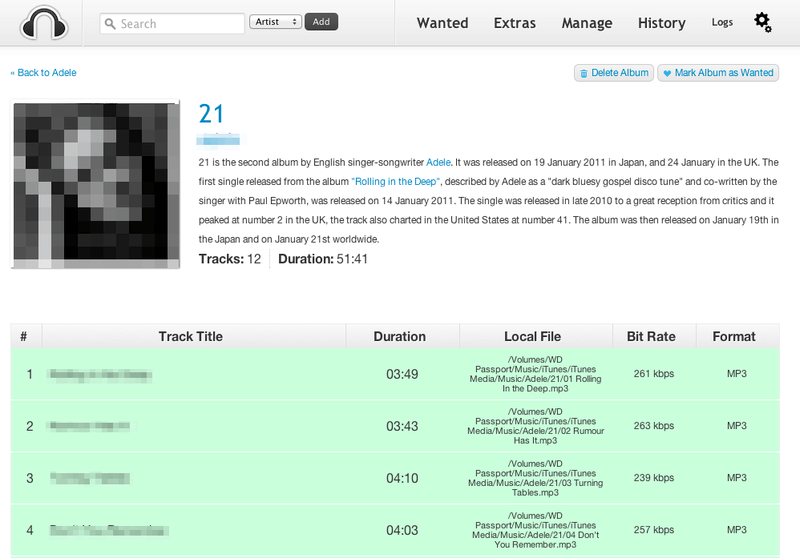 Artist and album detail presented in an attractive format.
Python
Headphones runs on Python. You can download and install Python for free. It's actually a useful addition to your PC. To open up Headphones, all you have to do is right-click on its icon and select to open it with Python. On a Macintosh computer, you run it from a terminal. It also runs on the Linux operating system, making it a truly versatile program.
Convenience
Headphones offers a lot of convenience. This makes it a compelling program to install on your computer. If you use USENET a lot to get audio files, you may find the PVR like elements of this program to be particularly worthwhile. As was said, it is a new program, so there is likely to be continuing improvements made on it in the future. For the moment, however, it does offer an impressive solution for those who aren't interested in video files and who want a program that offers the same great capabilities as Sickbeard and Couch Potato for audio file searches and retrievals.
Visit Headphones