Watchily Review
Last Updated: Jan 12, 2022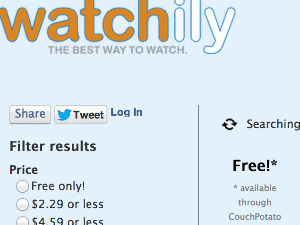 Rating
Price
Free
Features
Media Management
Discounted
PHP Script
Information Combo
EDITOR'S NOTE: Unfortunately Watchily has been discontined. The review and developer interview below is kept for historical purposes
Watchily takes services like Amazon streaming videos, Netflix, iTunes and more_and combines them with media management tools including_CouchPotato, Sickbeard and NZB Drone_. The developers are putting all of this together in a very innovative way, making it easy to use these tools and to integrate your search results into an all-in-one affair.
How it Works
The developers say that anyone who uses CouchPotato, NZBDrone or Sickbeard is likely to find use for Watchily and to genuinely enjoy using it, as well. The tool can search for movies across several different services. The new design will take all the results and combine them into one, showing which sources have the video available. For instance, if you searched for The Avengers, you'd get a result that would show you which services it would be available on, but they'd all be grouped together to make everything easier to work with and keep organized.
Watchily has been in development for 2 years. The current developer bought the project and integrated it with his ideas. The site runs on PHP, JavaScript and other technologies, but the developers say that could change over time.
The result with this site is a service that combines availability information from sources like Sickbeard right alongside sources like Netflix. You can find most anything with this type of search, given that it's not as compartmentalized as most of the content search options out there.
You'll have to create an account, but registration is free and it's fast. You can start searching through many different sites at once. The interface is easy, giving you radio buttons to choose from. You can limit your search to sites that you have access to, narrowing the results, or see if the content you want is available on a given site and, perhaps, get a subscription to watch it.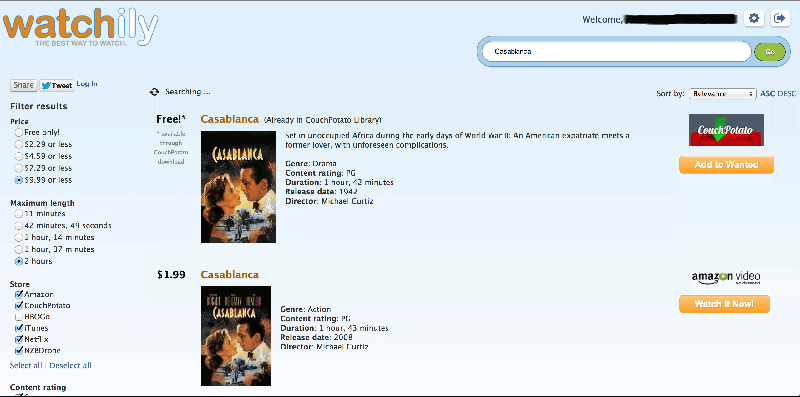 Getting the Best Results
According to the developers, NZBDrone integration with the site is performing better than Sickbeard at the moment, but that could easily change as further development is completed. As far as devices go, the developers have used Google TV, gaming consoles, Smart TVs and other hardware, but the best results have been obtained using a standard PC with the Watchily service. The developers haven't tried the service with Pi yet, but they report excellent results using regular PCs and recommend them as your standard hardware.
A fork of Sickbeard, SickRage, is slated to be integrated with the site. The developers report that they've gotten excellent results pulling media information with SickRage, so you may want to consider giving that fork a try if you're currently using Sickbeard. SickRage retains the same API scheme as Sickbeard.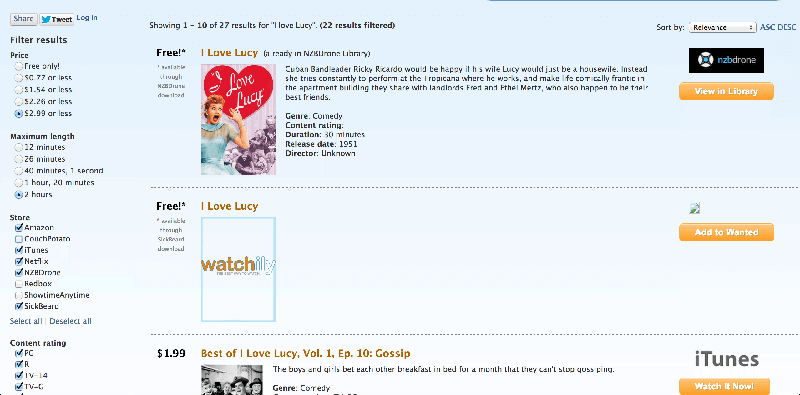 Worth It
This site is too easy and useful to pass up. Being able to search through listings for shows and movies across all the huge online streaming services without having to go to each one individually is a great idea and likely to catch on. Sickbeard and the other services it integrates are really the best media managers out there, so those who want to organize their content and searches better are sure to find use for this particular site, and to appreciate what it has to offer.
Interview with Watchily Developer
UsenetReviewz got a chance to talk to the founder of the site, Jonathan Cleary, and to ask him some questions about the site, its development and about some other very interesting developments to related software.
Cleary was just adding Sickbeard support to Watchily at the time of the interview. He also had some interesting previews of what Watchily will offer in terms of organization. "We're working on unifying the results for a single title under one result," he said.
That translates to an organizational scheme for search results that makes it much easier for users to navigate what the site returns when they get their results. Cleary explained that, if one were looking for media—we'll use the TV show Star Trek as an example—the results would be very easy to comb through.
"[It] wouldn't show up as an entry for every service. It will show up as one entry and all the services will be there. With that done, Sickbeard and NZB Drone will be able to go to the season and episode level with a single search result and really show the per episode availability next to Netflix, iTunes, etc.," he explained.
This means that a user looking for a show on one of the poplar streaming services doesn't get a messy collection of results. The title appears as the main search entry with each individual instance of the desired file being displayed as a subentry in the list.
Watchily is planning to be done with these enhancements—and many more—by the end of June. "Let's be honest, the site was made in 2011 and it shows," he said. He's put two years into the site so far.
Media Management
Watchily works with CouchPotato, NZB Drone and Sickbeard. "…they are fantastic tools for media management and post-processing that merits a look for anyone who wants to manage a personal library," Cleary explained. "No matter where you get your content from—iTunes, Amazon, personal Blu-Ray/DVD rips, PVR recordings, etc.—nothing is going to sort your content and load it up for XBMC/Plex quite as nicely as these services do. I 'm thrilled that we 're able to support them."
As good as those services are, Cleary was also excited about the new developments for SickRage, a fork of Sickbeard that adds quite a few new features. "It looks like it's going to fill in a lot of the gaps that Sickbeard was missing," he says. "It shows in Watchily. I can pull great media information if someone searches with NZB Drone, but I can't pull that with Sickbeard. I'm betting SickRage fixes that." Cleary said that, using his own personal setup, he's found that NZB Drone works better than Sickbeard at present.
Watchily, according to the developer himself, is also best used with a PC, at least for the moment. "I've tried tones of options—Google TVs, Chromecasts, video game consoles, Smart TVs—but, as it stands, there's just nothing better than a good ol' PC," he said. It does have advantages. "I love that you can stick a $20 NVidia 8400 PCI card in a Pentium IV and get it going perfectly. In my book, nothing quite gives you the speed and quality that a PC does."
Cleary hasn't tried a Pi yet, but says that could offer good results, as well.
Watchily eliminates the frustration of having to search several different services for a given show or film, and it allows you to use Sickbeard, NZB Drone and, perhaps soon enough, SickRage right along with the search.
Visit Watchily