UsenetCentral Review
Last Updated: Dec 01, 2021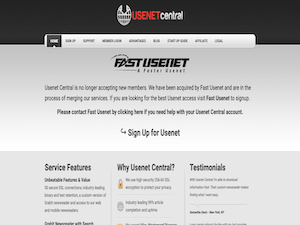 Rating
Price
$10.95 / Month
Retention
2575 Days
Free Trial
None
Features
Newsreader Included
SSL Included
US and EU Servers
EDITOR'S NOTE: UsenetCentral has been acquired by FastUsenet
UsenetCentral is a reliable Usenet service providers however they are no longer accepting new members since they have been acquired by FastUsenet so please look at the Fastusenet review for more info.
Quick Facts
256-Bit SSL (Privacy Protection)
Limited and Unlimited Accounts
Free Grabbit Newsreader, Preconfigured
Web Browser and Mobile Reader
Servers in US and EU
Binary Retention
Binary retention at Usenet Central is currently set at 2575 days.
Pricing
Usenet Central offers plans that are priced according to the amount of data you are allowed to download every month. Each of these plans comes with access to secure, SSL servers and 50 connections.
Free Trial info
Usenet Central offers a free trial that lasts for 14 days. This comes with the preconfigured Grabbit newsreader, SSL security, and 50 connections. This should be plenty of time for you to test out the service and to see if it's what you're looking for.
Special Offers / Coupons
There currently aren't any coupons or special offers available from this provider, but make sure you come back and check, as we do share these if we get them.
Speed Test
Usenet Central did very well in speed testing. Most USENET service providers these days offer speeds that are far in excess of what most people's broadband connections offer, even when they're maxed out, so you shouldn't have any trouble downloading very quickly.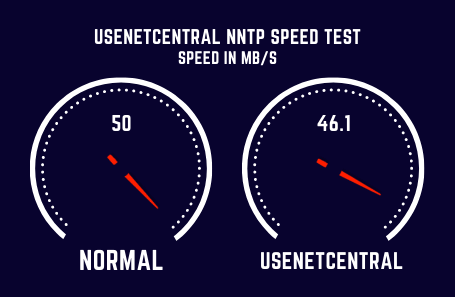 Connections
Every account at Usenet Central is allowed 50 connections to whichever server the user chooses. This is a far higher number of connections than most people will need.
News Servers / Ports / Configuration
Servers:
Non-Encrypted: news.usenetcentral.com
Secure: secure.usenetcentral.com
Europe: euro.usenetcentral.com
Unsecured Ports: 80, 119
Secure (SSL) Ports: 563
Frequently Asked Questions
Q: Which types of users will benefit most from the least expensive plans from this provider?:

A: While the lowest price plans from this provider don't seem like they provide much data download, the limits might actually be entirely suitable for people who seldom use USENET services at all and who only occasionally need to download data. This is actually a good way to save some money on your USENET subscription.

Q: Are the plans that they offer the same as block access?:

A: No. The plans that Usenet Central offers aren't true block access. The difference between the plans that Usenet Central offers and a true block access account is that a block access account expires once the entire amount of data you're allowed to download has been downloaded, and not before. The plans that Usenet Central offers are limited subscriptions. That means that, every month, your subscription will renew and the amount of data you get to download for that month will be reset. Because this provider offers decent pricing, we like their service, even though we typically prefer block access to limited accounts.

Q: What about the Unlimited account from Usenet Central?:

A: Usenet Central actually has a competitive price on their Unlimited accounts. You can still get a better deal from our best providers, but we do have to say that we're impressed with this provider in terms of what they're offering for the money.

Q: What about the mobile and web access offerings from Usenet Central?:

A: This Usenet service provider offers a newsreader that's designed to work from your web browser and one that's designed to work from your mobile device. This is a nice feature and, though it's not exclusive to this provider, we do appreciate the fact that they are making USENET more accessible and, in fact, more useful to subscribers. People who have a particularly difficult time figuring out newsreaders might find the mobile and web browser versions of the service particularly useful.

Q: What about the free newsreader?:

A: Grabbit is a very popular newsreader and, with the service, you get that newsreader, the search feature that you normally have to pay for with that newsreader and, to top it off, the entire thing is preconfigured, so you don't have to do any heavy lifting as far as getting your USENET servers and other particulars setup. This could be a good value for people who don't feel like learning the ins and outs of newsreaders. You can, of course, also use your own newsreader and configure it manually to access the Usenet Central servers.
Support
Usenet Central offers several different options for support. You can use the live chat feature on the website to get support instantly. There's also a ticketing system available on the website, which you can access directly. Usenet Central has an extensive FAQ on their site and a knowledge base you can check for more information, as well.
Contact Information
Usenet Services LLC
2 North Cascade Suite 1100
Colorado Springs, CO 80903
Security /Company Privacy Policy
Usenet Central says that they cannot and do not log any information related to what you download. If you want the maximum possible level of privacy, use an SSL port.
Payment Options
Usenet Central accepts credit cards for payment.
Our Opinion
While Usenet Central hasn't quite ascended to the level of our best providers in terms of the services that they offer, this company is definitely good and, for some users, it might be exactly what they've been looking for. The preconfigured newsreader is a particularly nice feature for those who don't want to make learning the USENET system any more difficult than it is, and it might get some users online quickly enough that they immediately see the value of USENET services, even if they've never used one before.
Usenet Central also has a very generous free trial offer, which we always like to see. We feel like, where the best companies are concerned, they're not afraid to show off their services a bit and, when a USENET provider really does treat their customers right and offers a good service at a technical level, the free trial is quite frequently the thing that really convinces people to go with them. You will be billed a penny when you sign-up for the free trial, which is simply a way for the company to verify that your payment method is valid.
We still stick by our best Usenet service providers as the top options out there for people looking for USENET access, but don't discount this company. Usenet Central has put together a good service and, for some users, it might be precisely the right combination of convenience, security, and flexibility that they've been looking for in USENET access.
Altenatives To UsenetCentral
| Name | Price | Info |
| --- | --- | --- |
| Newshosting | $8.33 | Best Price / Free Newsreader |
| UsenetServer | $7.95 | NZB Search / Fast Speeds |
| Eweka | €7,00 | Best EU Provider / Lifetime Discount |
| Easynews | $9.98 | Easy Web App / File Previews |
| TweakNews | €7,50 | Free Newsreader / Free VPN |
| PureUSENET | €5.97 | Good EU Provider / Free SSL |
| XLned | €7.49 | Fast Speeds / EU Servers |