FastUsenet Review
Last Updated: Jan 18, 2022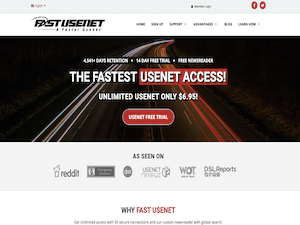 Rating
Price
$6.95 / Month
Retention
4904 Days
Free Trial
None
Features
Low Retention
SSL Included
US and EU Servers
FastUsenet is a Usenet service provider that offers unlimited and metered accounts. They include a version of the Grabit newsreader with your subscription. FastUsenet has servers in both the US and EU and also offers a good amount of SSL connections.
Quick Facts
4904 Days Binary Retention
SSL (Privacy Protection)
US & EU Servers
50 connections
Newsreader Included
Accepts PayPal
Web/Mobile Gateways
Binary Retention
---
FastUsenet currently has more than 4904 days of binary retention, which is competitive with most Usenet service providers.
Pricing
| Name | Price | Download Limits | Connections | Misc |
| --- | --- | --- | --- | --- |
| 6 Gigabytes | $2.95 | 6 GB Limit | 50 SSL | Grabit Newsreader |
| 15 Gigabytes | $3.95 | 15 GB Limit | 50 SSL | Grabit Newsreader |
| 35 Gigabytes | $5.95 | 35 GB Limits | 50 SSL | Grabit Newsreader |
| Unlimited | $6.95 | No Limits | 50 SSL | Grabit Newsreader |
The packages come with GrabIt with Search newsreader, 50 SSL connection and use of US & EU servers.
Free Trial Info
FastUsenet allows you a fourteen-day free trial before you commit to buying. This 14-day trial is limited to 15GB. Cancel your account before the fourteen days are up if you're not happy with the service.
Special Offers / Coupons
There aren't any coupons available from this provider at present, but check back if you're hunting for some. We share the offers we get with our readers.
Speed Test
FastUsenet is fast, indeed. Remember that most USENET service providers should be very fast. If yours isn't, check your configuration. Also, please note that your Usenet access also relies on how fast you internet connection is.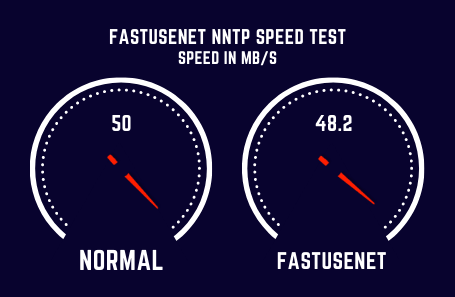 Connections
FastUsenet allows fifty connections to their servers on all accounts.
News Servers / Ports / Configuration
News.fastusenet.org SSL Port: 563 Non-Encrypted Port: 119
Frequently Asked Question
Q: What is the Grabit newsreader? 

A: Check out this review of Grabit for more information. However Grabbit is one of the more popular free newsreaders out there. FastUsenet offers a preconfigured version of Grabbit to their subscribers. It includes unlimited search. The newsreader allows you to browse newsgroups and to download binaries.

Q: How do I connect over SSL?  

A: You'll have to connect to the FastUsenet server over port 563, which you can configure in your newsreader. FastUsenet has instructions for setting up newsreaders. Instead of using port 119, as shown in the directions, change the port to 563 and turn on the option to use encryption or SSL, depending upon which newsreader you're on.

Q: Is fifty connections a lot?  

A: Yes. Most users can get away with fewer than twenty connections and max out their bandwidth. The large number of connections that some USENET services offer is part selling point and part value-added proposition. We don't recommend taking the number of allowed connections into consideration when choosing a USENET service provider, unless the number is very low; fewer than 10, for instance.

Q: How do metered connections work?  

A: A metered connection usually works in one of two ways: the amount of data you can download is limited or your speed is limited. FastUsenet provides a specific amount of data download for each plan; with the unlimited plan removing those caps altogether. The metered plans are essentially recurring block subscription plans. If you want true block access, Tweaknews and our other recommended providers offer it.

Q: What's the main difference between block and metered access?  

A: Recurring billing. Block access accounts generally never expire and do not automatically renew. Metered accounts expire and automatically refill at the end of the month. What works best for you will come down to whether or not you want the charge to recur and whether or not you'll use the full allotment of download every month.

Q: What does "global search" mean?  

A: It just means searching all the USENET newsgroups that this provider carries. Most USENET providers carry over 100,000 newsgroups these days. Keep in mind that, while that's a pretty high number, many of those newsgroups are inactive, abandoned or empty, so don't use this number to determine whether or not a provider is good.

Q: Does the preconfigured newsreader make any difference?  

A: Yes, particularly for new users who haven't worked with a newsreader before. It makes things a bit easier to get going. Note, however, that FastUsenet lets you use a variety of different newsreaders with your subscription, so you can always switch if Grabbit isn't what you're after.

Q: What if I run over on my allotted downloads?  

A: You'll either have to buy more download data by upgrading your subscription or wait for your account cycle to end and renew. If you're worried about running out, going with an unlimited plan from any of our preferred providers is a good solution.
Support
Support doesn't have an email address at FastUsenet, but you can contact them via an online ticketing system located on their website. You can also use the site's FAQ, which is detailed and has answers to many common questions.
Contact Information
In addition to live support via chat and a ticketing system, you can get phone support from FastUsenet at 1-888-415-7781.
Security /Company Privacy Policy
FastUsenet says they do not track the newsgroups you visit or what you download. They will not turn over information related to your usage without a court order.
Payment Options
FastUsenet accepts major credit cards and PayPal.
Our Opinion
FastUsenet is a good service and they're offering quite a few benefits for signing up. We like the newsreader being included and configured and we like the SSL options. Retention times are very good with this service, as well. Our best providers, however, offer quite a bit more for the money. While FastUsenet has competitive prices, the unlimited plans from our best providers tend to come with more included features.
Some of our preferred providers even include a VPN with their subscriptions, which is a very good deal. FastUsenet could also do with expanding their payment options. PayPal is convenient, but it's not appropriate for all users, particularly those in areas where the Internet is heavily restricted and where protecting one's privacy is paramount. In those cases, we highly recommend that you go with a company that takes an anonymous payment method, whether it's Bitcoin, LiteCoin, Ether or something else. PayPal is not as reliable for privacy protection as those methods are.
Overall, FastUsenet is a company to watch. For metered usage, however, we prefer the true block access offered by some of the best Usenet service providers, such as Tweaknews. For unlimited access, we still recommend any of our preferred providers, particularly those that kick in a VPN offer, such as Newshosting.
FastUsenet has the feel of a good company but they're not quite competitive with the best of the best yet. For the moment, go ahead and take a look at any of our preferred providers, all of which stand head-and-shoulders above the competition in several regards. If you do go with this provider, be sure the preconfigured client is connecting via SSL. It's the best way to protect your privacy when you're using USENET services.
Alternatives to FastUsenet
| Name | Price | Info |
| --- | --- | --- |
| Newshosting | $8.33 | Best Price / Free Newsreader |
| UsenetServer | $7.95 | NZB Search / Fast Speeds |
| Eweka | €7,00 | Best EU Provider / Lifetime Discount |
| Easynews | $9.98 | Easy Web App / File Previews |
| TweakNews | €7,50 | Free Newsreader / Free VPN |
| PureUSENET | €5.97 | Good EU Provider / Free SSL |
| XLned | €7.49 | Fast Speeds / EU Servers |
Visit FastUsenet