XLned Review
Last Updated: Jan 20, 2022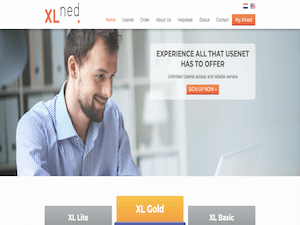 Rating
Price
€7.49 / Month
Retention
4100 Days
Free Trial
7 Days
Features
Fast Speeds
EU Servers
Accepting Bitcoin
XLNed is a Dutch Usenet service provider that offers SSL encryption, a Bitcoin payment option and, to top it off, you can get support in both Dutch and English from this company. For US users, this is a good choice in providers if you want direct access to EU servers.
XLned Quick Summary
EU-based Servers
256-Bit SSL Encryption (Privacy Protection)
Compatible with Most Usenet Automation Apps
99.99% Completion Rate
Up to 12 connections
Flexible Pricing, with Inexpensive Plans Available
Accepts Bitcoin
Support Available in Dutch and English
Binary Retention
XLNed offers 4100 days of binary retention.
Pricing
XLNed has 5 different plans available and, in addition to credit cards and other popular online payment options, XLNed accepts Bitcoin. XLNed currently offers a 1 week free trial with unlimited downloads on all of its plans.
| Plan | 1 mo. Price | 6 mo. Price | 1 yr. Price | Speed | Connections |
| --- | --- | --- | --- | --- | --- |
| XL Lite | €2.99 | €2.62/mo | €2.24/mo | 2.5 Mbit | 2 |
| XL Small | €4.99 | €4.37/mo | €3.74/mo | 5 Mbit | 2 |
| XL Basic | €5.99 | €5.24/mo | €4.49/mo | 10 Mbit | 4 |
| XL Plus | €6.99 | €6.12/mo | €5.24/mo | 20 Mbit | 8 |
| XL Gold | €9.99 | €8.74/mo | €7.49/mo | 120 Mbit | 12 |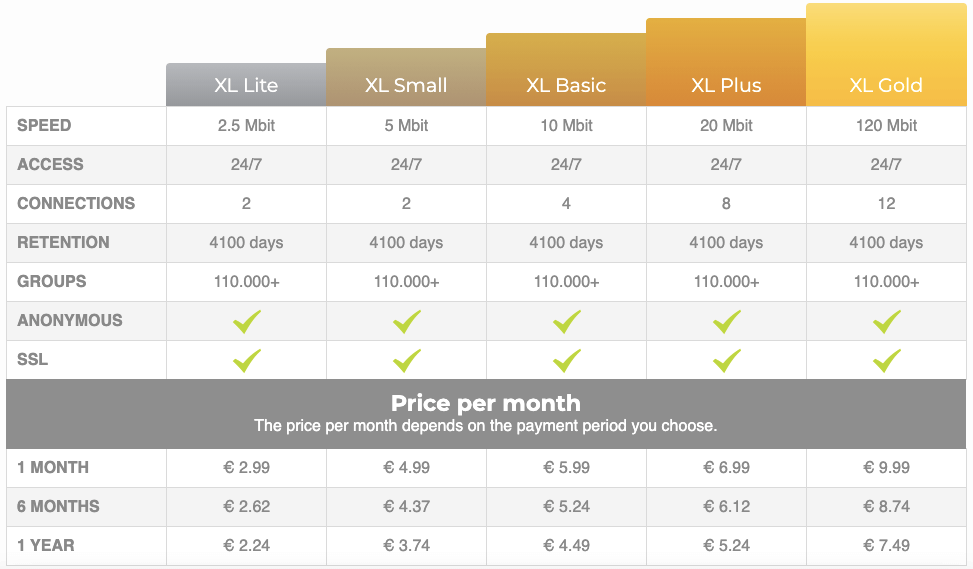 Free Trial info
XLNed previously had a 1-week free trial. However, based on our recent check, their website no longer provides any information on free trials.
Special Offers / Coupons
Nothing right now, but check back, as UsenetReviewz.com regularly gets access to special offers from Usenet providers that we can pass along to our readers.  Bookmark our website and/or signup to our mailing list to stay informed about discounted pricing.
Speed Test
XLNed doesn't offer as many connections as some other providers, but keep in mind that more connections will not necessarily make your connection any faster. In fact, XLNed offers good speed, even for those located outside Europe. Note that the maximum allowable speeds for this provider do vary by package.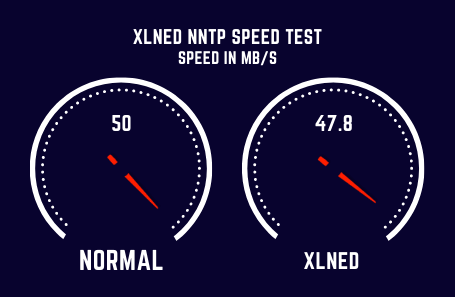 Also check out XLNed's service status indicator here below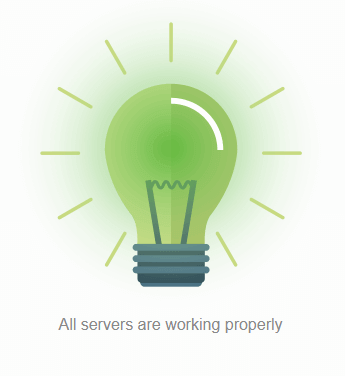 Connections
If you want the maximum possible number of connections, XL Gold is the package for you. For our money, it's actually the best deal all around, as you get the highest possible speed and you may not even need to use all 12 connections to reach the maximum download speed your ISP provides you.
Frequently Asked Questions
Q: Will using an EU server be too slow if I'm in the US?
A: For US users, an EU server might be slower, but XLNed, with enough connections, should still max out many people's Internet connections in terms of download speeds. Usenet servers are almost always faster than torrenting and other downloading options.
Q: Can anyone see what I'm downloading?
A: XLNed provides SSL encryption, which protects your download activity from being monitored by your ISP or other parties. Simply set your downloading app to connect to the XLNed SSL server to get this protection.
Q: Why would I want an EU Usenet service if I'm not located in the EU?
A: For users in some nations, the laws in the EU provide better privacy protection than the laws in the user's home nation. If you're concerned about privacy in your nation, having Usenet service from the EU can offer a layer of privacy protection.
Q: Does the limited download speed reduce the value of the lowest-priced packages?
A: That's entirely up to you. For some users, the lowest, 2.5 Mbit/sec speed on the XL Lite plan will max out their Internet connections. For others, it'll be intolerably slow. If you really want the fastest possible download speeds and your Internet connection is faster than 10 Mbit/sec, you'll need the XL Gold package. If your Internet connection is slower or equal to one of the lower speeds, there's no point in getting a faster connection.
Q: Does it make a difference that XLNed is in the EU and I'm in the US?
A: Functionally, no. XLNed has around-the-clock support, so you'll never be without an answer to a burning tech question because of the time difference. XLNed provides English-language support, as well, so you don't have to worry about language barriers. Where payment is concerned, XLNed takes Bitcoin among their other payment options, so you don't even have to worry about credit card acceptance or other Internet payment option issues. You won't even notice that XLNed is in the EU, in all likelihood.
Support
XLNed offers both Dutch and English-language support. For users in the US who want an EU-based Usenet service, this is one of the few companies that offer support in English. There are FAQs and options to contact support on the XLNed site. The documents are very well translated into English, so users in the US shouldn't have any trouble finding answers to common questions. There's also a forum where you can get support.
You'll get a welcome email with all the information you need to start using your account shortly after signing up. Keep in mind that some payment options can take up to five days to process.
Contact Information
Lakahraun EHF
Sudurlandsbraut 18
Reykjavik 108 Iceland
+1-602-715-1650
support@xlned.com
Security /Company Privacy Policy
XLNed doesn't share your IP address with third parties. If you have more questions about privacy issues specific to Usenet in the EU, you can ask support.
Payment Options
XLNed accepts iDeal, Mastercard, Visa, Sofort and Paysafe card payments. They also accept Bitcoin payments. If you're concerned about privacy, Bitcoin is a great payment option.
Our Opinion
XLNed is excellent, particularly for those who want an EU company as their primary or as an alternate Usenet service. Offering support in both Dutch and English gives XLNed an edge over some other Dutch service providers. It is considered as on of our best usenet service providers included in our top 10 recommended list.
The best package this company offers is the LT Gold and, in our opinion, this is the obvious choice for most anyone who wants to use this service. With excellent speed, a healthy number of connections and SSL encryption, there's not much more one could ask for from a Usenet provider.
We highly recommend XLNed for its pricing, support and the general high quality of its service. Particularly if you want to do business with a company located outside the US, XLNed is worth considering.
Visit XLned