Grabit Review
Last Updated: Jan 28, 2022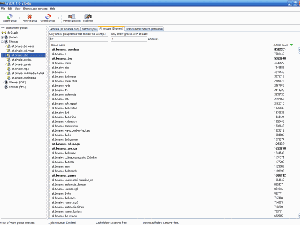 Rating
Price
free but with upgrade fee
Retention
500 Days
Free Trial
None
Features
Supports Multiple Servers
Handles Multiple Downloads
Easy to Use Interface
Grabit is a Windows newsreader that allows users browse Usenet without downloading headers. You can instantly find and download posts on Usenet matching your search keywords and do automatic repairing and extracting of downloaded binaries.
This newsreader comes with SSL support to keep your download activity safe and anonymous. But while it has a lot of impressive features, Grabit comes with a price. The newsreader itself is free, but its search service will cost you $2.49 per month to be able to use the full features of this program.
This newsreader is in active development with the latest version released last May 2020 - Grabit 1.7.5. Beta 3.
Highlighted Features
Grabit is probably one of the easiest Usenet content downloaders in the market today. Without having to go through tons of headers, this newsreader is able to browse and search Usenet and then automatically repair and extract downloaded binaries.
All its features can be controlled from an easy and intuitive interface.
Easy to use
Supports SSL
Auto repair and extract
No need to download headers to search
Supports multiple servers
Handles multiple downloads
Highly configurable
Subscription search for $2.49/one month; $6.00/three months; or $24.99/ one year.
Auto shutdown of a computer after downloads
Full-feature NZB file program
Download status on display
Posting allowed from inside the reader
Group updating
US and EU server access
Allows up to 8 connections for free users and up to 50 connections for paying users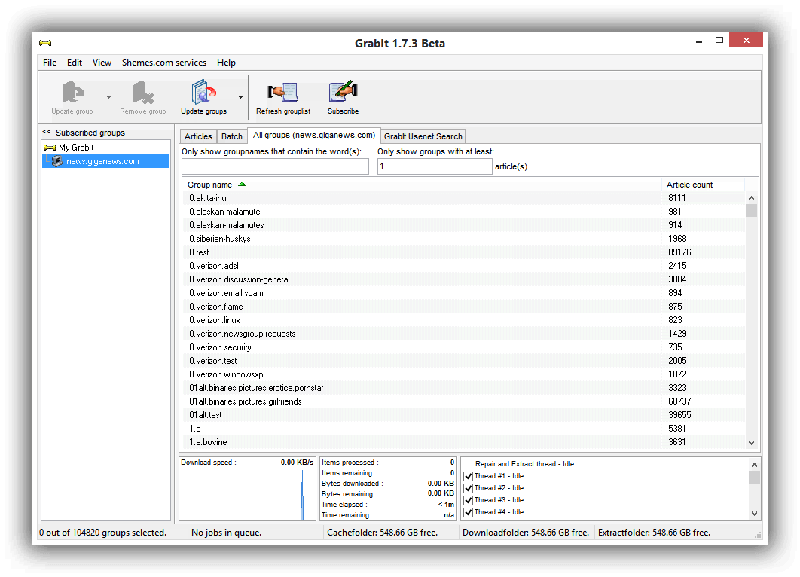 Plans & Pricing
Grabit offers three price points that include its Grabit Search feature. You can purchase a 1 month, 3 month or 12-month plan from them via PayPal.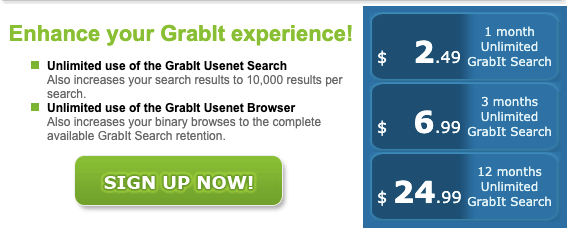 These paid accounts increase your search results to 10,000 results per search and also increase your binary browses to the complete available Grabit Search retention.
Grabit search features can also be used for free if you purchase a Shemes.com Usenet access service.
Free Trial Information
You can use Grabit for free which gives your all of it basic newsreader functions from browsing and searching without downloading headers, automatic repairing and extracting of downloaded binaries, SSL support, NZB support and easy-to-use interface. However, this free download does not include its Grabit Search feature of increased search results and complete available retention.
Usage Overview
As mentioned, Grabit is a very good tool for users who are just learning to use Usenet and NZB files. Since the program is very simple and easy to use, beginner users can easily install the program and navigate through the interface once they have correctly configured its settings.
Installation
Grabit is not hard to work with and has a downloader that can easily be installed on your Windows device. Their latest free release, which is Grabit 1.7.5 Beta 3, can be found on the Shemes.com website.
There is nothing special with the whole installation process of this program. Simply open the downloaded file and follow the necessary instructions. Once you see that your set-up wizard prompts "complete", click on Finish and you're ready to launch the software.
Configuration
When you first open Grabit, it will instantly ask you for your credentials, which is a good thing since you would not have to look for the setup page. There you would have to configure your server information with all the necessary details including the host, port and, if required, account details. Make sure you have an active account with your Usenet service Provider to start using this program.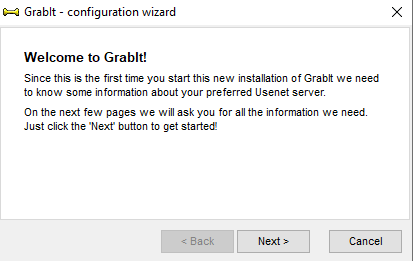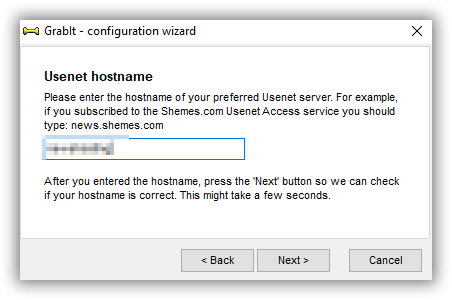 The program options are very detailed and there's actually quite a bit of power under the hood. You can set this program up with multiple servers, resume aborted downloads and much more.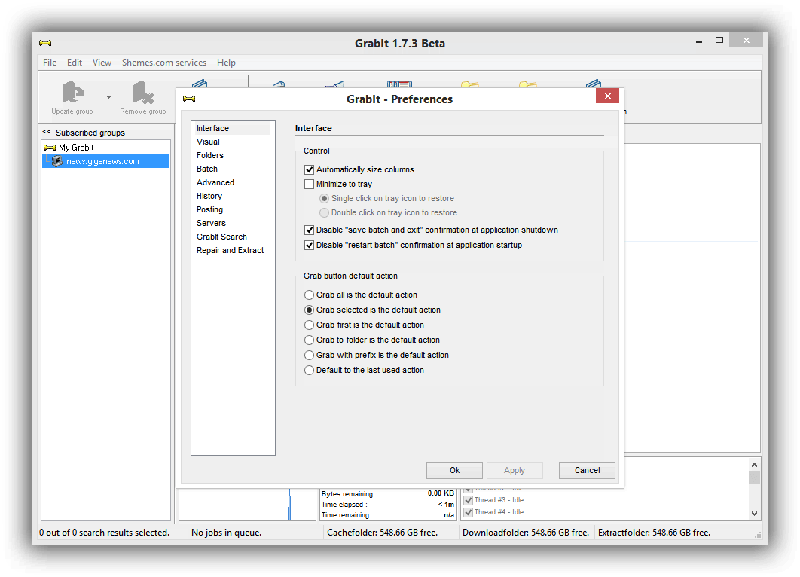 Scheduling and Automation
Grabit allows you to save downloaded files with a custom prefix and resume broken downloads. It also has an automatic shutdown feature that turns your computer off once all your downloads are completed.
Usability
Once you get your server setup, you can start searching for NZB files. You can do it from within the program, using the paid Grabit service, or you can use an outside source to get your NZBs.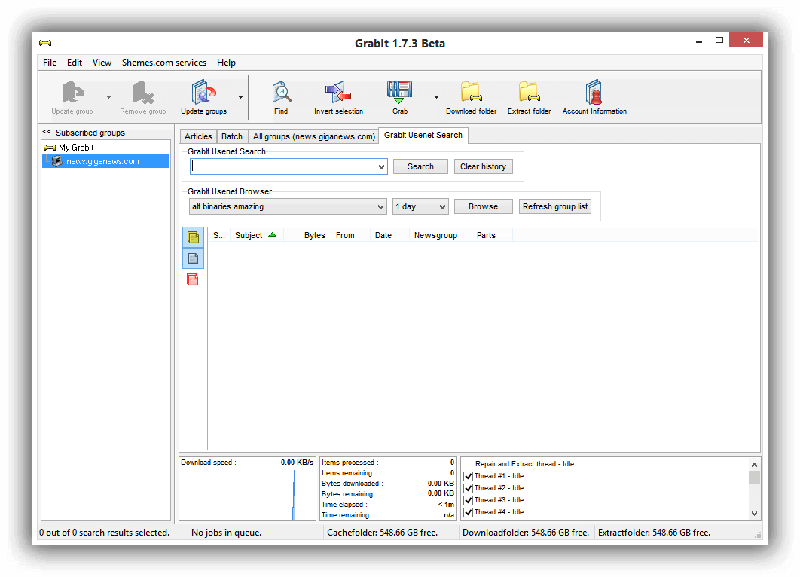 Use the Import feature to bring in NZBs you get from a website or another source. You can also just associate Grabit with NZBs and double click them to open them in the program.
There's really nothing to downloading with Grabit. Once you import the NZB, the program starts doing the rest of the work for you, grabbing all the various parts and assembling them into the complete binary.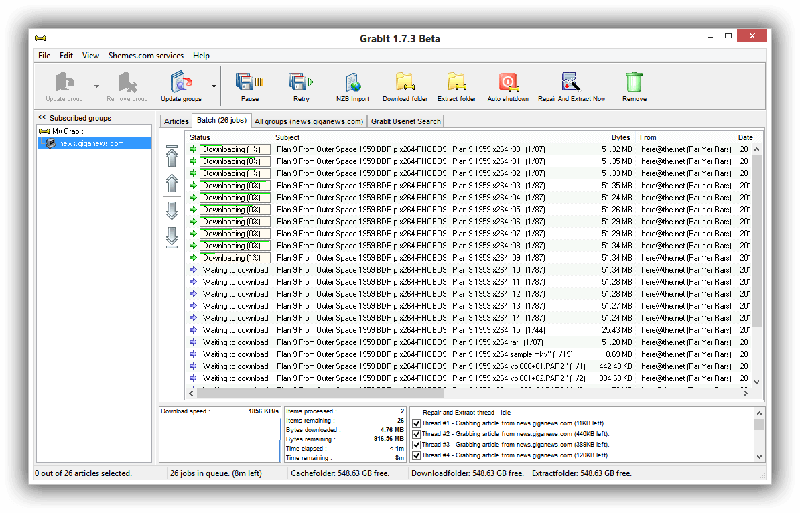 Conclusion
The best thing about Grabit is its easy and intuitive user interface. As previously mentioned, it is a great Usenet program that can be enjoyed by the most beginner of users. And while its Grabit Search function is a paid feature, you do not need to use this search feature to use the program. You can still enjoy this simple newsreader by downloading multiple files and importing NZBs that you've gotten from other sources. So if you already have a subscription with an NZB site, then you do not need to bother with Grabit's premium features.
Visit Grabit
Best Usenet Newsreaders