LazyLibrarian Review
Last Updated: Feb 11, 2022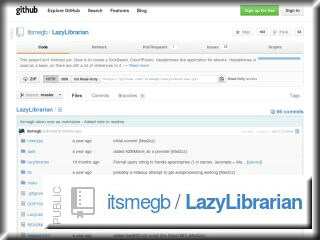 Rating
Price
Free
Features
LazyLibrarian Software
Ebook Software
Uses OpenLibrary and GoogleBooks
Headphones Style Interface
LazyLibrarian is designed to be the equivalent of CouchPotato, SickBeard and Headphones but for eBooks. Users of any of those other programs should not have trouble figuring out how to use it and it has quite a few features that allow you to customize it.
LazyLibrarian is GNU GPL software. The original developer ran out of time to work on the project and invited other developers to pitch in. Itsmegb took over the project, according to the homepage, and will be continuing development and based on their GitLab page occassional updates has been done on this software. Based on our recent check, LzayLibrarian has updates weekly whether major or minor.
Highlighted Features
Import an existing calibre library (optional)
Find authors and add them to the database
List all books of an author and mark ebooks or audiobooks as 'wanted'.
LazyLibrarian will search for a nzb-file or a torrent or magnet link for that book
If a nzb/torrent/magnet is found it will be sent to a download client or saved in a black hole where your download client can pick it up.
When processing the downloaded books it will save a cover picture (if available) and save all metadata into metadata.opf next to the bookfile (calibre compatible format)
The new theme for the site allows it to be accessed from devices with a smaller screen (such as a tablet)
AutoAdd feature for book management tools like Calibre which must have books in flattened directory structure, or use calibre to import your books into an existing calibre library
LazyLibrarian can also be used to search for and download magazines, and monitor for new issues
Where it Stands
At present, users of Headphones will find the interface for LazyLibrarian very familiar. In fact, this is because the data tables for Headphones are being used to generate the book tables for LazyLibrarian, according to the developer.
The program as it is at present can perform a lot of functions that e-bibliophiles will find quite useful. It can search for authors and books and add them to the program's database. It can also take all of the books by a given author and list them as "wanted".
LazyLibrarian works with NZB files. It needs a Newznab supported site to do this, but it will search through the listings and find NZB files for the books that are wanted. When LazyLibrarian finds the NZB, it will send them to SABnzbd or to a blackhole so that a different app can complete the download for you.
LazyLibrarian also performs some of the best organizing functions of the programs on which it is based. For example, it will download any cover images that are available for the eBook you're downloading. It also saves metadata in a format that's compatible with Calibre, a popular eBook organizing program that is also available as open source software. Between the two, getting, organizing and moving eBooks to your reader should prove to be very easy.
LazyLibrarian draws off of GoogleBooks and Goodreads.com for information on books and authors. In the future, the developers want to add the capability to get information for books in languages other than English.
LazyLibrarian may have some issues, and the developers acknowledge this. The software can be changed around in terms of looks by adding pull-requests if you're good with CSS. While it does have features that need to be finished, this could be a great tool for those who want to use NZB files to get a hold of any of the literally thousands of copyright-free books available online.
Currently, its supports the following download clients for Usenet:
SABnzbd
NZBGet
Synology_downloadstation
For torrent and magnets, it supports the following download clients:
Deluge
Transmission
Utorrent
Qbittorrent
Rtorrent
Synology_downloadstation
Aside from the previous features, the new theme for the site also allows the program to be accessed from devices with smaller screens such as tablets. LazyLibrarian can also be used to search and download magazines and monitor for new issues.
Installation
LazyLibrarian runs by default on port 5299 at http://localhost:5299
Linux / Mac OS X:
Install Python 2 v2.6 or higher, or Python 3 v3.5 or higher
Git clone/extract LL wherever you like
Run python LazyLibrarian.py -d or python LazyLibrarian.py –daemon to start in daemon mode
Fill in all the config (see the docs)
LazyLibrarian Status
As of our most recent check, LazyLibrarian has moved to their source repo from github to gitlab. All open issues have also been moved to the new repo since the old one is no longer maintained. As of writing, the last update they've had was about 2 months ago. Safe to say that its current developers are taking a more active approach than its previous one.
Important Usenet Resources
Visit LazyLibrarian