LazyLibrarian Review
Last Updated: Jun 21, 2019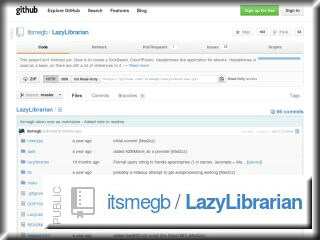 Rating
Price
Free
Features
LazyLibrarian Software
Ebook Software
No Updates Since 2015
Headphones Style Interface
Update Aug. 2019
Lazy Librarian seems to be currently abandoned
LazyLibrarian isn't finished yet, according to the developer's site, but it promises to be something new for USENET users. It's designed to be the equivalent of CouchPotato, SickBeard and Headphones but for eBooks. Users of any of those other programs should not have trouble figuring out how to use it and it has quite a few features that allow you to customize it.
LazyLibrarian is GNU GPL software. The original developer ran out of time to work on the project and invited other developers to pitch in. Itsmegb took over the project, according to the homepage, and will be continuing development.
Where it Stands
At present, users of Headphones will find the interface for LazyLibrarian very familiar. In fact, this is because the data tables for Headphones are being used to generate the book tables for LazyLibrarian, according to the developer.
The program as it is at present can perform a lot of functions that e-bibliophiles will find quite useful. It can search for authors and books and add them to the program's database. It can also take all of the books by a given author and list them as "wanted".
LazyLibrarian works with NZB files. It needs a Newznab supported site to do this, but it will search through the listings and find NZB files for the books that are wanted. When LazyLibrarian finds the NZB, it will send them to SABnzbd or to a blackhole so that a different app can complete the download for you.
LazyLibrarian also performs some of the best organizing functions of the programs on which it is based. For example, it will download any cover images that are available for the eBook you're downloading. It also saves metadata in a format that's compatible with Calibre, a popular eBook organizing program that is also available as open source software. Between the two, getting, organizing and moving eBooks to your reader should prove to be very easy.
LazyLibrarian draws off of GoogleBooks and Goodreads.com for information on books and authors. In the future, the developers want to add the capability to get information for books in languages other than English.
LazyLibrarian may have some issues, and the developers acknowledge this. The software can be changed around in terms of looks by adding pull-requests if you're good with CSS. While it does have features that need to be finished, this could be a great tool for those who want to use NZB files to get a hold of any of the literally thousands of copyright-free books available online.
Important Usenet Resources
Visit LazyLibrarian