XSUsenet Review
Last Updated: Jan 19, 2022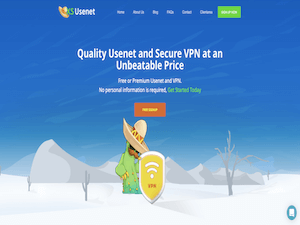 Rating
Price
$7.99 / Month
Retention
1100 Days
Free Trial
25 GB
Features
Dutch Servers
VPN Available
Yearly Discount
XS Usenet is headquartered in the Netherlands. This Usenet service provider offers an unlimited USENET access package, along with a VPN add-on.
Quick Facts
Free Usenet Access (metered)
Unlimited Speed and Downloads
Usenet + VPN Plan
VPN Add-on
EU Servers
1100 days of retention
Up to 50 connections
Bitcoin Accepted
SSL (Privacy Protection)
VPN Add-On
Binary Retention
XS Usenet offers 1100 days of retention on its servers. This is approximately half of the retention figures our best providers offer.
Pricing
XS Usenet provides a free, lifetime Usenet access with 2Mbit of speed and 25GB of data which you would have to renew everytime it expires. But for a more convenient and hassle-free package, you can subscribe to their Premium Usenet plan or their Usenet + VPN plan.
| Name | Price | Connections | Max Speed | Data Limit |
| --- | --- | --- | --- | --- |
| Premium Usenet | €7.99/mo | 50 | Unlimited | Unlimited |
| Usenet + VPN | €10.00/mo | 50 | Unlimited | Unlimited |
Like other Usenet service providers, you can save costs if you subscribe to a multiple month service. XS Usenet has a per quarter, semi-annual and annual pricing. You can also purchase their VPN security as a separate service for €4.99 per month.
Their VPN plan comes with the following details:
Unlimited Speed
Unlimited Data Fair Use Policy
L2TP/ PPTP/ OpenVPN
Fully Encrypted
No log files
Free Trial info
XS Usenet has a lifetime free Usenet service that comes with 2Mbit of speed and 25GB of data. However, it only has 5 connections and does not include SSL encryption and does not allow you to post.
Special Offers / Coupons
We don't have any special offers to share from this provider, but we'll be sure to share with our readers if we do.
Speed Test
XS Usenet did well in testing. If you have trouble with speed, you can contact their tech support or check with your ISP. Most USENET services are very fast.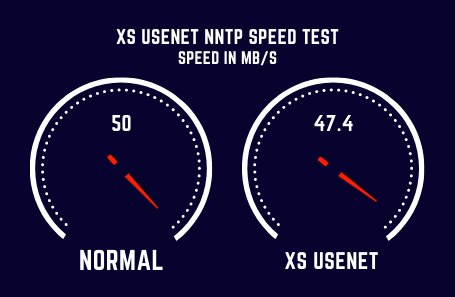 Connections
XS Usenet offers 50 connections with its subscription offering, but most users will be able to get away with fewer than 20 and still max out their bandwidth.
News Servers / Ports / Configuration
Reader.xsusenet.com
Frequently Asked Questions
Q: Are free, non-SSL USENET accounts safe?:

A: Not in our opinion. There are far too many ways your privacy can be compromised online. In addition to privacy concerns, some ISPs throttle USENET traffic, which will seriously limit your download speeds. We recommend that you always connect with SSL and that you not use unencrypted connections, even on free accounts.

Q: What's a VPN and should I have one?:

A: VPNs—Virtual Private Network—are products that are used to enhance privacy online. They provide the same type of encryption that SSL connections to your USENET server offer, but VPNs provide that protection to any of your network activities, rather than just your USENET. You should have one, in our opinion, but our best Usenet service providers offer better deals on VPN service to go along with your USENET subscription.

Q: Does this company have tech support in English?:

A: Yes. They provide tech support in English and their FAQ is well-written and easy to follow. You shouldn't have any problems with language barriers.

Q: I'm in the Americas. Will the time difference affect me?:

A: It might if you're looking for tech support, but most USENET service providers are very good about remaining available around the clock. USENET, just like the Internet, is a 24-hour operation, and most companies make sure their customers can get help whenever they need it.

Q: Can I use any newsreader with this service?:

A: Yes. Most USENET services have no restrictions on what newsreaders you may use. All you need to do is configure your newsreader to match the instructions given at the site. The server address for the SSL-enabled server this company offers is provided below, as well.

Q: Is Bitcoin secure?:

A: Bitcoin is a better privacy option than credit card payments, which is why a lot of people choose to pay for services. Using it is very similar to cash. There are other cryptocurrencies, as well, but this provider only accepts Bitcoin, which is common among USENET companies that accept cryptocurrency at all.

Q: Is USENET different from the Internet?:

A: Yes. USENET has been in popular use longer than the Internet. While you get access to your USENET service through the broadband connection provided by your ISP, just as you get your access through the Internet, your ISP usually doesn't provide USENET access. They used to, at one time, but it's not common any more. Remember, however, that USENET is not available if your broadband connection is down.

Q: Why is my USENET service faster with SSL turned on?:

A: Some USENET users get faster speed with SSL because their ISPs throttle NNTP traffic. Confused yet? It's not that hard to understand. Essentially, USENET allows people to download binaries—files—very quickly and ISPs don't want those users hogging all their bandwidth downloading files, so they throttle USENET traffic. If you're on SSL, your ISP can't see that you're using USENET, so they don't throttle the traffic. We recommend always using SSL, even if it makes your connection a bit slower, which isn't really likely. SSL is about privacy, and privacy is something we think you should care about.
Support
There's a knowledgebase on the XS Usenet site where you can get information for the most common questions. You can also email support from the web form located on their website.
Contact Information
XS Usenet B.V.
Boyleweg 2
3208 KA Spijkenisse
Security /Company Privacy Policy
XS Usenet only collects the information necessary to process payments. They do not log your USENET service.
Payment Options
You can pay for your service with Bitcoin or major credit cards.
Our Opinion
XS Usenet offers a good subscription package, although their prices are higher than our best Usenet service providers. Nonetheless, their unlimited package cost is comparable to what some companies charge for limited plans, so it goes in their favor that they do stay competitive with other companies in that regard. We still find our best providers to have better prices for higher levels of service, however.
The VPN add-on is something we highly recommend if your chosen provider offers it. Many of our best providers do. VPNs protect all the network traffic on your computer, which is great for privacy. Remember that, if you start downloading USENET resources like NZBs from Internet sites, that download is not necessarily encrypted. Some NZB indexers don't use HTTPS on their websites, so your traffic is visible to your ISP or anyone else watching. With a VPN, that traffic is secure, and that's why we recommend having a VPN so strongly. It's worth the modest extra cost and, for most people, buying a VPN subscription packaged with USENET, as offered by this provider, as well as Newshosting, Tweaknews, and UsenetServer, will be cheaper than buying VPN by itself.
Check out our best providers for more information on VPN options. We like that XS Usenet offers VPN, but our top Usenet providers are still better deals all around.
Altenatives To XSUsenet
| Name | Price | Info |
| --- | --- | --- |
| Newshosting | $8.33 | Best Price / Free Newsreader |
| UsenetServer | $7.95 | NZB Search / Fast Speeds |
| Eweka | €7,00 | Best EU Provider / Lifetime Discount |
| Easynews | $9.98 | Easy Web App / File Previews |
| TweakNews | €7,50 | Free Newsreader / Free VPN |
| PureUSENET | €5.97 | Good EU Provider / Free SSL |
| XLned | €7.49 | Fast Speeds / EU Servers |