Xennews Review
Last Updated: Jan 25, 2022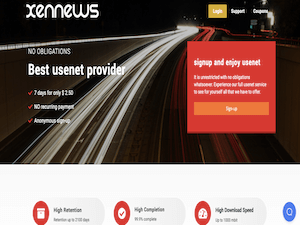 Rating
Price
$7.50 / Month
Retention
2100 Days
Free Trial
Features
Unlimited Account Plans
US-Based Provider
High Download Speed
Editor's Note
: As of 2022, Xennews has been moved to Usenet provider Hitnews. Xennews was always a sister company of Hitnews and has now been moved back to the said Usenet service provider. All current active accounts with Xennews has been transferred to Hitnews. For any concerns, you can email
support@hitnews.com
.
Xennews is a Usenet service provider based in the US which offers a variety of plans that differ in speed. Users can subscribe to plans depending on how long they need the service. This ranges from a month of service to a full year.
Xennews also has a good retention rate, 99% of completion and provides high download speed.
Xennews Quick Summary
US-Based Usenet Service Provider
Three main Account Plans
Retention Rate - 2100 Days
Completion Rate of 99.9%
High Download speed of up to 1000 mBit
With Standard and SSL Ports
No recurring payments
Anonymous sign-up
Multiple payment methods
Binary Retention
Xennews has a decent retention rate of 2100 days which is more than 4 years. While this is good enough, this is still not at the same level as some of the best Usenet service providers that offer up to 4000 days of retention.
Pricing
Xennews offers 3 main plans that diffen in speed limits. Accounts can be paid on a monthly basis or up to a full year of service. This Usenet service provider uses a prepaid system with no recurring fees happening and no surprises for users. If your account is about to expire, you will receive an email from them as a reminder. You can extend your account by logging into their website. A new payment will be added to your account so you can extend whenever you like. If you don't want to extend you don't have to do anything. Your account will always be available.

Free Trial Info
Xennews no longer offers a free trial like we previously reported. Instead of a free trial, they offer a no obligations, anonymous sign-up Usenet trial service that you can use for 7 days at $2.50, no recurring payment. This membership type comes with 500 Mbit of speed.
Special Offers/ Coupons
Xennews currently has a one-time only special coupon code to extend their trial version with a month of service with 50% off. Use the code "WELCOME"
Frequently, Xennews also rewards loyal members with coupon codes. This year they have a "nov10" code which gives a 10% discount on a 6-month subscription. This coupon code is only available till December 31, 2021. Make sure you check their coupons page regularly for other discounts and promotions.
Speed Test
Xennews performs well in terms of speed. As mentioned, their plans differ in speed limit so you will only be limited by which account you go for. But whatever you select, you will be able to max out your internet connection. Please be reminded, however, that the speed of your Usenet activity also relies on how fast your connection is with your ISP. Make sure to select a plan that matches well with your ISP connection.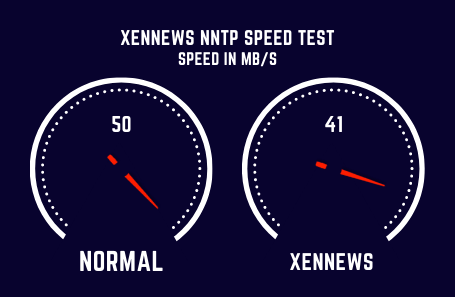 Connections
Xennews allows up to 20 connections to any of their ports.
News Servers/ Ports/ Configuration
Standard Settings
Server Address: news.xennews.com
Port: 119
Connections: 20
SSL Settings
Server Address: ssl.xennews.com
Port: 563 or 995
Connections: 20
Trial Settings
Server Address: free.xennews.com
Port: 119
SSL Port: 563
Connections: 20
Frequently Asked Questions
Q: I have signed up, now what?
A: When you have registered your account you can connect to their servers using a usenet client (reader). Some examples are Grabit, Newsleecher, Alt.Binz and Sabnzbd, many more are available.
Q: I don't get the speed I have paid for
A: The speed of their accounts is divided among the connections so it is important that you use all available connections. If all connections are active and you still feel you don't get enough speed then please send them an email and they'll help you solve the problem.
Q: Am I Allowed to Post?
A: Yes, you are allowed to post. To prevent spam posting is disabled by default. Please send their support team a request to have posting enabled for your account. Posting is not allowed for trial accounts.
Q: My download speed is slow
A: There are a few common reasons for slower speeds:
You are not using all connections. Please set up your reader to use all connections available to your type of account for the best speed.
If you share the connections, which they allow you to do, you will effectively share the speed as well.
It will never go faster than the maximum speed your internet connection can handle.
Q: Do they save your personal information?
A: We log for maintenance purposes. We do not store personal information.
Support
They have a dedicated support team that is available to you every day. Don't hesitate to send them an email if you have any questions. Please make sure that their address support@support.xennews.com is whitelisted and isn't in your spam list.
Contact Information
RSP Sales LLC attn. Xennews
969 Street Road
Southampton, PA 18966
U.S.A.
Security/ Company Privacy Policy
According to their privacy policy, Xennews only collects general information on their users to provide the best service possible - account status changes, troubleshooting, payment processing, enhancements, for product development and site tracking, problem diagnosis, etc.
Information may be shared with 3rd parties only if needed, for example, to fulfill a service, security risks, etc.
Payment Options
Xennews accepts multiple payment methods including various credit card options and PayPal. Unfortunately they do not accept crypto payments.
Our Opinion
Xennews may not be as popular as the best Usenet service providers on our list. However, this company offers a pretty decent service and performs well in terms of speed and the customer service they provide. We especially like how often they give loyal members promo codes which shows that they value their consumers well.
Of course, there can still be some room for improvement.Their retention rate could be better and maybe more account options could be appealing for other users. That being said, even if they are not the perfect Usenet service, Xennews still has some good things going for them. They can be considered a good backup Usenet access service should you need one.
Altenatives To Xennews
| Name | Price | Info |
| --- | --- | --- |
| Newshosting | $8.33 | Best Price / Free Newsreader |
| UsenetServer | $7.95 | NZB Search / Fast Speeds |
| Eweka | €7,00 | Best EU Provider / Lifetime Discount |
| Easynews | $9.98 | Easy Web App / File Previews |
| TweakNews | €7,50 | Free Newsreader / Free VPN |
| PureUSENET | €5.97 | Good EU Provider / Free SSL |
| XLned | €7.49 | Fast Speeds / EU Servers |