VoordeligUsenet Review
Last Updated: Jun 01, 2022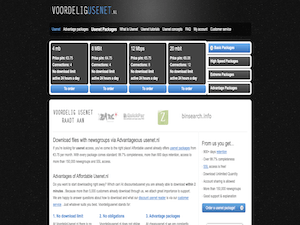 Rating
Price
€6.08 / Month
Retention
900 Days
Free Trial
Features
Dutch Usenet Provider
Various Plans Available
Account Sharing Allowed
VoordeligUsenet is a Dutch Usenet provider that offers different packages ranging from basic low speed packages to high-speed plans. All of their plans have no download limits and the company does not oblige you to renew your Usenet subscription.
VoordeligUsenet also has what they call advantage packages which are discount packages similar to other Usenet services plans that gives you Usenet access only at specific hours of a day.
VoordeligUsenet Quick Summary
Dutch Usenet service provider
Various packages available - basic, high-speed, extreme
Discount packages available - advantage plans
900 days of retention
99.7% completion rate
No download limits
No obligations
SSL access free
Access to more than 150,000 newsgroups
Number of connections ranging from 4 to 12
Account sharing allowed
Pricing
VoordeligUsenet offers plans that vary in terms of speed and connections. Pricing are as follows: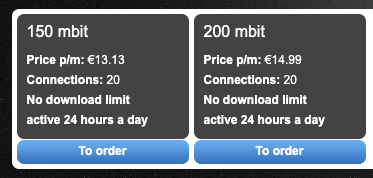 Aside from their usual plans, they also offer discount plans called advantage packages. What makes this different from their other plans is that these packs can only be used for 12 hours a day, either between 0:00 to 12:00, 02:00 to 14:00 or 04:00 to 16:00. Usage outside these hours are not allowed. All of their advantage plans come with unlimited downloads and 12 connections.

Free Trial Info
VoordeligUsenet does not have any free trial offering. If you wish to test out their service, you can choose the lowest fee that they have which is an advantage package which costs €2.49 per month at 12 mpbs.
Special Offers/ Coupons
VoordeligUsenet currently does not have any special offers or coupons available. Make sure you check back with us for future promotions from this Usenet service provider.
Speed Test
The speed of your usenet activity depends on the plan you select since their plans vary in terms of speed. That being said, VoordeligUsenet performs decently well, similar to other Usenet service providers. You will be able to max out your speed but of course this also depends on how fast your own internet connection is.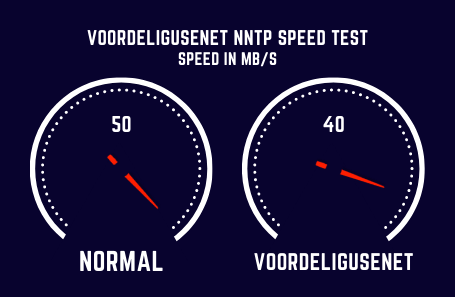 Connections
As mentioned, the number of connections you get varies depending on the plan you select. While their advantage packages all come with 12 connections, all their other plans range from 4 to 12 connections. See pricing above as reference.
News Servers/ Ports/ Configuration
Configuration details are as follows:
Server name: voordeligusenet.nl
Address: news.voordeligusenet.nl
Connections: 4-12
Standard Ports: 119 or 80
SSL Ports: 563 or 443
When using an SSL port, make sure you tick the SSL box on your newsreader.
Frequently Asked Questions
Q: Is it possible to order outside the Netherlands?
A: There is no problem at all, if payment is made by bank transfer, the IBAN/SEPA and BIC number will also be stated
Q: I'm not getting the speed I paid for, what can I do about this?
A: Check whether you are already using all connections from discountusenet.nl, so if you have 12 connections with your package, also check whether you are using 12.
Q: How long does it take after an order before I can download?
A: If you have paid via iDeal or Credit Card, this is possible immediately. With bank transfer this can take 2-3 days.
Q: Is it possible to upgrade a usenet package from, for example, 8 mbit to 120 mbit?
A: This is possible through the usenet packages. Look for this in the members section when renewing your package.
Support
VoordeligUsenet has an FAQ page available on their website. They also have a customer service section where you can find all their contact information from their address to their email info. Bank details can also be seen there.
Their team is available 24/7 and you can email them at info@voordeligusenet.nl.
Contact Information
Koperweg 11-J
Postal code: 2401LH
Place: Alphen aan den Rijn
Email: info@voordeligusenet.nl
Chamber of Commerce: 57480532
VAT: NL852599134B01
Security/ Company Privacy Policy
VoordeligUsenet does not keep logs of your Usenet activity. And with regards to account processing, they only keep some personal data to maintain your subscription. Other details with regards to sharing of personal data is stated on their website:
"Sometimes it is necessary to share your personal data with third parties. Depending on the circumstances of the case, this may be necessary for the execution of the agreement. There are also legal obligations that require personal data to be passed on to third parties.
In the following cases, among others, personal data is provided to third parties.
If a court decision obliges us to provide personal data to third parties, we will have to comply with this.
Personal data may also be provided to third parties in the event of a reorganization or merger of our company or the sale of (part of) our company."
Payment Options
Bank details are as follows:
Bank: Rabobank
Account number: 160873509
IBAN/SEPA Number: NL15RABO0160873509
BIC Number: RABONL2U
TNV: Usenetter in Alphen aan den Rijn Please state your username or payment number
Our Opinion
VoordeligUsenet is not as known as the best Usenet service providers today. However, they seem to have good plans and we appreciate that they give users a wide range of options in terms of speed and connections. That being said, in comparison to our preferred providers like Newshosting or Eweka, the number of connections they have are much lower and we don't like that their retention rate is just at 900 days. All in all, while their service may be decent enough for others, there are other far better Usenet services available in the market.
Altenatives To VoordeligUsenet
| Name | Price | Info |
| --- | --- | --- |
| Newshosting | $5.99 | Best Overall / Fastest Speeds |
| Eweka | €6,99 | Best EU Provider / High Retention |
| UsenetServer | $7.95 | Unlimited Access / NZB Search |
| Easynews | $9.98 | All-in-One / Usenet Search |
| TweakNews | €7,50 | Quality Retention / Quality Completion |
| PureUSENET | €5.97 | Good EU Provider / Free SSL |
| XLned | €7.49 | Fast Speeds / EU Servers |