UsenetStorm Review
Last Updated: Jan 18, 2022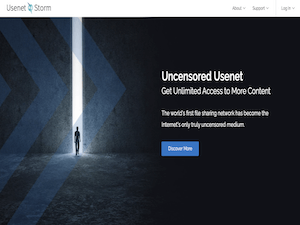 Rating
Price
$12.95 / Month
Retention
1460 Days
Free Trial
None
Features
Formerly Called Alt.binaries
US and EU Servers
Three Different Plans
UsenetStorm is the new name for AltBinaries, a well-known USENET service provider. This provider includes the Newsbin newsreader, but new users might want to look for something simpler, like Easynews.
Quick Facts
Fast Downloads
Unlimited Packages
SSL Encryption (Privacy Protection)
Up to 50 Connections
Four Years of Binary Retention
Binary Retention
UsenetStorm currently claims to have four years of binary retention; certainly competitive with other providers but not at the same level as the best Usenet service providers out there.
Pricing
The lower-priced options from UsenetStorm includes data limits. The unlimited plan is unlimited in all regards.
| Name | Price | Download Limits | Speed Limit | Connection |
| --- | --- | --- | --- | --- |
| Starter | $4.25/month | 20 GB/month | Unlimited | 50 |
| Standard | $8.95/month | 50 GB/month | Unlimited | 50 |
| Unlimited | $12.95/month | Unlimited | Unlimited | 50 |
Free Trial info
There is no free trial with this provider.
Special Offers / Coupons
There are currently no special offers or coupons from this Usenet service provider. Check back soon, however, as we pass along coupons to our readers when we get them.
Speed Test
UsenetStorm is fast, as are most USENET service providers. You should be able to max out your Internet speed with this provider.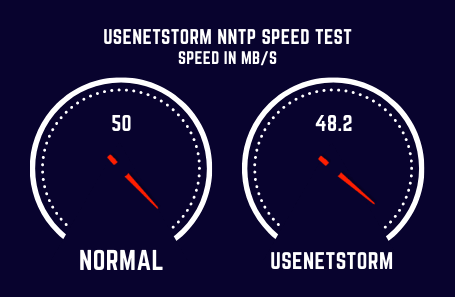 Connections
You can use anywhere from twenty to fifty simultaneous connections to the Usenet Storm servers. Twenty will be far more than most people need, though those with particularly fast Internet connections and powerful hardware might benefit from the high number of connections
News Servers / Ports / Configuration
Unencrypted
east.usenetstorm.com, port 119
west.usenetstorm.com, port 119
europe.usenetstorm.com, port 119
Encrypted
ssl.usenetstorm.com, port 563
europessl.usenetstorm.com, port 563, 80
Frequently Asked Questions
Q: Why does this company's website seem so without detail?
A: UsenetStorm is pretty much set up for experienced USENET users. While they do offer the Newsbin newsreader with their service, it's not the easiest newsreader to use—though it is one of the best and most powerful. The company's website doesn't give much in the way of detail, presumably, because this service is aimed at users who have had USENET access before.
Q: How do I trust their no-logging policy?
A: This is always a question and it comes down to what you think of the company's integrity. There's no reason to doubt UsenetStorm's commitment to user privacy and, in fact, many USENET providers pride themselves on not keeping logs or, at least, on not turning them over to anyone without a court order. We're not legal experts, but some users feel safer accessing USENET over a server that's located in a different country than their own.
Q: Does SSL protect my privacy?
A: Yes. Always use an SSL server. Even though there are unencrypted server addresses for this and most other USENET providers, we recommend against using them. SSL prevents anyone from spying on what you're downloading or searching for and is a highly-desirable privacy tool.
Q: Are there other ways I can protect my privacy on USENET?
A: Always be sure to check the privacy policy of any Usenet service provider you're considering. Make sure that, if they keep logs, they don't turn them over to any third parties without a warrant. You can also look into a provider such as Newshosting or NewsDemon that offers a VPN service along with its USENET access. VPNs protect all your network activity, not just your USENET usage.
Q: What do I do if I can't figure out Newsbin?
A: Newsbin has its own community and, in fact, it's one of the most popular newsreaders out there, so you shouldn't have any trouble finding information on how to use it. If you do want something simpler, however, we still recommend Easynews, which has a very easy-to-use newsreader that comes with the service.
Q: Why do I get pages about newsgroups when I search for this provider?
A: The provider's old name, "AltBinaries," is easily confused with the "alt" groups on USENET and the term "binaries," which refers to content downloaded off of USENET servers. If you need to look them up in a search engine for some reason, search for "UsenetStorm" instead.
Q: What are "web-based NZBs"?
A: NZBs are pointer files that point at the content you want to download off of USENET. If, for example, you wanted to download a video off of a binary newsgroup, you could go get an NZB file for that binary, open it up in Newsbin and the newsreader will complete the download for you. UsenetStorm allows you to download web-based NZBs as part of the service, as do most USENET service providers, in fact.
Q: This still looks too complicated, what's the easiest-to-use USENET service?
A: For our money, the simplest USENET services are Easynews and Newshosting . All of them have plenty of information to read, great support and good software or, at least, they allow you to use any of the great newsgroup readers out there without any difficulty. USENET can be a bit intimidating at first, but stick with it and you'll see why it's been popular for so many decades.
Support
Support can be contacted at Support@UsenetStorm.com.
Contact Information
Information Couriers, Inc.
1765 E. Nine Mile Road. 1-201
Pensacola, FL 32514
Security /Company Privacy Policy
UsenetStorm says that it doesn't do logging of any kind on its servers.
Payment Options
UsenetStorm accepts Visa, Mastercard and Discover cards for payment.
Our Opinion
While UsenetStorm is good, they lack some of the features that other providers offer; features which are designed to meet the same user needs. Easynews, for instance, includes a reader of their own, which is actually a bit easier to use than the Newsbin reader included with UsenetStorm. Though we do like Newsbin, for new users, it might be a bit intimidating.
UsenetStorm has good packages but, when you go to their unlimited package, the price is a bit higher than what our preferred providers charge and, quite often, those preferred providers offer more for the service. Limited services from UsenetStorm cost a bit less but, for that price, you can get block access from other providers that doesn't include limitations on the connections you're allowed and that never expire. The end result is that you generally wind up paying less than you would for a limited subscription if you go for block access, particularly if you're an intermittent USENET user.
Overall, while UsenetStorm isn't a bad service by any means, they don't offer enough to get them a higher ranking than any of our listed best Usenet service providers. If ease of use is really what you're looking for, we recommend Easynews over this provider.
Altenatives To UsenetStorm
| Name | Price | Info |
| --- | --- | --- |
| Newshosting | $8.33 | Best Price / Free Newsreader |
| UsenetServer | $7.95 | NZB Search / Fast Speeds |
| Eweka | €7,00 | Best EU Provider / Lifetime Discount |
| Easynews | $9.98 | Easy Web App / File Previews |
| TweakNews | €7,50 | Free Newsreader / Free VPN |
| PureUSENET | €5.97 | Good EU Provider / Free SSL |
| XLned | €7.49 | Fast Speeds / EU Servers |