UsenetFire Review
Last Updated: Jan 14, 2022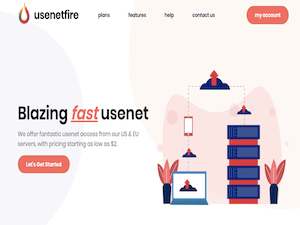 Rating
Price
$9.00 / Month
Retention
3000 Days
Free Trial
None
Features
Free SSL
US and EU Servers
Tier 1 Backbone
UsenetFire is a relatively new Usenet service provider that offers fast Usenet access at low prices. They have several plans to fit the budget of different users. But if you wish to not be locked into a subscription type of plan, UsenetFire also offers multiple block account plans.
All their plans give users access to their US and EU servers, 50 connections and their constantly growing retention. One feature that UsenetFire has that does not seem to be available with other Usenet providers is that their plans or user accounts can be stacked. This means that you can order multiple subscription or block plans all under one account.
UsenetFire Quick Summary
Tier 1 backbone – providing direct 10 gig fiber connection (UsenetExpress)
US & EU Servers – find fast speeds with a server location near you. UsenetFire servers are in Europe and North America.
SSL Secured – 256-bit encrypted connections
Retention – 3000 days and growing
50 connections
Access to browse through over 104,000 newsgroups
Monthly and Block Plans
Account Stacking – multiple plans can be ordered under one account
Custom Made Dashboard
Easy purchase and account maintenance – no third-party software involved
Competitive pricing
Good customer support
SPECIAL OFFER: Promo Code: usenetreviewz (20% off on any block or subscription plans)
Retention
UsenetFire offers 3000 days of binary retention and growing.
Pricing
UsenetFire offers both monthly subscription plans and block accounts and can all be stacked under one account.
All their monthly plans cover unlimited data and user access to 50 connections from their US and EU servers, SSL encryption and their growing retention.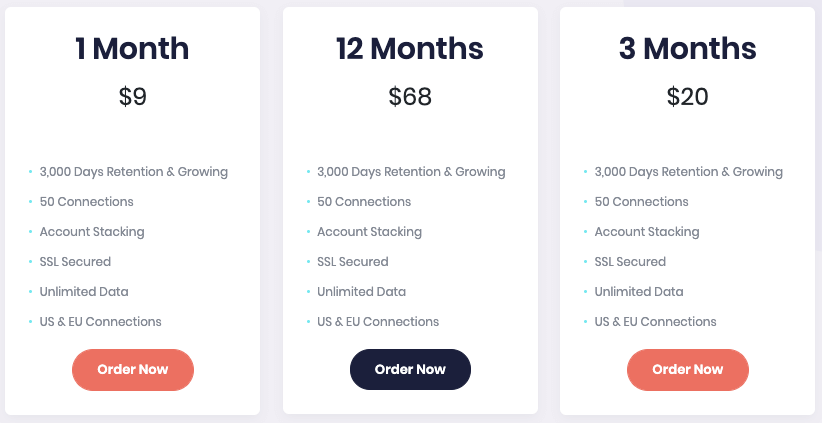 This Usenet service provider also offers multiple block accounts that are data-capped depending on which gigabyte block plan you select. Other than variations in block access, other features included in monthly subscriptions are also part of block accounts.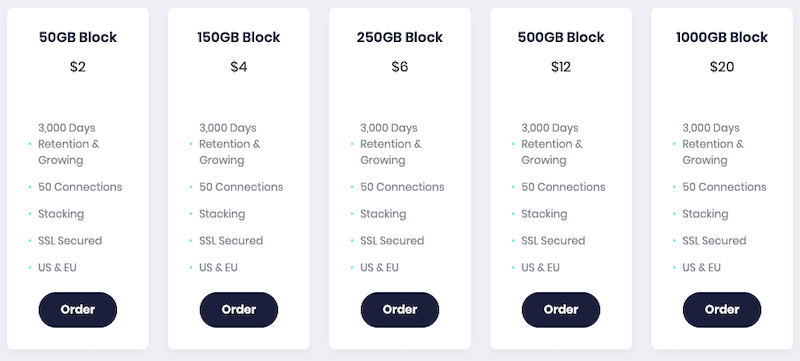 Free Trial Info
UsenetFire does not offer any free trial or money-back guarantee to its users.
Special Offers
For 20% off, use code: usenetreviewz. This can be applied to any of UsenetFire's block or subscription plans.
Speed Test
With servers both in the US and EU, UsenetFire performs well in terms of speed. You can maximize their 50 connections, however, keep in mind that more connections do not necessarily make your Usenet experience faster. There are also other factors to be considered like the speed on your internet service provider.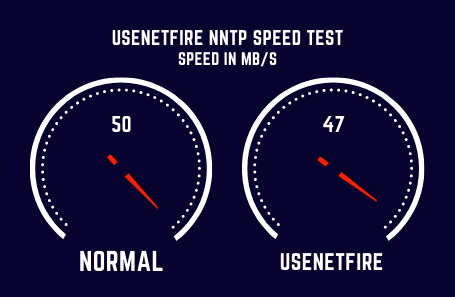 Connections
All monthly subscription plans and block accounts of UsenetFire offer access to 50 connections.
News Servers/ Ports/ Configuration
UsenetFire has two main connections to their servers:
news.usenetfire.com (US)
eu.usenetfire.com (EU)
They make use of standard NNTP ports like 119 and SSL Ports 563 and 443 for secure access.
Frequently Asked Questions
Q: Which server is best to be used?

A: For US users, EU servers might be slower, so it is always better to use a server closest to you. However, no matter which server you use, with enough connections, you should be able to max out your internet connection in terms of download speeds. Usenet servers are almost always faster than torrenting and other downloading options.

Q: What is UsenetFire's tier 1 backbone?

A: UsenetFire is one of the latest UsenetExpress resellers to hit the market. They have established a direct backbone with UsenetExpress.

Q: Can anyone see what I am downloading?

A: UsenetFire provides SSL encryption across all their plans. This protects your download activity from being monitored by your ISP or other parties. Make sure you connect to an SSL port to keep your activity private and anonymous.

Q: How does account stacking work?

A: One of UsenetFire's main features is its account stacking offering. This allows users to have multiple plans, whether monthly subscriptions or block access, under one account.

Q: Does UsenetFire allow posting?

A: UsenetFire does not immediately grant posting privileges to new members. You must apply for posting access. Once approved, your posting access will be activated within 24-48 hours. Your posting access may be suspended at any time without notice at the discretion of their abuse department.
Support
UsenetFire claims to have a great support team that responds quickly to support tickets. They have an average 24-hour response time. To submit support tickets to their team, make sure you are logged in to your UsenetFire account.
UsenetFire also offers Discord to their customers and potential users as a secondary means of communication and source of information. This is a useful tool for those who need direct contact. However, you can also reach them through their website contact page. But it is important to note that when we tested how fast their contact page response is, it took them more than 24 hours before we got a reply from UsenetFire.
Recently, UsenetFire has added a live chat feature on their site for instant response. According to them, tickets, Discord and now live chat, and email are the best ways of contacting them.
Contact Information
No additional contact information is provided on the UsenetFire website.
Security/ Privacy Policy
UsenetFire does not share your IP address with third parties. However, they do monitor which IP address you're using since accessing their system simultaneously through different IP addresses is prohibited.
With regards to information collection, information is collected, used and stored when you subscribe and register to their service. Registration information is kept on-file to support the registered account for the duration of the customer relationship with UsenetFire.
Payment Options
UsenetFire accepts major credit cards and PayPal. They currently do not offer cryptocurrency as a payment option.
Opinion
UsenetFire is a reseller of tier 1 provider, UsenetExpress, which has one of the biggest backbones in the Usenet industry. That being said, this Usenet provider offers competitive pricing along with good service features and decent customer support. While UsenetExpress may not be considered as one of our best Usenet service providers yet, UsenetFire is a good option for Usenet access especially with multiple options of monthly subscription plans and block access.
Visit UsenetFire