UsenetDiscounter Review
Last Updated: Apr 27, 2019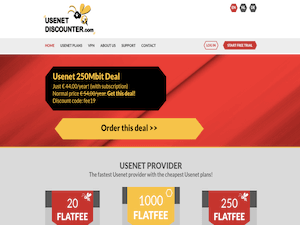 Rating
Price
€10,99 / Month
Retention
950 Days
Free Trial
25 GBs
Features
Dutch Service
SSL Included
Dutch Servers Only
UsenetDiscounter, just as the name says, sells USENET access at a reduced rate. You can also get bundled VPN service from this provider. The company is based in the Netherlands.
Binary Retention
All UsenetDiscounter plans come with 950 days of retention.
Pricing
UsenetDiscounter offers plans that allow access during the overnight hours. The pricing is as follows.
5mbit Flat Fee, PM, 8 Connections: €2,05
20mbit Flat Fee, PM, 10 Connections: €2,80
100mbit Flat Fee, PM, 30 Connections: €5,40
250mbit Flat Fee, PM, 30 Connections: €7,10
500mbit Flat Fee, PM, 50 Connections: €12,30
1000mbit Flat Fee, PM, 70 Connections: €16,50
VPN, Up to 3 Devices, 100+ locations, Unlimited Transfer: €5,50
SSL encryption is available on all accounts. Account sharing is allowed, as well.
NOTE: These are night accounts, so you can only use them between 00:00 and 12:00 CET. Between 12:01 and 23:59 CET, your account will not be available.
Free Trial
UsenetDiscounter offers a free trial account. You get a 150Mbit transfer maximum with 30 connections. It comes with the same 100-day retention and SSL included with the regular paid accounts.
Coupons
Coupons come and go, but as of the time this review was posted you can get two very good deals from UsenetDiscounter. They include:
Usenet Flat Fee 250Mbit, 12 months of service for €44. Use the coupon code fee19 at checkout to get this special.
Usenet Flat Fee 100Mbit, 3 months for €15,00. Use the coupon code ud100 at checkout for this package.
Technical Details
Server name: reader.usenetdiscounter.com
Authentication: authentication is required
Username: Usenetdiscounter username
Password: Usenetdiscounter password
Port: 563, 443 with SSL enabled; 119, or 80 with SSL disabled
Speed
UsenetDiscounter can provide speeds of up to 1Gbit, according to their site. The company does offer a very large number of connections on its most expensive plans. Keep in mind that your computer may not be able to handle so many connections but, if it can, transfer rates will be very fast.
Security/Anonymity
Each plan includes 256-bit SSL encryption. There are no limits on usage and the provider encourages you to use this feature to protect your privacy.
Other Nice Features
The low rates and nighttime access are perfect for night owls. The Netherlands jurisdiction is also excellent for privacy.
Conclusion
If you want cheap USENET access with good transfer rates and don't mind not being able to access the account twenty-four hours per day, UsenetDiscounter is definitely worth looking into. They may serve as a good backup, as well.
UsenetDiscounter Vs. the Competition
The biggest difference between this provider and others is the time restriction.
Recommendation
This might be a good choice for people who really tend to burn the midnight oil. If you're not using your USENET access during the day, you certainly stand to save by restricting your usage to the nighttime hours with this provider.
Altenatives To UsenetDiscounter
| Name | Price | Info |
| --- | --- | --- |
| Newshosting | $8.33 | Best Price / Free Newsreader |
| UsenetServer | $7.95 | NZB Search / Fast Speeds |
| Eweka | €7,50 | Best EU Provider / Lifetime Discount |
| Easynews | $9.98 | Easy Web App / File Previews |
| TweakNews | €7,50 | Free Newsreader / Free VPN |
| PureUSENET | €6.63 | Good EU Provider / Free SSL |
| XLned | €7.39 | Fast Speeds / EU Servers |