Usenetbinaries Review
Last Updated: Nov 03, 2021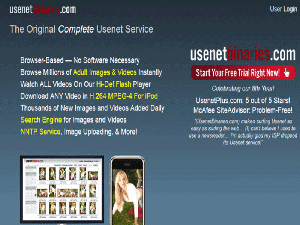 Rating
Price
$12.95 / Month
Retention
500 Days
Free Trial
None
Features
Web Based USENET
Easy to Use
Limited Binary Retention
Editor's Note: May 2019: UsenetBinaries is offline. Look elswhere for Usenet Service.
Usenet Binaries offers a different experience than most USENET service providers. Their service can be accessed entirely from a browser or with a newsreader, if you prefer the latter.
NOTE:
Since Usenet Binaries is now offline, you can check out our list of the best Usenet service providers for other options.
Quick Facts
Non-Renewing Plans
Easy Image Browsing
Generous Free Account
Web-Based Interface
Easy to Use
Binary Retention
Usenet Binaries only offers 90 days of retention. This isn't even close to what our best Usenet service providers offer, but it may suffice for very casual users.
Pricing
Usenet Binaries has entirely non-renewing access plans. Any of these plans, upon expiration of the stated time period, will require that you manually renew them.
| Name | Price |
| --- | --- |
| 24-Hour Membership | $10 |
| 5-Day Membership | $25 |
| 12-Day Membership | $29 |
| 1 Month | $42 |
| 3 Months | $119 |
| 6 Months | $209 |
Free Trial info
Usenet Binaries allows you to access up to 20 USENET groups for free. There's a five-video-per-day download limit. Images from the past five days can be downloaded for free without limitations. You may not use an NNTP newsreader with the free account.
Special Offers / Coupons
There aren't any special offers for this provider at present, but we do pass them along to readers when we get access, so check back soon!
Speed Test
Usenet Binaries tested well in terms of speed.
Connections
Usenet Binaries does not make this information publicly available.
News Servers / Ports / Configuration
Usenet Binaries does not make this information publicly available.
Frequently Asked Questions
Q: Is the web-based interface secure?:

A: No. Unless you're using SSL to download, you cannot guarantee your privacy. At last check, this provider's web access portal did not have an HTTPS address, so be sure to use a VPN if you're going to access this service over the web.

Q: Isn't 90 days of retention very low?:

A: Yes, it is. Our best providers all have in excess of 3,000 days of retention for binary files. This service is aimed at a different audience, however: those who want to browse pictures on USENET In the easiest possible way. That being the case, don't expect the level of flexibility in terms of USENET utilities that you get with our top Usenet service providers.

Q: Are those access prices high?:

A: Yes, they are very high relative to our best providers. Easynews, Tweaknews, Newshosting or any of our other best providers all offer much lower prices than Usenet Binaries, access to the same groups—more, actually, since you get access to all their groups with any subscription—and usually have discounted packages for those who really want to save money, such as block access. Again, this service is about convenience and is aimed at those who want to browse USENET using a web-based interface.

Q: Are there other USENET providers that offer web-based USENET access?:

A: There sure are! Take a look at Easynews. They offer a web-based USENET access option that's quite a bit less expensive than what Usenet Binaries offers. You can get 20 GB per month from Easynews for $9.98, along with a free trial that lets you test everything they offer.

Q: Are web-based USENET services easier to use?:

A: For your first time browsing USENET, using a web interface is likely to make things a bit more intuitive. Keep in mind, however, that newsreaders are not hard to use and it usually only takes people a couple of times before they're comfortable with the software. Again, if you're really looking for a web interface, we recommend Easynews. Usenet Binaries isn't bad, but the interface and service are a bit outdated and Easynews constantly updates and improves what they offer.

Q: The web page isn't rendering properly in my browser, is something wrong?:

A: You can check the FAQ on Usenet Binary's site for answers to this problem. The page is outdated, so some users might have trouble navigating it, though it's really quite simple once you get the hang of it.

Q: Can I use Bitcoin with this provider?:

A: No. You can use a Paysafe card or a gift card, however which provides some privacy protection. IF you want to use Bitcoin, take a look at our best providers, as some of them do accept it. If not, check for other secure payment methods, as there are plenty of them available these days and there's no reason to expose your personal information in a way with which you're not comfortable.

Q: What about logging?:

A: This provider says that they do not attach personal information to their web logs. That means, of course, that they do have web logs. If you're particularly concerned about privacy, you should consider a provider that offers SSL over NNTP and that accepts anonymous payment methods. Check our best providers.
Support
The primary support option with this provider is via email. You can also email support@usenetbin.net. Usenet Binaries says they answer most questions within 24 hours.
Contact Information
You can email any questions about the service to: support@usenetbin.net.
Security /Company Privacy Policy
Usenet Binaries says that they do not share any user information with any third parties. They also say that they do not attach personal information to their web logs.
Payment Options
Usenet Binaries accepts PayPal digital gifts for 12-day, 1-, and 3-month memberships. You can also pay with several different types of gift cards or with a Paysafe Card.
Our Opinion
Usenet Binaries isn't a bad service, but they are outdated, particularly compared to our best providers. The other thing to keep in mind with this service is that they are very expensive. Our best providers — and most other Usenet service providers, for that matter, offer some kind of a monthly access program that's around $10. This is pretty much the industry standard, and our best Usenet service providers often beat that price in various ways. A block access account, for example, will fully satisfy the USENET needs of many of our readers and blocks of data can be purchased for under $5 from some of our best providers. Usenet Binaries adds more groups as you increase your subscription price.
Predictably, most of the groups that people really want don't become available until you spend money. While the free access is nice for testing out the service, the groups offered for free aren't likely to be particularly useful for most users. If you want audio and video binaries, for instance, you'll have to upgrade if you want access to the most popular and busiest groups where you'll find most of those binaries.For our money, we pick Easynews over Usenet Binaries for web access. Easynews is less expensive, offers more for the money and has a great reputation.
Altenatives To Usenetbinaries
| Name | Price | Info |
| --- | --- | --- |
| Newshosting | $8.33 | Best Price / Free Newsreader |
| UsenetServer | $7.95 | NZB Search / Fast Speeds |
| Eweka | €7,00 | Best EU Provider / Lifetime Discount |
| Easynews | $9.98 | Easy Web App / File Previews |
| TweakNews | €7,50 | Free Newsreader / Free VPN |
| PureUSENET | €5.97 | Good EU Provider / Free SSL |
| XLned | €7.49 | Fast Speeds / EU Servers |