Usenet4u Review
Last Updated: Jan 24, 2022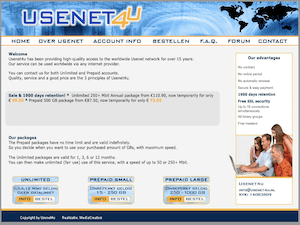 Rating
Price
€8.90 / Month
Retention
1900 Days
Free Trial
None
Features
Dutch Usenet Provider
Unlimited and Prepaid Accounts
15 Years in the Industry
Usenet4u has been in this industry for the past 15 years and has been providing high-quality access to the worldwide Usenet network. The three main principles of this Dutch Usenet service provider are: Quality, Service and Good Price.
Usenet4U Quick Summary
Dutch Usenet Service Provider
Has been in the industry for 15 years
Retention of 1900 days
Multiple Account Plans: Unlimited, Prepaid Small, Prepaid Large
No contract, no notice period
No Automatic Renewal
Secure & Easy Payment
Free SSL security
Free Headers
Up to 18 simultaneous connections
Forum Available
Binary Retention
Usenet4u has a binary retention of 1900 days. While this may be a decent number, this is lower than the best Usenet service providers on our list.
Pricing
Usenet4u has prepaid packages that have no time limit and are valid indefinitely. They offer prepaid packages for users who are looking for small data usage as well as large usage.
| Plan | Price |
| --- | --- |
| Prepaid 15GB | €8.50 |
| Prepaid 25GB | €12.50 |
| Prepaid 50GB | €21.50 |
| Prepaid 100GB | €32.50 |
| Prepaid 150GB | €43.50 |
| Prepaid 250GB | €58.50 |
| Prepaid 500GB | €72.50 |
| Prepaid 1000GB | €139.50 |
Usenet4u also has unlimited packages that you can sign up for a month, 3 months, 6 months or one whole year. These unlimited packages also vary in download speed – either 50 or 250+ Mbit.
| Plan | Download Speed | Price |
| --- | --- | --- |
| Unlimited 1 Month | 50 Mbit | €8.90 |
| Unlimited 1 Month | 250+ Mbit | €12.90 |
| Unlimited 3 Months | 50 Mbit | €25.90 |
| Unlimited 3 Months | 250+ Mbit | €36.90 |
| Unlimited 6 Months | 50 Mbit | €42.90 |
| Unlimited 6 Months | 250+ Mbit | €59.90 |
| Unlimited 1 Year | 50 Mbit | €83.90 |
| Unlimited 1 Year | 250+ Mbit | €99.50 |
Free Trial Info
There is no free trial with this Usenet provider.
Special Offers/ Coupons
Usenet4u currently has a temporary sale ongoing which includes the following:
Unlimited 250+ Mbit annual package - €99.50 (from €110.90)
Prepaid 500 GB package - €72.50 (from €87.50)
Speed Test
Usenet4u claims to have high speeds when you choose their service. While they have decent speed, it does not perform as great as our top providers. That being said, it is decent enough for you to both enjoy a full Usenet experience. Please note, however, that download capacity depends on the package you select from their accounts, and of course, your own internet connection.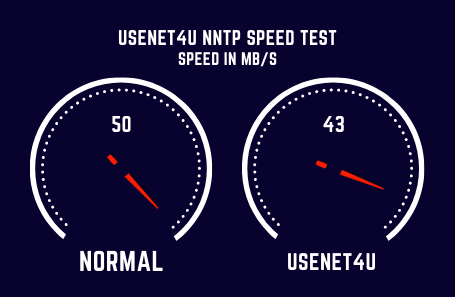 Connections
This Usenet service provider offers 18 simultaneous connections. This should be decent enough for users to have a good Usenet experience. Ideally, about 20 to 40 connections is the benchmark for top Usenet providers.
Frequently Asked Questions
Q: How fast can I download using Usenet4u?
A: For unlimited, you can have a download speed of 50Mbit or 250Mbit. The 250Mbit plan can even go up to 400Mbit. Prepaid plans can go up to 500Mbit. Please be reminded though that you can never download faster than the maximum speed of your internet connection.
Q: What are the advantages of getting a package from Usenet4u?
A: Usenet4u packages are never automatically renewed, so you are not tied to a contract with them. You therefore decide whether and when you purchase a new package.
Q: How secure is Usenet4U's payment?
A: You can pay by means of a Bank / Giro transfer, Internet banking, iDEAL, Paypal, DirectEbanking, Credit card and via Bancontact / Mister Cash.
Q: Can anyone see what I'm downloading?
A: Usenet4u provides SSL encryption, which protects your download activity from being monitored by your ISP or other parties.
Support
Usenet4u has a forum section that users can explore, however, it isn't as active as we thought it should be. You could do better by exploring their FAQ section or send queries via their email address: support@usenet.nl. Upon testing their support email, it takes them quite a while before they respond. For some users, it took Usenet4u a maximum of 4 weeks before getting feedback regarding their concern. This shows that support from this provider may not be convenient and efficient.
Contact Information
There are also specified email addresses for sales concerns and general questions:
Address: Randstad 22 46
1316 BZ Almere
Chamber of Commerce: 14083809
Security/ Company Privacy Policy
Usenet4u has SSL encryption included in all of their plans and that gives users the security and anonymity when browsing and downloading from Usenet. As per their privacy policy, Usenet4U keeps your personal data indefinitely mainly for newsletter purposes, account changes, or news services and products. None of the data kept by Usenet4U is shared to third parties without user consent.
Payment Options
You can pay by means of a Bank / Giro transfer, Internet banking, iDEAL, Paypal, DirectEbanking, Credit card and via Bancontact / Mister Cash.
Our Opinion
While this Usenet service provider has been around for quite a long time, it has not made a major mark in the Usenet community. They may offer good, quality service with the basic inclusions needed for Usenet access from SSL encryption to decent speed, however, it seems like it does not compete well with a lot of more well-known Usenet providers today. It would be better if new users had the option to explore Usenet4U first through a free trial offering but unfortunately this provider does not have that. It would serve you well to check out the best Usenet service providers.
Altenatives To Usenet4U
| Name | Price | Info |
| --- | --- | --- |
| Newshosting | $8.33 | Best Price / Free Newsreader |
| UsenetServer | $7.95 | NZB Search / Fast Speeds |
| Eweka | €7,00 | Best EU Provider / Lifetime Discount |
| Easynews | $9.98 | Easy Web App / File Previews |
| TweakNews | €7,50 | Free Newsreader / Free VPN |
| PureUSENET | €5.97 | Good EU Provider / Free SSL |
| XLned | €7.49 | Fast Speeds / EU Servers |