Usenet.today Review
Last Updated: May 23, 2022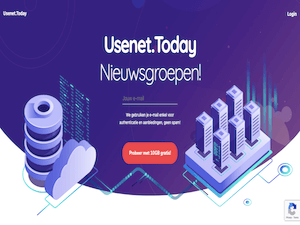 Rating
Price
€11.95 / Month
Retention
2300 Days
Free Trial
Features
Dutch Usenet Provider
Usenet Client Compatible
Unlimited Connections
Usenet.Today is a Dutch Usenet service provider that offers plans based on speed from 10 Mbit to 400 Mbit. Aside from that, they also have block access plans which range from 50 to 1024 GB.
Usenet.Today has a decent retention rate but is not at the same level of the top Usenet service providers today. That being said, their retention also isn't the lowest in the market and they do cover all the basics needed for Usenet access from a good number of connections and SSL encryption.
Usenet.today Quick Summary
Dutch Usenet Service Provider
Compatible with any Usenet client
2300 days of binary retention
'Unlimited' Connections
Accounts based on speed
With Block access plans
200,000 newsgroups
Free trial by email
Anonymous with direct payment
Binary Retention
Usenet.Today does not have the best retention rate today but is decent enough with 2300 days of binary retention.
Pricing
Usenet.Today offers both block access plans and packages based on speed. Currently they have unlimited plans that range from 10Mbit to 400Mbit and can be paid for on a 1 month to 1 year basis.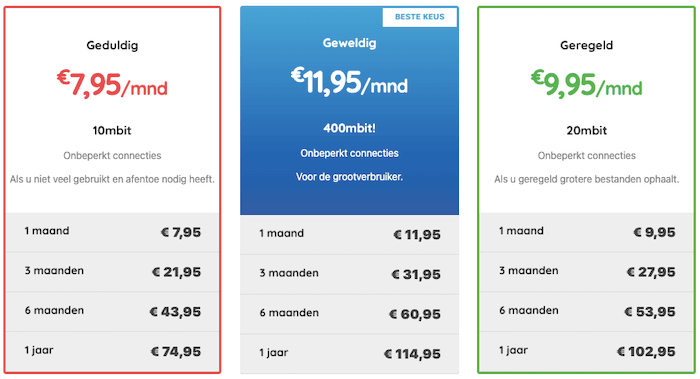 Their block access plans range from 50 to 1024GB.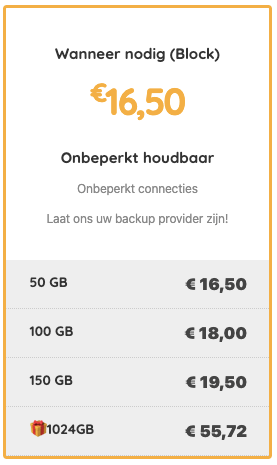 Free Trial Info
You can try out Usenet.Today for free by supplying your email address and they give you 10GB of access. It is unclear how long the block lasts or if you can use it indefinitely until the 10GB lasts.
Special Offers/ Coupons
Usenet.Today does not offer any special discounts or promotions as of now. Make sure to check back with us for possible future promos from this Usenet service provider.
Speed Test
Usenet.Today performs well in terms of speed. This service allows you to max out the speed of your internet connection. Please be reminded, however, that your usenet activity also relies on how fast your own internet connection is. That being said, since some Usenet.Today plans are speed-based, make sure to choose a plan that matches the speed on your broadband connection.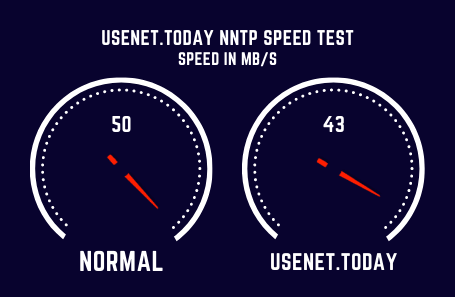 Connections
According to their plan, Usenet.Today offers 'unlimited' connections. This is the first time we've ever encountered a service provider that claims that they have unlimited connections. However, we are not too certain if that claim is really true. No other Usenet service providers offer unlimited connections.
News Servers/ Ports/ Configuration
Once you sign up for a Usenet.Today service, they will email you all the necessary information needed for Usenet access which includes server information, ports and how to configure your newsreader.
Frequently Asked Questions
Q: What differentiates Usenet.Today from other Usenet services?
A: Based on the information seen on their website, what sets Usenet.Today apart is that they offer unlimited connections.
Q: What are Usenet.Today's recommended Usenet clients?
A: You can use any Usenet client with this Usenet provider but they do recommend using Newsleecher, NZBGet and Sabnzbd.
Q: Is Usenet.Today's retention rate competitive enough?
A: In terms of their retention rate, Usenet.Today is mid-tier. While it is not the best in terms of binary retention, they are also not the worst.
Support
You can reach Usenet.Today via email at support@usenet.today. There is no faqs page on their website.
Contact Information
Heerhugowaard, Nederland
KvK: 65898621
Security/ Company Privacy Policy
Usenet.Today does not keep logs and does not monitor your Usenet activity. According to their policy, they only keep information needed to process your account.
Payment Options
Usenet.Today accepts major credit cards and PayPal.
Our Opinion
While we don't consider Usenet.Today as one of the best Usenet service providers today, it is a decent option since they do have competitive plans with decent pricing and these come with good features from security, a decent retention rate and connections incomparable to other providers. Admittedly, though, we are quite skeptical about the connections aspect of their service. Even top Usenet providers do not offer 'unlimited' connection but if Usenet.Today's claim really is true that it would be a very good selling point for them. That being said, you can test out their free 10GB service by signing up with your email so you can confirm if their claims are true and their service is for you.
Altenatives To Usenet.today
| Name | Price | Info |
| --- | --- | --- |
| Newshosting | $8.33 | Best Price / Free Newsreader |
| UsenetServer | $7.95 | NZB Search / Fast Speeds |
| Eweka | €7,00 | Best EU Provider / Lifetime Discount |
| Easynews | $9.98 | Easy Web App / File Previews |
| TweakNews | €7,50 | Free Newsreader / Free VPN |
| PureUSENET | €5.97 | Good EU Provider / Free SSL |
| XLned | €7.49 | Fast Speeds / EU Servers |